So, in my last post I gave some general info about the housing options Rikkyo offers. My welcome packet also confirmed my room placement and gave me the housing contract as well as more info regarding the dorm regulations and rules.
When I filled out my application for Rikkyo, I chose to live in the Rikkyo dorms because I didn't want to deal with the hassle of trying to find a place on my own. I ended up choosing RUID Asakadai. Some of the below information might be specific to RUID Asakdai, but in general should apply to most of Rikkyo's housing options.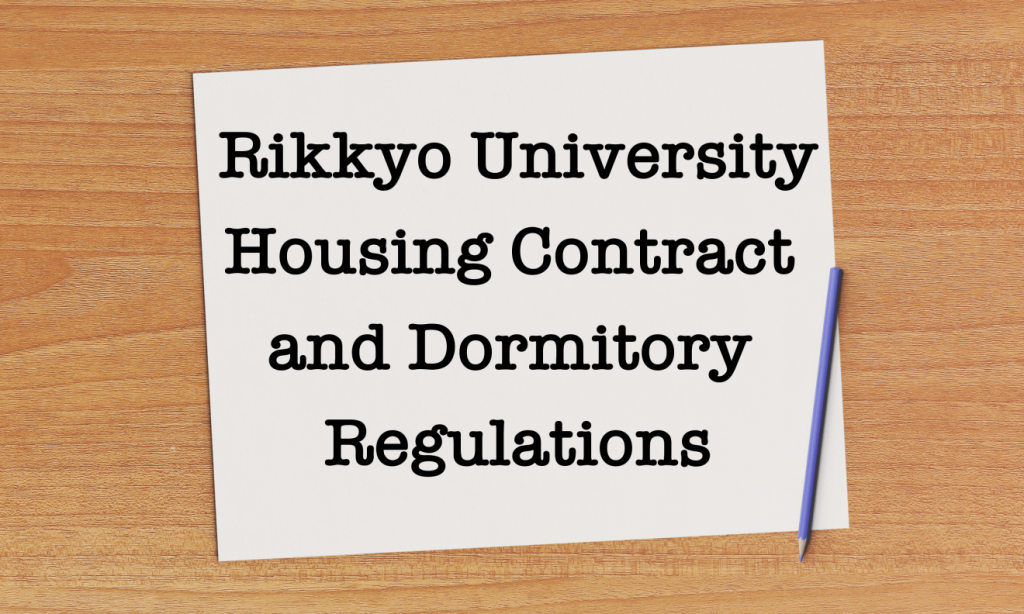 Expenses
As mentioned in an earlier post, I can move into my dorm as early as March 22nd. My dorm fee in March will be payed on a daily pro-rate of about 2,000 yen per day (I'll receive an invoice for this in April). In my welcome packet I was notified that I had received the Rikkyo University International Exchange Student Scholarship, which is a dorm fee waiver from April-July (a total of 214,800 yen). If I hadn't the waiver, my dorm fee (214,800 yen) and fire insurance fee (3,000 yen) would be due on March 15th. These are one-time payments. Even though I received the scholarship, I still have to pay the fire insurance fee, but that won't be due for me until April.
I also have to pay for the utilities (electricity, room phone, internet, etc) each month. I will be charged 5,704 yen + amount used .
Meal Plan
Rikkyo offers a meal plan (16,800 yen per month) and leasing for bedding (12,960 yen per month April-July). The meal plan includes breakfast and dinner and is served Monday-Saturday (except holidays and other specific days) in the dining room. Breakfast is served from 7:00AM to 8:30AM and dinner is served from 6:00PM to 10:00PM. The lease for bedding includes a comforter, mattress, pillow, comforter cover, sheets, and pillowcase. It should also be noted that you generally can't cancel the meal plan or bedding lease once your register.
I am an extremely picky eater and eat very little. When I go to restaurants, it's typical for me to like only one thing on the menu, if I like anything at all. The kids meal portions of food are usually enough to fill me up. I almost never finish a full sized entree. It's just the way I am. With that in mind, I decided to opt out of the meal plan. Chances are, I probably wouldn't like what was being served for breakfast or dinner, and I'd never eat enough to get my money's worth. However, every room does come with an electronic cooker (stove top) and refrigerator, and a toaster and microwave are available in the dining hall.
Bedding
I did however decide to do the bedding lease. When I arrive in Japan, I'm going to have so much going on. The last thing I want is to have to run to the store and buy bedding so that I can sleep that night. Besides, I'm not sure how I'd get it back to my dorm and my welcome packet made sure to state that any items that they receive prior to my arrival will be returned to sender. I'd be afraid to order the bedding online and have it delivered to the dorm for fear that it might get there before I do.
Laundry
The dorm does have laundry rooms on the first floor that are open from 7:00AM to 11:00PM and are separated by gender. The washing machine is free, but you have to pay for the dryer.
Dorm Regulations and Rules
Not surprisingly, the dorm has some rules I have to abide by:
The gate of the dorm closes at midnight. I need to let the dorm manager know by 10:00PM if I won't be able to make it back in time.
If I have intentions to stay out, I should hand in Gaihaku Todoke (literally meaning "sleepover notification") to the dormitory manager on the day I wish to stay out.
I need to lock my door whenever I leave my room
I should touch my IC key to a Reader whenever I leave or enter the dorm to let the dormitory manager know.
I am not allowed to enter the rooms/floors of the opposite sex.
I have to separate my garbage according to the dorm managers instructions (it is different depending on where you are staying).
Meetings/Hanging out with guests at the dorm should take place in the dining hall.
There is no smoking in the dorm.
If I intend to work a part-time job, I must hand in Arubaito Todoke (literally meaning "part-time job notification") to the dormitory manager, and I must come home from the part time job by the time the gate closes.
I'm not allowed to bring a heater or electric blanket because they are fire hazards (although it will be warm enough in Japan by the time I arrive that I won't need these items).
I'm not allowed to make any alterations to the room (meaning I can't pull nails in the walls to hang things up) and will have to pay for any repairs that need done to the room at the end of my stay.
Other Things to Note
A fire inspection might be performed by the Fire Department so inspectors or the manager may enter my room.
Any important notices from the dormitory manager will be put on the bulletin board in the dormitory.
If your family wishes to come visit, they can stay at a guest room in the dorm for 3 days/2 nights for 4,320 yen a night.
The manager's office is open from 7:00AM to 9:00PM for any questions or concerns.
Have a question you feel like I didn't address in this post or my previous post about housing options? Feel free to leave a comment below!
Further Reading