Getting a US Passport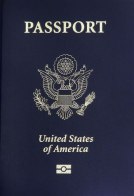 I actually applied for my passport back in March or April of this year, but I still thought that I should write about it. I'd never had a passport before, but I found that applying for one had been a relatively simple process. Unfortunately, this post only applies to people looking to get a United States passport.
If you are applying for a passport in the United States, you can visit the U.S. Department of State's website to get all the necessary paperwork. The average time for paperwork processing is 4-6 weeks, but I recommend doing the application for your passport at least a few months before you intend to leave, especially since you'll need a passport before you can apply for a visa.
To get a passport on your own, you have to be at least 16 years of age. If you are under 16, you'll need the consent of both of your parents or legal guardian. Therefore, the first step is to confirm your country of residence and date of birth.
Then you have to pick the type of passport you want, or you can get both.
Passport Book: $110 – Valid for all international travel
Passport Card: $30 – Valid only for returning to the U.S. from certain countries by land or sea.
Then you have to pick the processing method for your passport. If you choose standard processing, there wont be any extra fees. The estimated delivery date is 4-6 weeks, but, as I mentioned above, I recommend doing your passport application at the very least a couple months before you'll need it, because I've heard plenty of horror stories regarding getting passports. If you're in a time crunch for whatever reason, you can pay $60 for expedited processing and it will be done in 8 days – 3 weeks.
Once it's been processed, it will be delivered to you. Again, you can choose standard delivery for no extra fees, but if you need it faster than that, you can choose overnight delivery for $14.85.
Also, note that there is a execution fee of $25.
You will then need to complete a DS-11. Don't be afraid of the scary letters and numbers. It's just a fancy way of saying that you need to fill out the paperwork for the passport. You can fill it out online and then print it, or you can print a blank form and fill it out by hand.
You'll also need a photo for your passport. Places like Walgreens and CVS can take this photo for you and print it with the required specifications. Certain passport acceptance facilities will even take the photo for you when you go to submit your papers. You can find a list of acceptance facilities on the U.S. Department of State's Passport Acceptance Facility Search Page.
When you go to submit your paperwork, you'll also need proof of citizenship and photo identification. A list of acceptable documents can be found on the U.S. Department of State's website.
And that's it! You're done! See, that wasn't so hard =)