How to Get Havasupai Reservations (Havasu Falls)
If you are planning a trip to the South Rim side of Grand Canyon National Park in the USA, you may have heard of the five Havasupai Falls. The most popular of which is Havasu Falls, known for its beautiful blue color. However, these falls are located within an Indian reservation run by the Havasupai Tribe. You'll need reservations at either the Havasupai Lodge or Havasupai Campground in order to visit, but reservations are hard to come by. Find everything you need to know in order to get Havasupai reservations!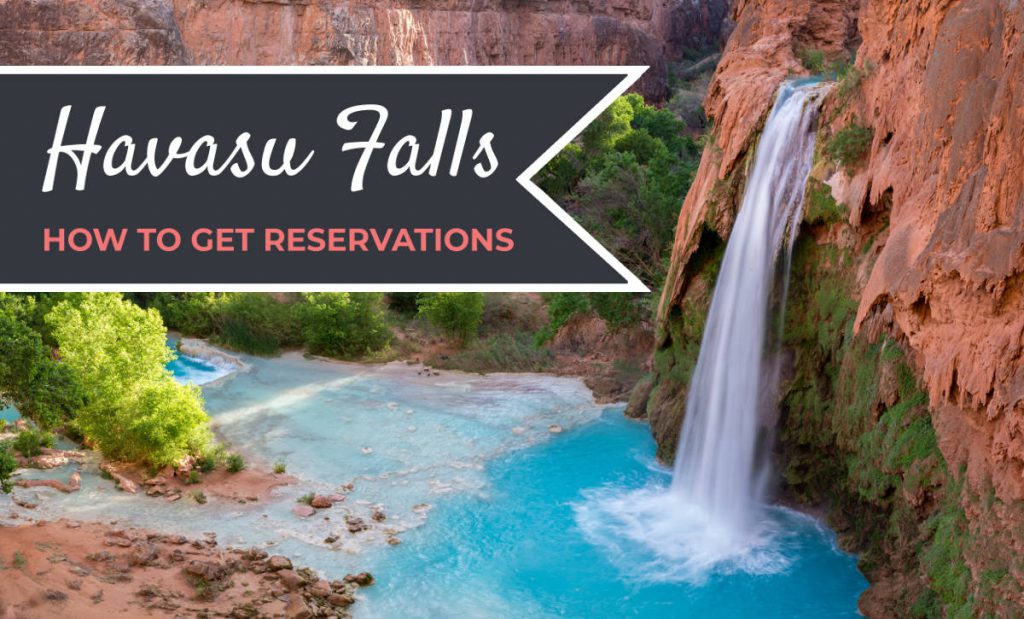 Jump To:
About Reservations
Reservations, and the associated hiking permits, give you access to the Havasupai Indian Reservation, which includes the Village of Supai as well as the Havasupai Waterfalls (Navajo Falls, Fifty Foot Falls, Havasu Falls, Mooney Falls, and Beaver Falls). Those who show up without reservations with either be turned away or charged double. Since it's an 8 mile hike one way from Hualapai Hilltop (the parking lot), you'd hate to hike all the way in, be turned away, and then have to hike 8 miles back.
Due to weather conditions, you are not allowed to just visit Havasu falls and the Havasupai Indian Reservation as a day trip. You must stay overnight at least 1 night, and are allowed to stay a maximum of 3 nights (4 days).
For reservations, you have two different options: Havasupai Lodge or Havasupai Campground.
Note: Havasupai Lodge and Havasupai Campground are run by separate departments within the Havasupai Tourism Office. This means the departments use completely different computer systems and have different phone numbers. This means that you cannot call the lodge to make campground reservations and vice versa.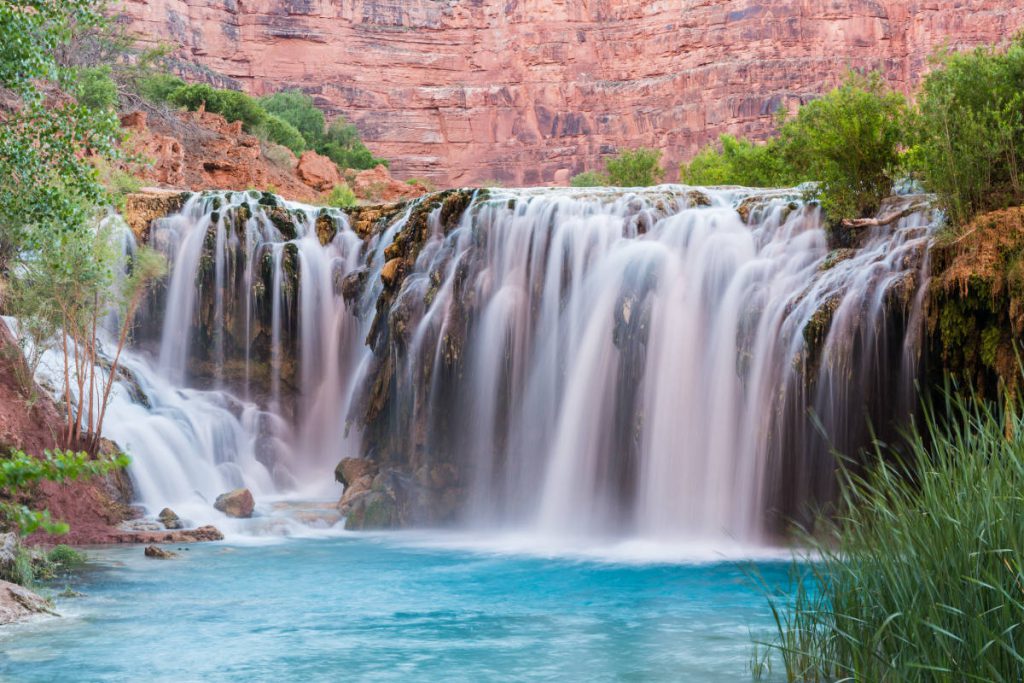 Havasupai Lodge Reservations
Reservations at the Lodge for the entire year typically opens June 1st of the prior year. Therefore, if you plan on visiting Havasu Falls in 2020, reservations for the lodge will likely begin June 1st, 2019. Spring and Fall dates usually go quickly since it will be warm enough to enjoy the area but not yet excruciatingly hot. Summer dates may be available longer due to people wanting to avoid the extreme temperatures. Similarly, winter dates may also be available since the water at the waterfalls will likely be too cold to swim in.
When planning my trip to the Grand Canyon for 2019, I didn't realize that reservations for the lodge opened so early in advance. I didn't try getting reservations for the lodge until the beginning of December 2018 (six months after reservations first opened). By that time, there were only openings for two days at the end of November, and a few dates in December. All other months were completely booked.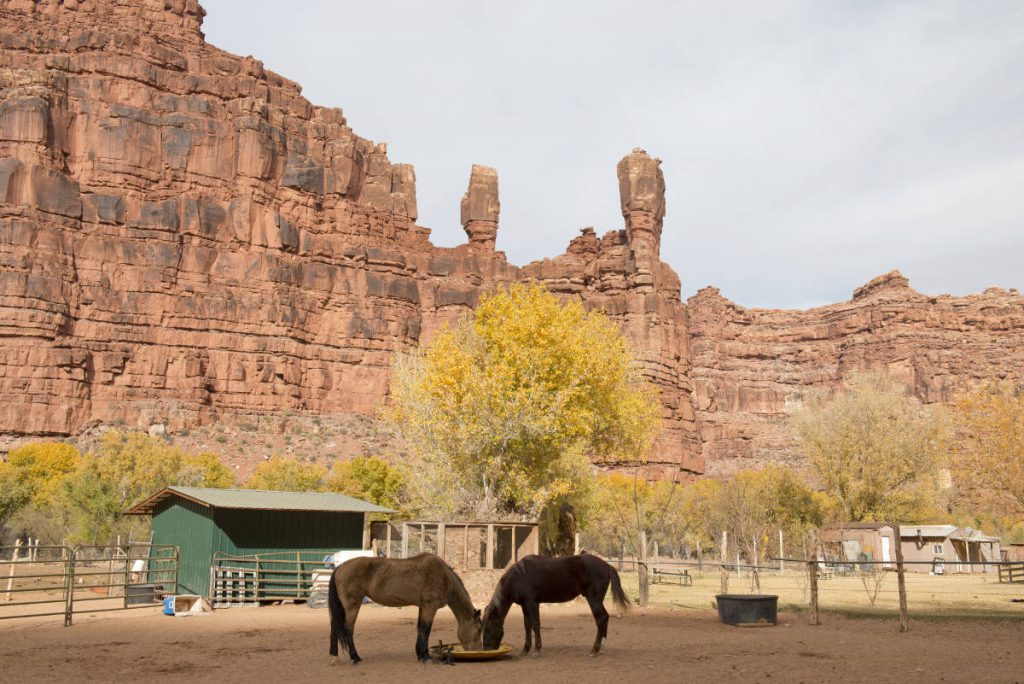 Currently, reservations for the Lodge can only be made over the phone. The lodge has two different phone numbers you can call: (928) 448-211 and (928) 448-2201.
If you don't get a hold of somebody, keep trying. Chances are, you will either get a busy signal, or, it will ring-and-ring-and-ring until you eventually hear a beep, some white noise, and then a hang up. Personally, when I was trying to get a hold of the lodge, I just put headphones in while I was at work and alternated calling the two numbers. I just let it ring in the background while I worked. Once I heard the hang up sound, I dialed the other number and went back to working while it rang. I did this for the better part of a day before I finally got an answer. Other people on the Havasupai Facebook Page said that it took several days or longer before they were finally able to get a hold of somebody on the phone. Don't give up.
Once you finally do get a hold of somebody, they'll ask you what dates you would like to make a reservation for. Then, you'll be asked to provide your first and last name, mailing address, and phone number. You will also be asked to put down a deposit for each of the nights. When I called and tried to make a reservation for two nights, it was a $40 deposit per night for a total of $80. However, prices are subject to change (the deposit price the lady told me on the phone was different from what was on their website). Also, keep in mind that this deposit is non-refundable.
Prices According to the Havasupai Tribe Website for Havasupai Lodge Reservations 2019:
Room: $175.00 per night
Deposit: $60.50 per room / per night
Entrance Fee $90.00 per person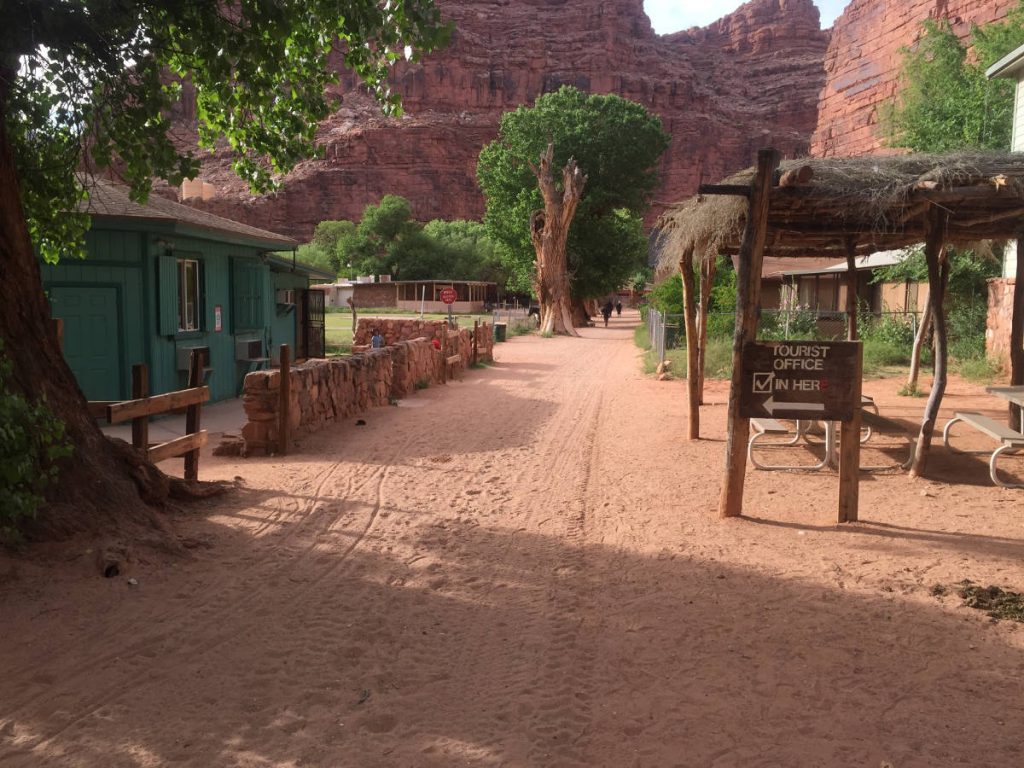 Havasupai Campground Reservations
Reservations at the Campground for the entire year typically open on February 1st of the same year. Therefore, if you plan on visiting Havasu Falls in 2020, reservations for the campground will likely begin February 1st, 2020.
Unlike the Lodge, reservations for the Campground can be completed online at https://www.havasupaireservations.com/.
Typically havasupai reservations open on February 1st, but that date can change. Before reservations open, you can visit the reservation website and join their mailing list in order to get notified of when reservations will open. You can also create an account in advance as well (more on this below).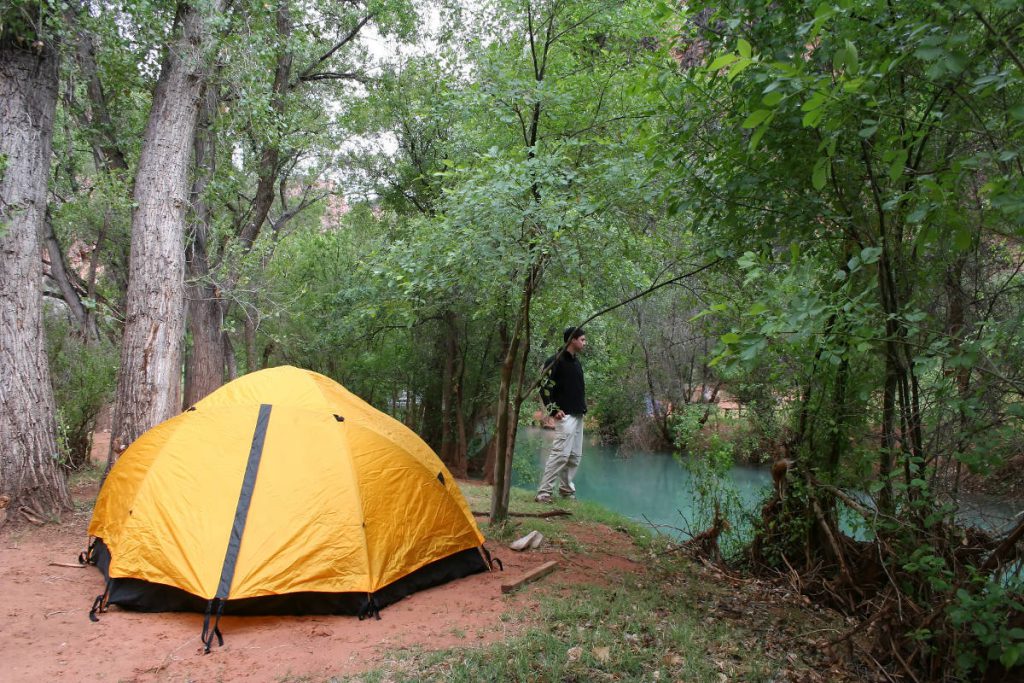 Prices for 2019 campground reservations are listed below. However, these may change at any given time, and as Havasu Falls increases in popularity, as will the prices.
One night = $140.56 USD / person
Two nights = $171.12 USD / person
Three Nights = $201.67 USD / person
*Weekends (Fri-Sun), select Holidays, and certain Spring dates are an additional $18.33 / night
If you have any questions about campground reservations, there are four different numbers you can call:
(928) 448-2180
(928) 448-2237
(928) 448-2141
(928) 448-2121
If you don't get a hold of somebody, keep trying. Chances are, you with either get a busy signal, or, it will ring-and-ring-and-ring until you eventually hear a beep, some white noise, and then a hang up.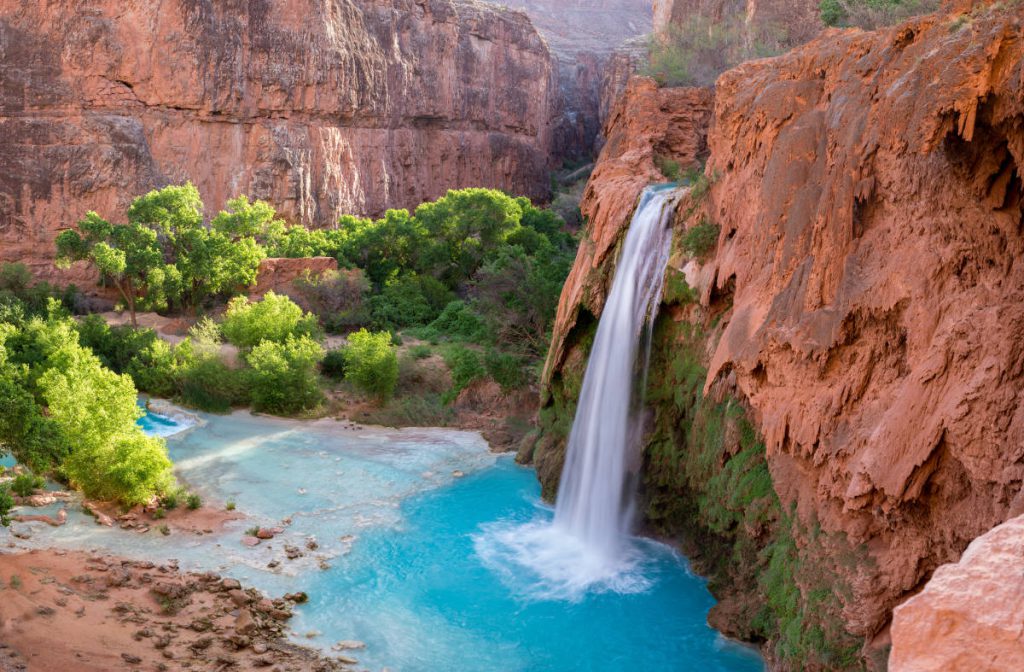 Creating an Account with the Havasupai Online Reservation System
You can typically create an account on the reservation website about a month before reservations open (for 2019 havasupai reservations, account registration opened on January 8th, 2019).
When I went to create an account for the reservation system this year (2019), I found that the website had a few bugs. For the few minutes the website was up, when I submitted my email and desired password, it displayed an error "shared user class has no method handling post/signup."
I decided to wait and try again about half an hour later. This time, I was able to submit my email and password, and was told that a confirmation email had been sent to me. However, when I clicked on the link, it gave me a 404 Page Not Found error. I tried clicking the link in the email, I tried copy and pasting the link in the email into my address bar, and nothing worked. Then…. the site went down. If you tried visiting the site, the browser just displayed an error message that the site could not be reached (connection timeout).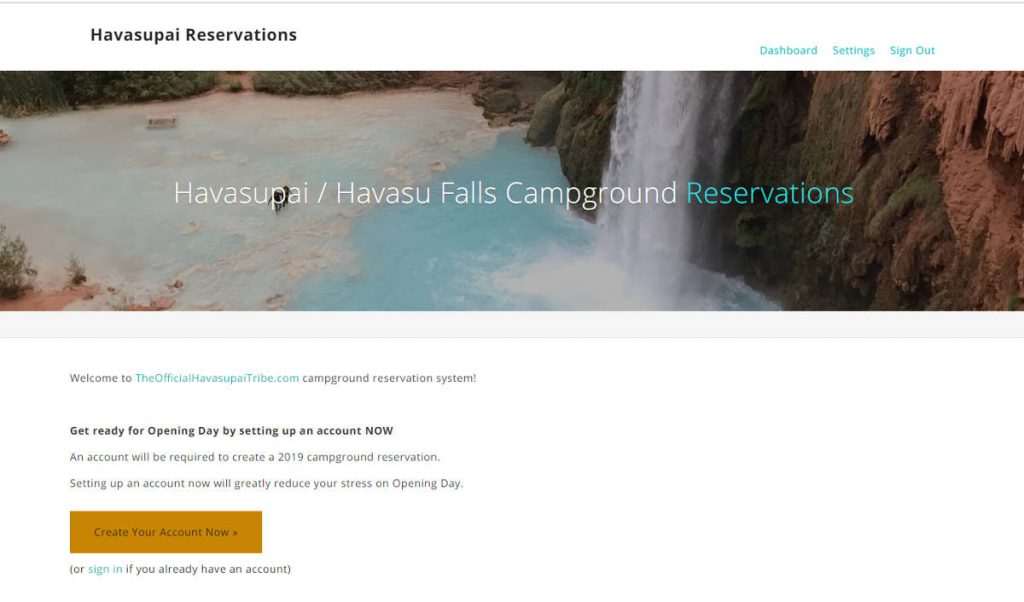 Again I decided to wait and try again later. Once the website was finally back online, I again tried to click the link in the confirmation email, but still received a 404 Page Not Found error. On closer examination of the URL, I realized that there was a slight error with the URL that was included in an email (my background in website development helped me catch it). There was an apostraphe and colon symbol ( '; ) in the URL that shouldn't have been there. Once I removed that from the URL, the page loaded just fine.
URL in Email: http://havasupaireservations.com/';public/verify/1a2b3c4d5e6f7g8h9i0j
Correct URL: http://havasupaireservations.com/public/verify/1a2b3c4d5e6f7g8h9i0j
From there, I was asked to enter basic information such as my name, phone number, and address. I was able to continue with the reservation process without an errors, but other people who went through the reservation process ran into another issue. After they inputted their personal information, when they click the "Save and Continue" button, it seemed to reload the page they had currently been on (asking for personal information), except the page was blank. However, if you they clicked the refresh button in the browser, it would then display the next registration page (asking for your credit card information).
Hopefully, registration for Havasupai permits will go smoother next year. However, I heard that in 2018 there had also been issues with the online reservation site crashing, so who knows. Just do your best to be prepared and have a little patience.
Liked this article? Pin it to Pinterest!