When my mom and I first started planning our trip to Nashville, my mom mentioned that she would also like to visit Graceland, the home of Elvis Presley. That was before we realized it would add an extra three and a half hours to our trip! However, we had no clue when we would be in the area again, so we decided to work a day trip to Graceland into our itinerary, and I'm glad we did! Find out what it's like to visit Graceland, the home of Elvis Presley, in Memphis, Tennessee!
Jump To:
Graceland History and Info
Graceland was originally part of a family farm and was named after one of the family relatives named "Grace." A mansion was built on the land in 1939, and was later purchased by Elvis Presley in 1957 about a year after he really started becoming famous. Although Elvis owned many houses, Graceland served as his sort of "home-base."
Graceland Ticket Office Address: 3765 Elvis Presley Blvd., Memphis, TN 38116
Graceland Parking Address: 3717 Elvis Presley Blvd., Memphis, TN 38116
Graceland hours of operation vary based on the time of year and on holidays, but it general opens at 9AM and closes at 4PM or 5PM. A detailed breakdown of operating hours can be found on the Graceland website.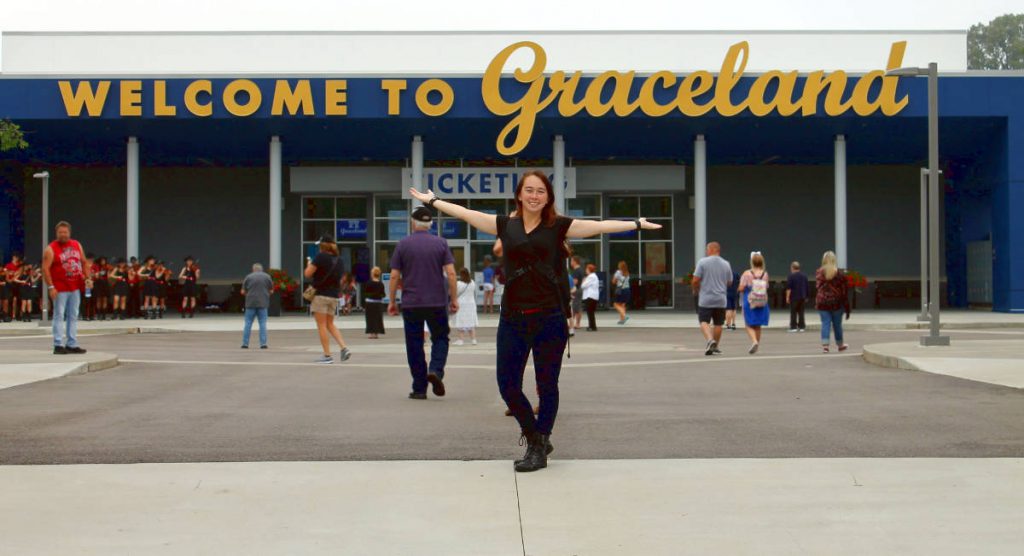 Our Graceland Experience
Despite only ever having listened to one or two Elvis songs, I was surprised by how much I enjoyed my time at Graceland. My mom decided to do the Elvis Experience tour, which meant we would get to see not only Elvis's mansion, but also various exhibits about Elvis's life as well as his car collection.
Once we got our tickets, we watch a short intro video before catching a shuttle to the mansion. Once we returned, we were free to explore the various exhibits before hitting the many gift shops!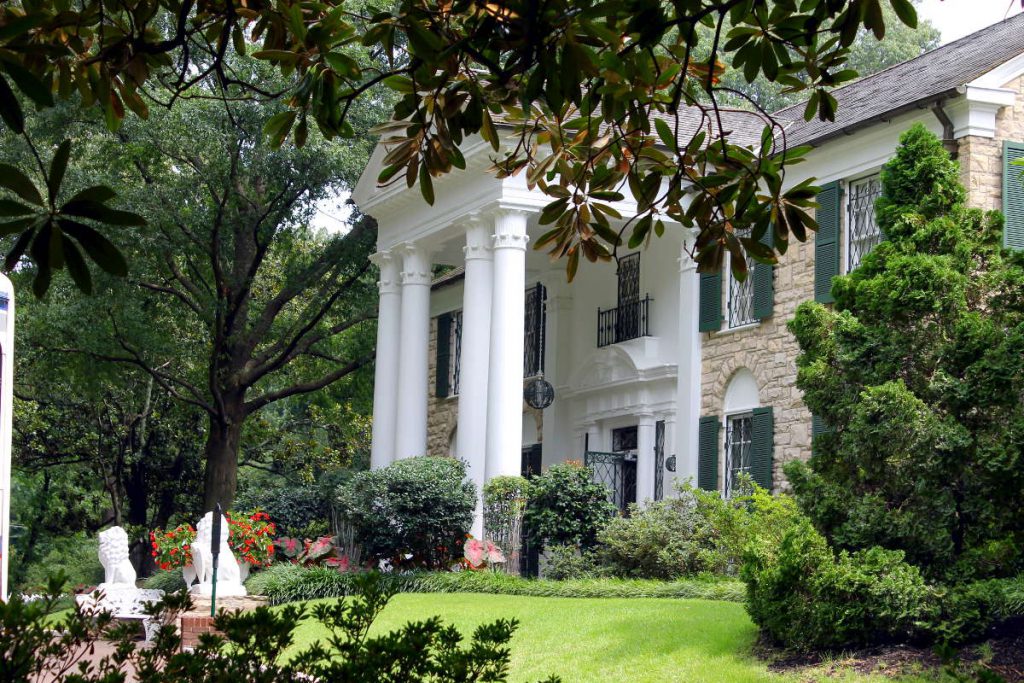 Elvis Presley's Graceland
As we waited in line for the shuttle to the mansion, everyone was handed tablets and headphones. Personally, I chose to decline the equipment because I was more interested in taking pictures than listening to fun facts about Elvis. Plus, my mom had taken the audio guide so if there was anything interesting she could just tell me.
For regular visitors (i.e. somebody who isn't obsessed with taking pictures like I am), I highly suggest taking the audio guide. For one, it's free. Secondly, there really aren't any informational plaques to explain what things are, so you really miss out on the tour of Elvis's mansion if you don't have it.
The house tour was actually really cool. I've been to a lot of historic homes, but this one was definitely unique. One of the rooms was called the jungle room and featured green carpet with several different statues of various animals. Another room had clothing fabric grouped into bunches covering the walls and ceiling. The stairwell into the basement was completely surrounded by mirrors. Have you ever been to any houses like this? I didn't think so…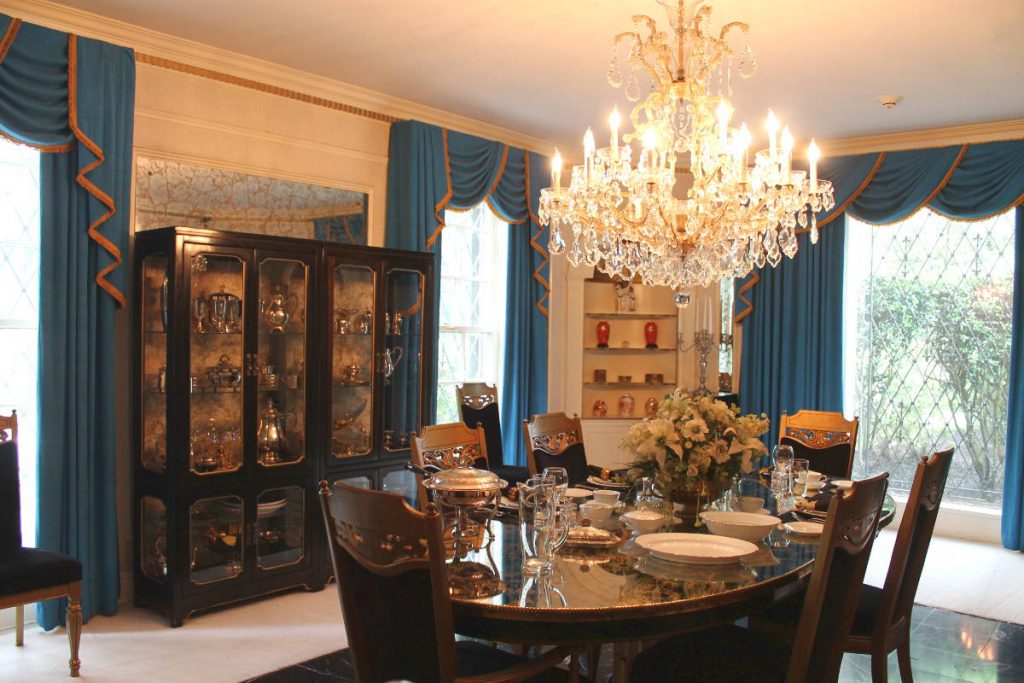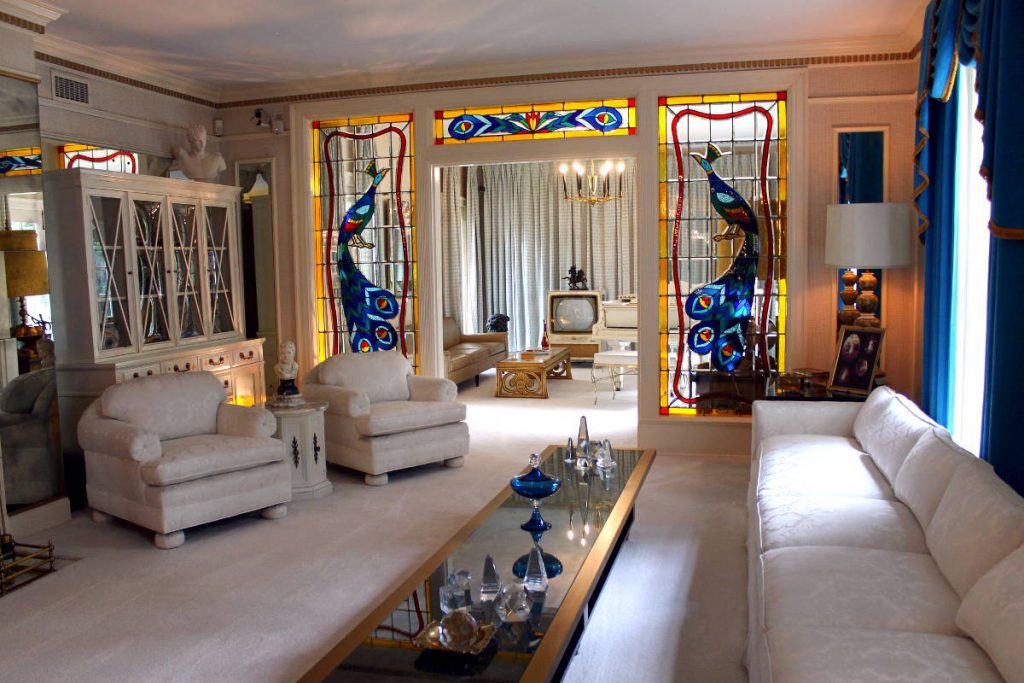 Presley Motors
In the Presley Motors Automobile Museum, we were able to see Elvis's car collection, including his famous pink Cadillac. It was also cool to see the golf carts and go karts he used to race around the property in with his friends and family.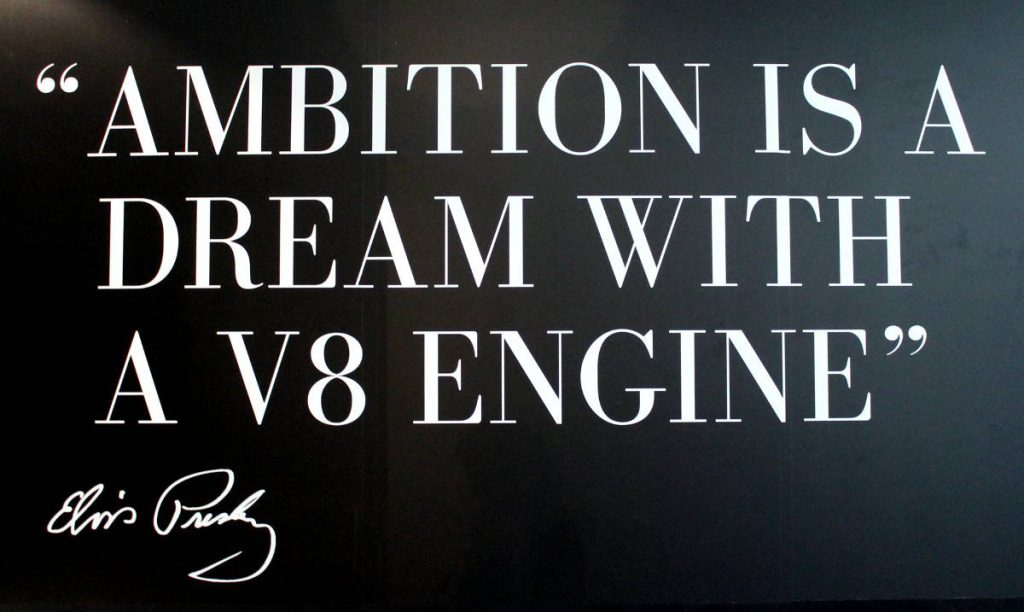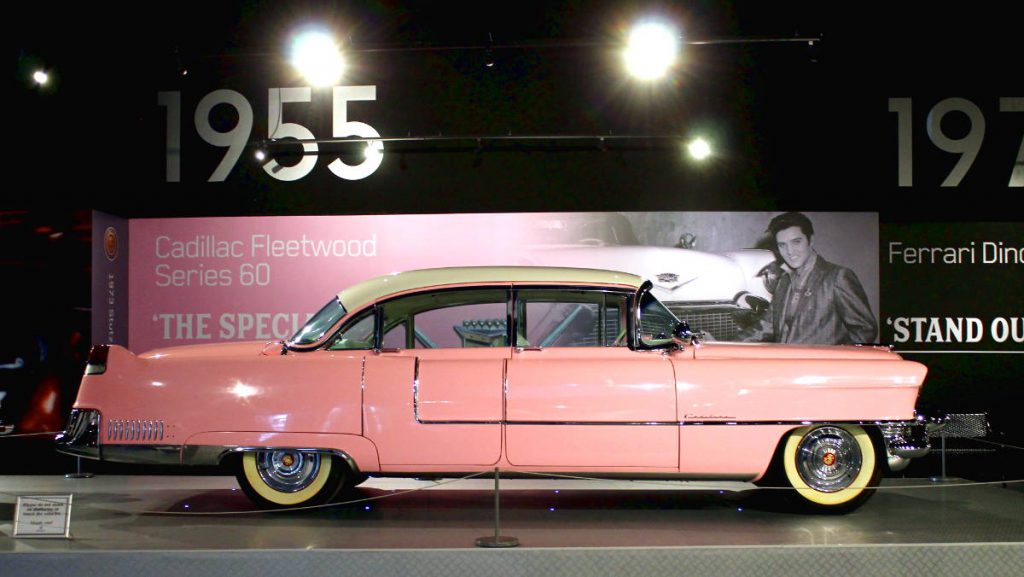 Elvis Discovery: Private Presley
The Elvis Discovery Exhibits give you're a deeper look into his life. In particular, it highlights the time he spent in the military. I personally found it interesting if only because it was so hard to picture a celebrity like Elvis being a Private in the military.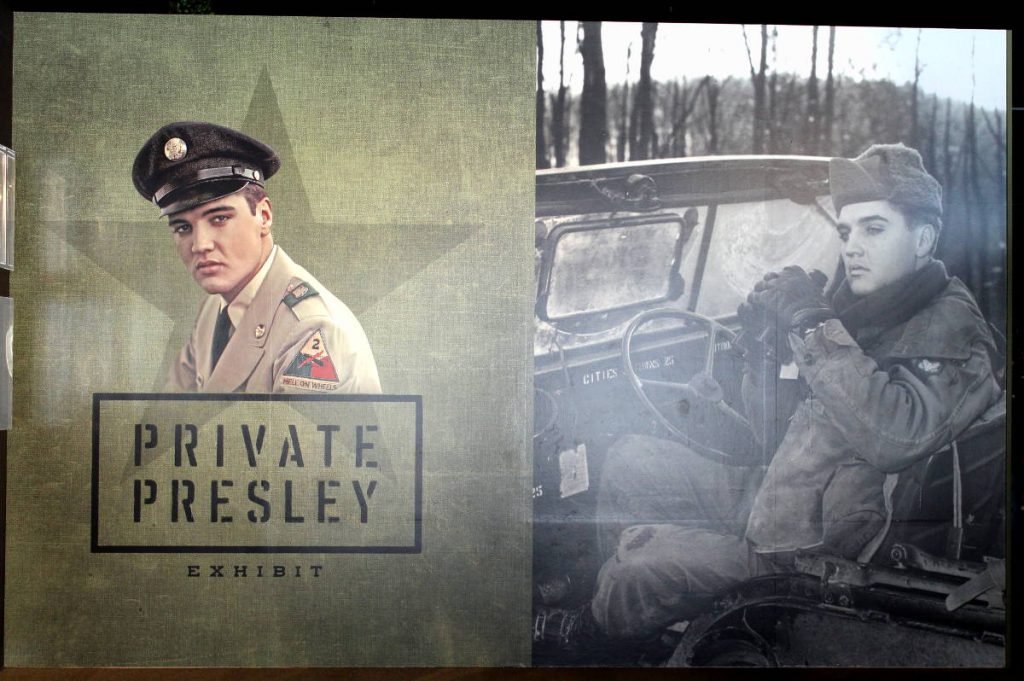 Entertainer Career Museum
In the Entertainer Career Museum, we were able to see many of the various outfits he wore for his performances, as well as Grammy awards and various other awards he had received over the years. Probably my favorite part was all of the inspirational quotes from him on some of the walls.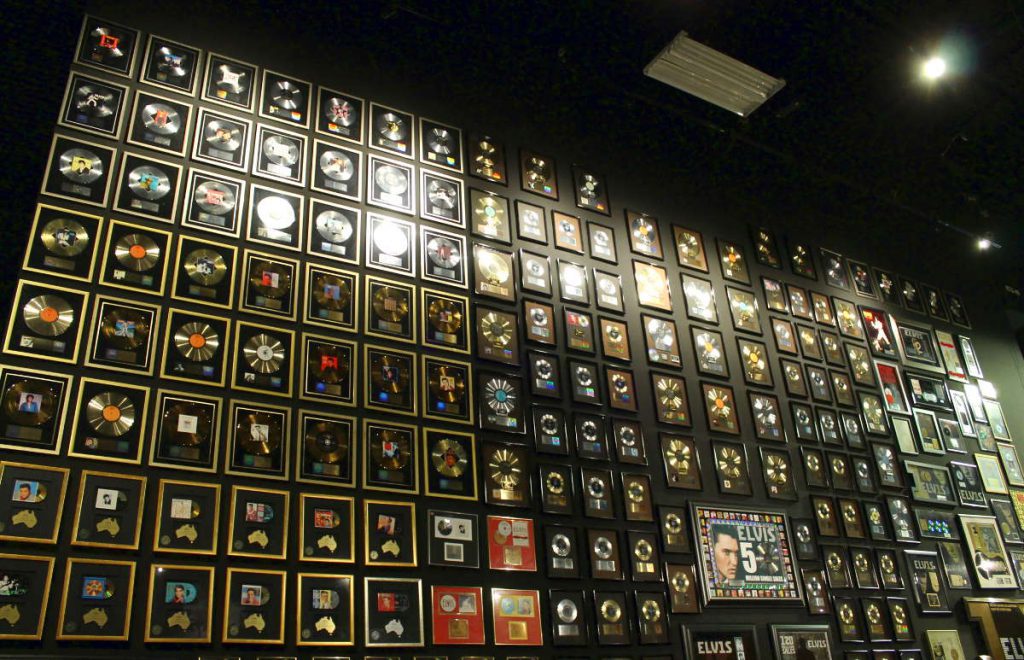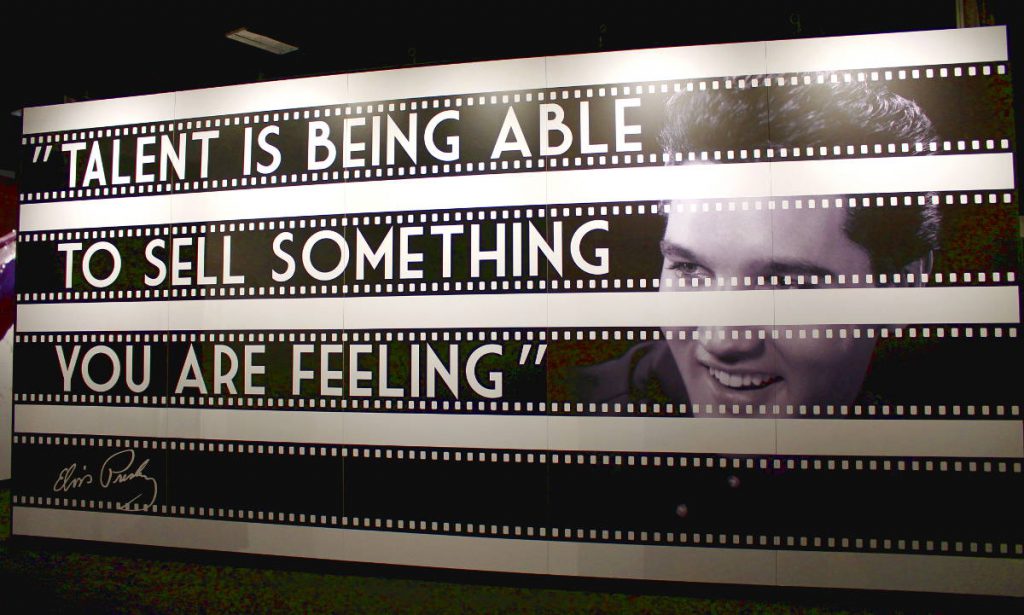 Overall Thoughts of Graceland
Despite the fact that I'm not a big Elvis fan, and didn't even know what Graceland was until a few months ago (gasp!), I actually really enjoyed my time at Graceland. I especially enjoyed the tour of the mansion, if only because of how unique it was. It was definitely unlike any other historical home I had ever toured. The one and only downside is that people file through the mansion in a single file line (due to the way things are roped off), which means the pace of your tour is pretty much set by the pace of the people in front of and behind you.
I personally wasn't as interested in some of the other exhibits such as the Entertainer Career Museum or Presley Motors,  although I thought the Private Presley exhibit was a little interesting since I hadn't known he'd served in the military. My mom on the other hand thought the Presley Motors section was really cool and worth seeing.
Overall, I'd say it's a great place to visit, regardless of whether or not you're an Elvis Presley fan. However, I think the more in-depth tours and ticket options are best for those who have a stronger interest in Elvis.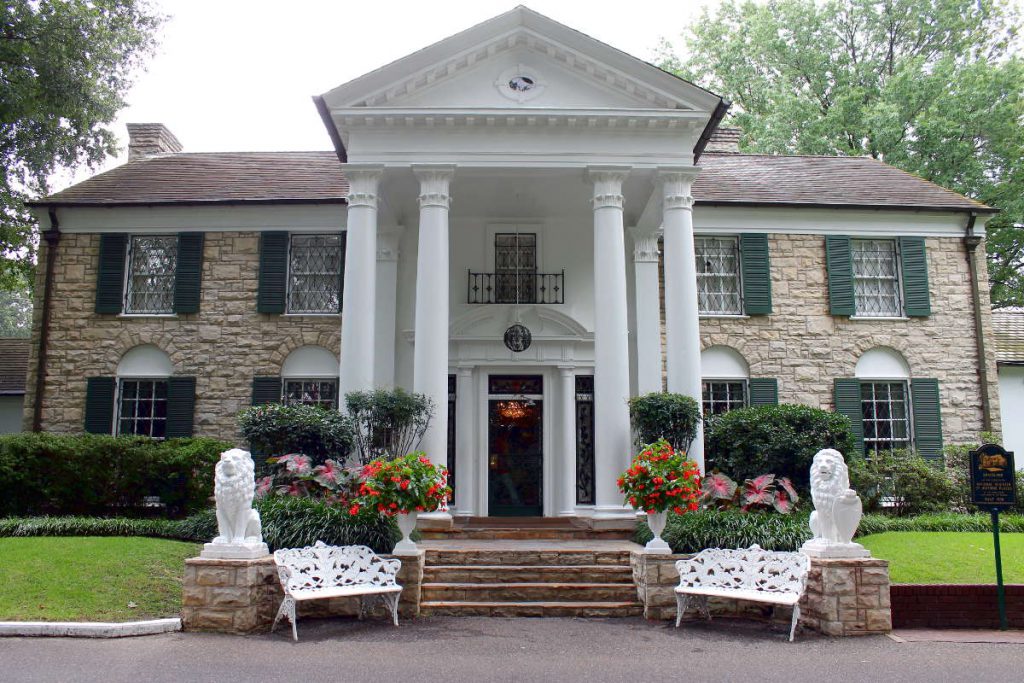 Graceland Tickets, Tours, and Costs
Tour Options:
Graceland Mansion Only Tour
Elvis Experience Tour
Elvis Entourage VIP Tour
Ultimate VIP Tour
Mansion Tour
×
×

×

×

Presley Motors
×

×

×

Archives Experience and Private Presley Exhibit
×

×

×

Entertainer Career Museum
×

×

×

VIP Exhibits
×

×

Additional Perks

Front-of-the-line mansion access
keepsake backstage pass

Front-of-the-line mansion access
Keepsake backstage pass
Access to ultimate lounge
Ability to buy special merchandise
Exclusive photo opportunity
Personal Graceland archives show and tell session
A tour of the mansion takes about one to one and a half hours. The Elvis Experience tour, which includes the mansion, car museum and several other exhibits, takes anywhere from two and a half to three and a half hours.
Graceland Ticket Prices:
| | | | | |
| --- | --- | --- | --- | --- |
| | Graceland Mansion Only Tour | Elvis Experience Tour | Elvis Entourage VIP Tour | Ultimate VIP Tour |
| Adults | $39.75 | $59.00 | $96.50 | $169.00 |
| Seniors 62 and older | $35.80 | $53.10 | $96.50 | $169.00 |
| Youth/Student 13-18 years old | $35.80 | $53.10 | $96.50 | $169.00 |
| Children 7 – 12 years old | $19.00 | $27.00 | $96.50 | $169.00 |
| Children 3 – 6 years old | FREE | FREE | FREE | $169.00 |
| Children 2 and under | FREE | FREE | FREE | FREE |
A tour of Elvis' airplanes can be added onto the Graceland Mansion Only, Elvis Experience, and Elvis Entourage VIP tours for an additional $5 USD. All prices are as of August 8th, 2018. Please check the Graceland website for the most up-to-date information.
A 10% discount on tickets is also available for the following:
AAA members
Military personnel
College students (with ID)
Graceland Insiders
Parking at Graceland costs $10 USD for standard vehicles and $15 USD for oversized vehicles (RV's, trailers, etc).
Other Tips for Visiting Graceland
You can sign one of the walls at Graceland, so make sure to bring a sharpie
There are free kids activity books for children available at Guest Services
You can also get a free poster at Guest Services by "checking in" to Graceland on Facebook.
You can check out GracelandCam, a live video camera, to see how busy it is in advance
Getting to Graceland
Sun Studios offers a free shuttle that stops at Sun Studio, Graceland and the Rock 'n' Soul Museum so you can easily get to Graceland from one of the other popular attractions around town.
Take a Road Trip to Graceland–
From Nashville TN: ~3.5 hours
From St. Louis MO: ~4.25 hours
From Jackson MS: ~3 hours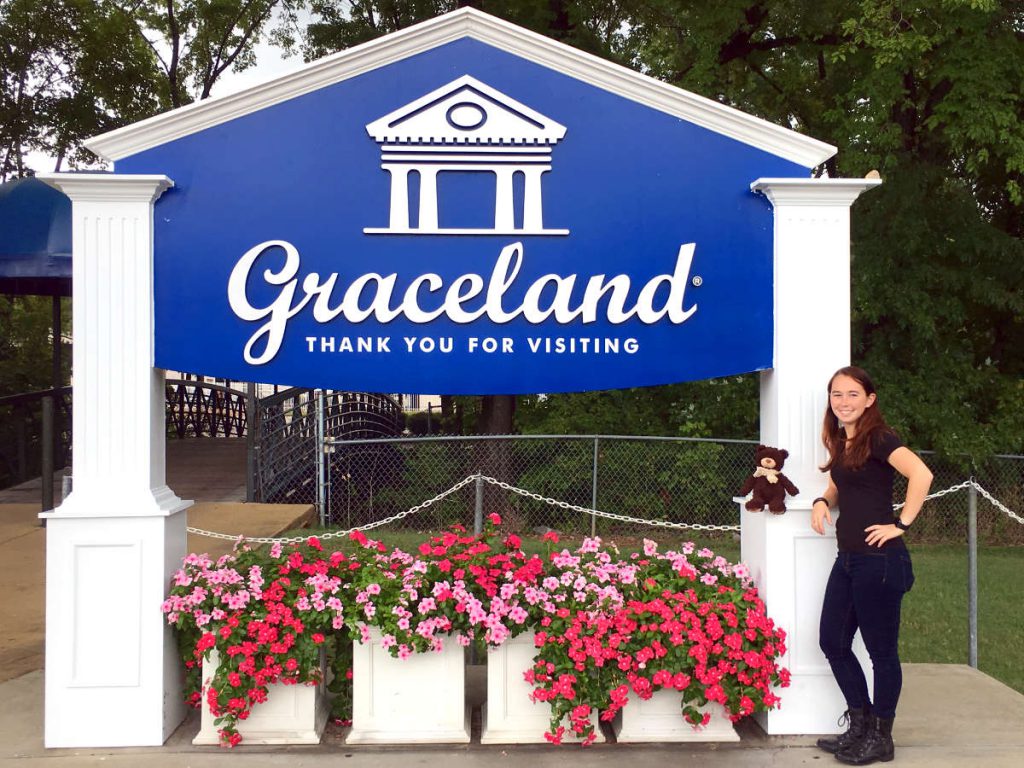 Hotels Near Graceland
Disclaimer:This section of my post contains affiliate links. Find more information about affiliate links on our policy page.
Days Inn at Graceland
When we made our plans to visit Graceland, we chose to stay at Days Inn Memphis at Graceland because it was literally right next to the entrance of Graceland. We could have walked between the two! I'm not normally a fan of the motel style accommodations where there are no interior hallways and hotel room doors can be directly accessed from the parking lot. However, like I said it was right next to our one and only attraction in Memphis, and it was a good price.
Not long after we checked in and got to our room, we noticed a decent amount of mold on the bathroom wall. I'm sorry, but that much mold doesn't grow over night. Either that room hadn't been cleaned in a long time, or the cleaners just hadn't bothered to clean it. Regardless, we called the front desk. Of course, we asked for another room, but there were none available. In the end, we decided to check out without staying the night. I was given a full refund without any issues.
Honestly, I think we just got unlucky. The hotel was completely booked, and the reviews online had all been relatively good. Obviously plenty of other people have stayed there and enjoyed it, so I don't want to say it's a terrible place to stay, but we definitely had a less than pleasant experience.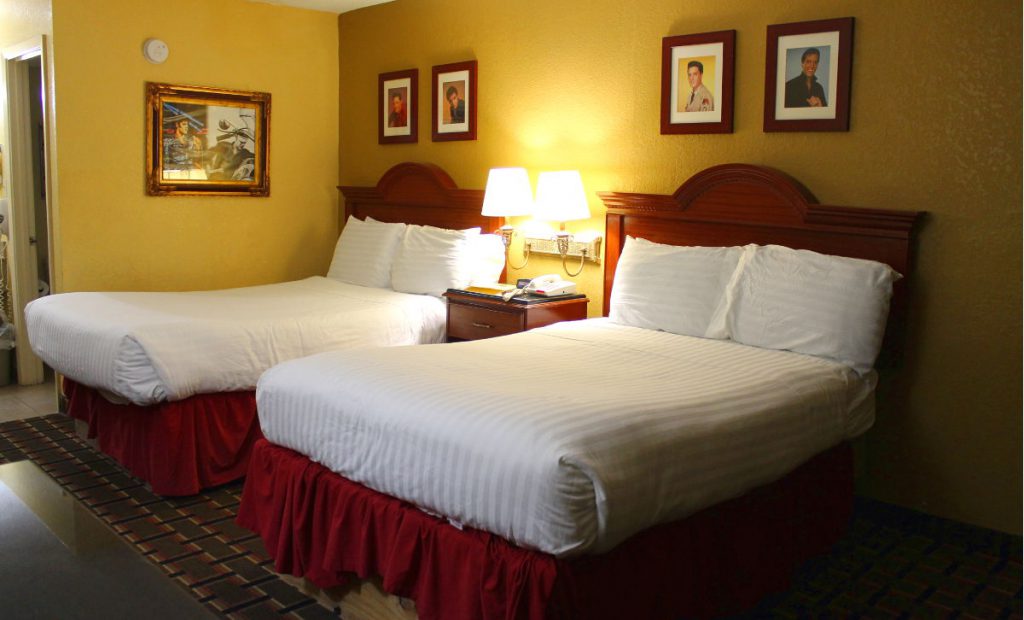 Crowne Plaza
In the end, we decided to stay at Crowne Plaza Memphis East a few miles away. It was a little ways from downtown Memphis and from Graceland, but it was a much nicer hotel, and we got it at a fantastic rate since it was so last minute (and they were trying to fill empty rooms). We definitely felt much more comfortable here.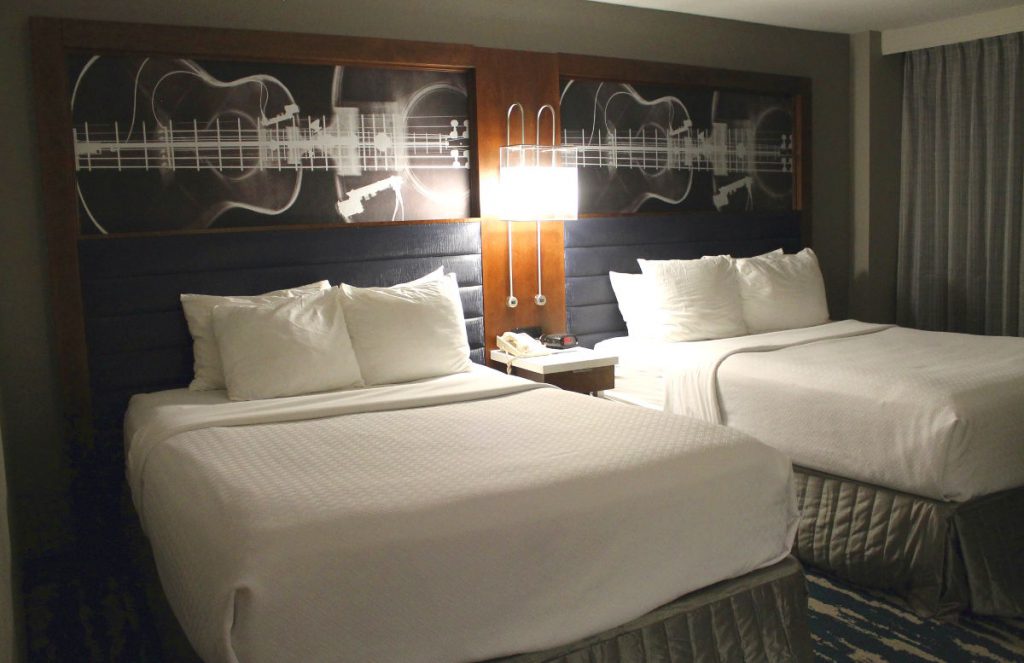 The Guest House at Graceland
If you are looking for something as upscale as the Crowne Plaza but closer to Graceland, you can also check out The Guest House at Graceland. It is also right next to Graceland and was inspired by the hospitality Elvis always showed his guests. They also offer special package deals that combine your stay with tickets to Graceland.
---
Liked this article? Pin it to Pinterest!