As big fans of country music, Nashville was one of the places that had been on my mom and I's bucket list. However, we quickly learned that Nashville is for more than just country music lovers. It seemed everyone we talked to who had been to Nashville had absolutely loved the city. With every person who told us how amazing Nashville was, we grew more and more excited for our own trip…. and it didn't disappoint! Nashville was an absolutely fantastic city, full of history and all types of music. We quickly discovered why it was called Music City! Find out for yourself with this 4 Day Nashville Trip Itinerary and Visitor's Guide.
Disclaimer: This post contains affiliate links. Find more information about affiliate links on our policy page.
Jump To:
The Nashville Sightseeing Pass
If you plan on seeing a lot of the top attractions — which I suspect you will since you'll be spending 4 days in Nashville — I suggest looking into the Nashville Sightseeing Pass. Basically, you pay for one sightseeing pass, and this pass will grant you entrance to several of Nashville's top attractions, often for cheaper than if you were to pay for each of the attractions separately.
There are two different types of passes:
The Sightseeing Flex Pass: Choose 2-7 attractions to visit within 30 days
The Sightseeing Pass: Visit an unlimited number of attractions for 1-3 days
For this particular Nashville itinerary, the 3 or 4 attraction FLEX pass, can save you a few dollars on entrance to the Country Music Hall of Fame and Studo B tour, the Hatch Show Print tour, and the tour of Andrew Jackson's Hermitage.
If you choose to also visit some of the other attractions (mentioned below) that aren't officially part of this Nashville itinerary, you could save around $35 USD with the 6 attraction FLEX pass.
Day 1
Country Music Hall of Fame and Museum
As said country music fan, I figured the Country Music Hall of Fame would be a great way to kick off my 4 day Nashville itinerary. It had a total of three floors (although only the top two actually have exhibits), displaying everything from the very early stages of country music to items as recent as last year.
The 3rd (top) floor mostly covered the history of early country music, showcasing personal items of famous country music artists my parents and even grandparents likely listened to. It also had an extensive, temporary exhibit on Loretta Lynn tucked away in a corner. The 2nd floor also had more historic country artists, but also had a whole exhibit on current country singers, specifically some of the bigger ones from 2017. As you walk down the steps between floors, you can see countless gold and platinum records.
This is an option for the Nashville Sightseeing Pass.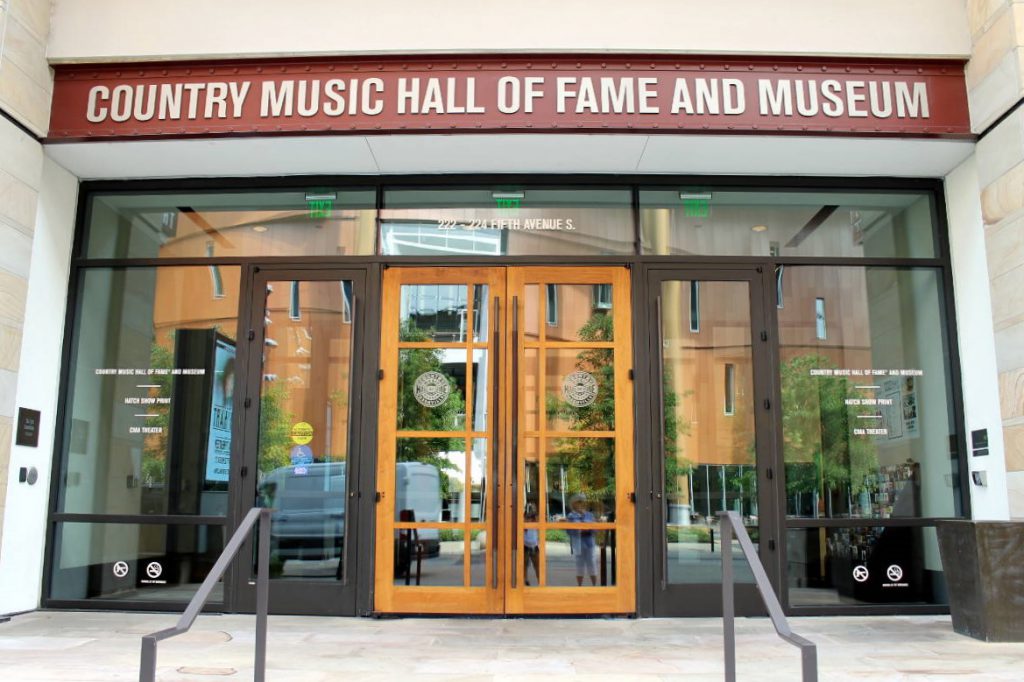 RCA Studio B Tour
RCA Studio B is a famous recording studio in Nashville that not only helped establish Nashville as a recording center, but also helped revive the popularity of country music. Famous artists including Elvis Presley, Dolly Parton, Willie Nelson, Carrie Underwood, Martina McBride, and more have all recorded here.
During the guided tour, we got to sit at the piano which Elvis said was his favorite for recording at that studio. We also got to hear unedited versions of recording sets with Elvis, meaning we got to hear all the times they had to start over and the various discussions in between.
This is an option for the Nashville Sightseeing Pass.
Hatch Show Print
My mom and I both consider the Hatch Show Print to be one of the "must-do" activities in Nashville. I'll admit that when I read the tour description of how it's one of the longest running print shops in America, it didn't sound like something that would be worthwhile. What's so exciting about letter printing? However, we decided to go after reading high praise reviews. Turns out, it's actually really freakin' cool.
During the tour, they show some of the wood blocks that had been carved and eventually turned into posters. Some of the coolest ones even including posters for historic presidential campaigns. I couldn't believe the absolute precision and skill and true artistry that went into making those wood blocks. Plus, it was cool seeing how the different layers were applied to create the final version of the poster. Best of all, you can even make your own wood block print poster that says "Hatch Show Print".
This is an option for the Nashville Sightseeing Pass.
Music City Walk of Stars
The Music City Walk of Stars is right across the street from the Country Music Hall of Fame, in the Music City Walk of Fame Park. Here, stars have been given to those who have made an impact on the music world.
If you've seen the Hollywood Walk of Fame in Los Angeles, you might find the Music City Walk of Stars rather disappointing in number, but I'm sure they will grow over time.
Bluebird Café
If you've never heard of the Bluebird Café, you might be surprised to find out that, not only did it serve as a set for the famous TV drama Nashville, but it also is where famous stars like Garth Brooks and Taylor Swift were first discovered.
Out of all of the activities we did during our 4 days in Nashville, this was definitely my favorite.
Due to its popularity, tickets and reservations are hard to come by, so you'll definitely want to do some advance planning if you want to get your hands on Bluebird Café tickets.
John Seigenthaler Pedestrian Bridge
If you are looking for a great view of the Nashville skyline, the John Seigenthaler Pedestrian Bridge is a great place to do so. Personally, I think it's best to visit after the sun has gone down and the city is all lit up.
Day 2
Ryman Theater Tour & Record a Song
The Ryman Theater served as the home of the Grand Ole Opry before it moved to the Grand Ole Opry House. However, the Grand Ole Opry still holds it shows at the Ryman (instead of the Opry House) during the winter months (November-January).
During the day, the Ryman theater is also open for tours. General Admission allows you to take a self-guided walk through the seating area of the Ryman as well as check out the exhibits set up along the back walls. If you choose to upgrade your ticket, you can get a guided tour of the backstage area as well.
Before you start your tour, you'll watch a really cool intro video about the history of the Ryman. The screen seemed to be in Church windows (since the Ryman was historically a church) and lights and shadows on the walls created an almost a 3D effect that made you feel like you were really there.
The Ryman also has an additional activity called "Make a Record." It's a bit expensive, but for those who love to sing, it makes for a fantastic souvenir. You actually get to enter the recording room they have there at the Ryman and have a CD made of you singing. You can choose from a preset list of songs, or do a song that you have written.
Union Station Hotel
Built as a railroad station in 1900, Union Station served not only as a passenger rail service, but also as a way to transport mail and other goods. After the decline of passenger rail service in the United States, it was converted into a luxury hotel. Even if you choose not to stay at the Union Station Hotel during your Nashville trip, it's still worth exploring, if only to admire it's stunning architecture and decor.
The Gulch Murals
Aside from music related activities, the various murals in Nashville are also a must see. Probably one of the most popular spots for taking a photo in Nashville is the "WhatLiftsYou" mural located on the side of a parking garage located at 302 11th Ave. S. It seems like every millennial who has ever visited Nashville has taken a picture here…. and I'm no exception.
Winners Bar and Grille – Music Row Freakshow
When talking to one of the performers after the show at the Bluebird Cafe, she mentioned that they were having an event called the "Music Row Freakshow" at Winners Bar and Grill. One of the performers from the Bluebird would be performing there again, as well as several of their friends, and suggested that we stop by. With a few adjustments to our itinerary, we arranged it so that we could stop by for a while.
I'll admit that when we first arrived, we felt a little out of place. Everybody in the bar seemed to know each other. We seemed to be the only outsiders, the only tourists, in the bar. Everybody else there seemed to all be singers, songwriters, and friends of the performers. They were all there to support one another, and it was really cool to get an inside look at this fantastic, close-knit community. Best of all, they often played songs that they had just recently written and not even recorded yet!
Some of my favorite performances of the night included:
As the night went on, I realized that the Music Row Freakshow was an event that was held every Wednesday at Winners Bar and Grill from 7-10pm, and chances are, some of the folk in that bar had written the songs you hear on the radio, and even appeared on TV shows like The Voice. If you happen to be in Nashville on a Wednesday, I definitely recommend stopping by to check out some of Nashville's hidden talent!
Day 3
Centennial Park and the Parthenon
Centennial Park is a large, public park located not too far from downtown and is most well-known for it's large replica of Greece's Parthenon.
We planned on just getting a picture of the Parthenon, but when we arrived we found that we could actually go inside. The first floor was more museum style with pictures from when it was built along with other artwork. However, on the second floor, you find yourself actually inside the Parthenon, along with a large gold and ivory, 41ft tall statue of Athena.
The park itself is a good place to take a stroll, have a picnic, or just relax. It has a few statues of historically significant people as well as some beautiful gardens along with wide open fields for playing sports and playgrounds for kids.
12th Ave Murals
The murals on 12th Ave aren't quite as popular as the WhatLiftsYou mural in the Gulch, but it still has some really cool murals, particularly ones that actually say "Nashville," making them great reminders of your trip to Nashville.
The area around 12th Ave is busy, but has more of a suburb feel. It's a great area to explore if you're looking to get a feel of the Nashville neighborhoods.
Bicentennial Park
Once you've got all the pictures you want, make your way over to Bicentennial Capital Mall State Park. It's a rather simple and somewhat small park, especially in comparison to Centennial Park. However, it has some cool memorials, and if you go to the end of the park opposite of the Capitol building, you can get a good picture of the entire park with the Capitol building in the background.
Line Dancing at Wildhorse Saloon
A 4 day Nashville itinerary wouldn't be complete without some line dancing! You can head over to the Wildhorse Saloon in downtown to catch their quick, 15-minute line dancing lessons. When I was there, we learned a relatively simple line dance called the Wildhorse Stampede. The instructor started off by teaching the easiest version, breaking each section of the line dance down, and after that she showed us how to make a few of the steps a little more complex and fancy. After lessons, stick around to check out the acoustic or full bands they have scheduled for the night!
Explore Downtown
After line dancing, you can hang around the Wildhorse Saloon to check out the acoustic or full bands they have scheduled for the night, or you can head out and explore the rest of Broadway and 2nd Ave! Grab some dinner, do some shopping, or just just sit and listen to the music.
Regardless of what you choose to do during your 4 days in Nashville or even what order you do things, an evening out in downtown, is a must for all first-time Nashville visitors.
Day 4
Andrew Jackson Hermitage or Opry Mills
At Andrew Jackson's Hermitage, you can see the beautiful home of the late US president Andrew Jackson, as well as learn about his life and legacy. Some of the stuff was familiar to me from my time in school, but audio tour goes much more in depth than what is often put in the history books. You can also catch a duel reenactment, where they talk about how duels were really conducted — and Hollywood got it wrong!
My mom and I thought this place was rather interesting, but probably would have enjoyed it more if we hadn't been so burnt out by this point in our trip. Before arriving in Nashville, my mom and I had visited other historic sites in Louisville, Kentucky, and Memphis, Tennessee, so we were pretty over history by this point in our trip. If you feel the same by the end of this Nashville 4 day itinerary, you can head over to Opry Mills and do some shopping instead.
Andrew Jackson's Hermitage is an option for the Nashville Sightseeing Pass.
Gaylord Opryland Resort & Convention Center
Gaylord Opryland Resort is another luxury hotel worth checking out, even if you don't stay there. It is one of the 35 largest hotels in the world and the largest non-gaming hotel in the continental US. The hotel actually offers boat tours on the indoor river. That's right, the hotel is so large it actually has an indoor river, complete with several waterfalls, botanical gardens, and more. It's definitely a place worth exploring, especially since it's right next door to Opry Mills and the Grand Ole Opry House!
Grand Ole Opry House
I'll admit that when we were first putting together our Nashville itinerary, I didn't know much about Nashville. However, I did know that it was home to the Grand Ole Opry, often called "Country's Most Famous Stage". Given that I'm a big country music fan, seeing a show here was on my bucket list. We bought our show tickets before we even know who would be performing!
The concert was really cool overall. I was surprised not only by how many people were part of the lineup, but also that it was actually a live radio show. Unfortunately, I only really ended up knowing one or two people of the several who performed, but it was just cool being able to watch a performance on such an iconic stage. If you took a tour of the Ryman Theater before attending the Grand Ole Opry, you'll find yourself appreciating it even more, especially the small, circular section of wood right in the center of the stage.
Other Things to Do in Nashville
There were a few activities that we had considered visiting during our trip to Nashville, but just couldn't fit into our itinerary. If you have more than just 4 days in Nashville, or aren't interested in one of the activities mentioned above, you could possibly do one of these activities instead.
Marked items (*) are options for the Nashville Sightseeing Pass.
Getting Around in Nashville
Unfortunately, some of the best parts of Nashville are relatively spread out across the city, making it a little difficult to walk to most of them. Since you'll be on the move a lot, I highly recommend renting a car (if you didn't drive to Nashville).
Nashville does have public transportation such as city buses, however I think you'll find having a car much more efficient. For example, if you look at day 1 of this Nashville itinerary, I recommend heading to the Bluebird Cafe from the Music City Walk of Stars. With no traffic, you can drive there in about 15 minutes. If you choose to take a bus, it will take you closer to 45 minutes.
If you are considering the Nashville Sightseeing Pass, you could also consider selecting the Gray Line Music City Hop-on Hop-Off Bus Tour, which stops at several of the locations on this itinerary.
Despite recommending not using public transit as your main method for transportation, Nashville does have some interesting public transportation. If you're looking for a more unique transportation method, you can check out the Nashville Pedal Tavern and Old Town Trolley.
Additional Info: Where to Stay and What to Pack
We chose to stay at Days Inn Airport Nashville East. It's about 15 minutes into downtown assuming you don't hit any traffic. If you head the opposite direction towards the Grand Ole Opry, it will also take you about 15 minutes to get there. The hotel wasn't anything fancy, but it was cheap and was in a decent location relative to our Nashville itinerary.
While my mom and I were satisfied with our hotel, I felt like there may have been some better options out there, so I decided to reach out to some other travel bloggers to get their thoughts. Find out what they thought were the best places to stay in Nashville
As I unpacked my suitcase and started hanging up clothes on the hotel closet rack, I also realized that I definitely over packed. Turns out, I didn't need some of the fancier outfits I had brought. Now that I know better, I put together a list of what I had really needed to pack for Nashville.
---
Liked this article? Pin it to Pinterest!