There are so many things to do and see in Hawaii, USA that it can be almost overwhelming. However, don't get so caught up in all the places to go that you look past your own hotel!
Disclaimer: This post contains affiliate links. Please see our policy for more details regarding affiliate links.
While in Oahu, my mom and I chose to stay at the Outrigger Reef Waikiki Beach Resort in Honolulu. On our first day there, our main activity for the day didn't start until noon, so we decided to see what else we could do in the meantime. To our delight, we found that the hotel had plenty of wonderful activities to help us really delve into Hawaiian culture. As it turns out, it's a pretty common things for hotels in the waikiki to offer free hands on cultural classes.
Depending on what day it is, they have lei making, hula lessons, ukulele lessons, and more. Luckily for us, we had enough time to check out the lei making event. There, we got to learn not only how to make lei with real, traditional flowers, but we got to learn about their importance and how they are used in Hawaiian culture.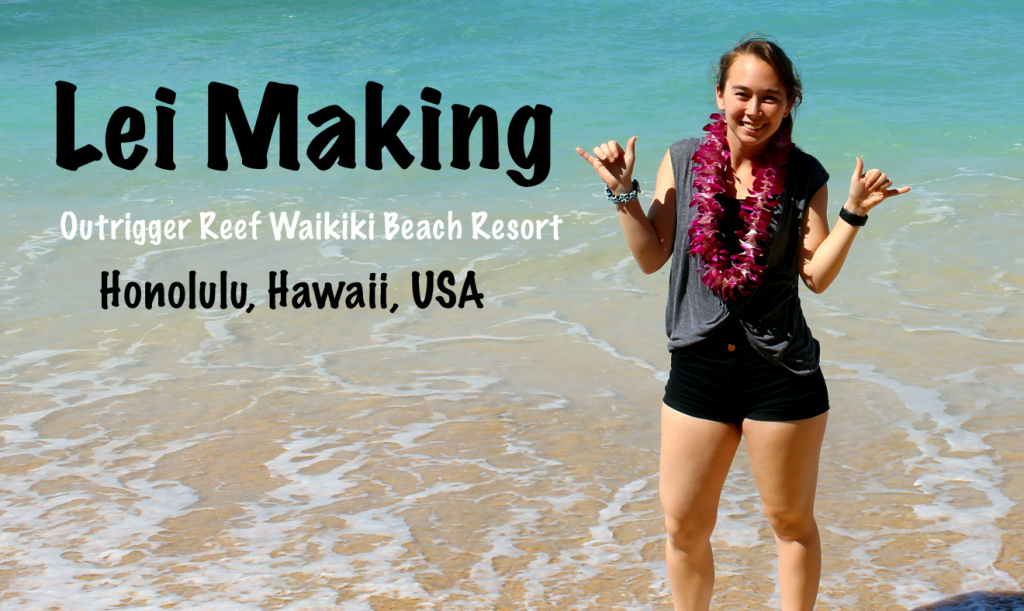 About Lei
The speaker who would be doing the lei teaching talked briefly about the meaning behind lei. The custom of lei making was brought to Hawaii by voyagers from the Polynesian island known as Tahiti and were typically made of flowers, leaves, shells, and other items. In Hawaii, people will often give lei when somebody is arriving or leaving, or it could be given as a sign of affection. It's not uncommon for lei to be given for friendship, recognition, or for celebratory events like birthdays and graduations.
Lei Making at Outrigger Reef Waikiki Beach Resort
Lei Making Setup
In the main lobby of the hotel, they had several flowers (which I later learned were orchids) laid out on a U-shaped table. The teacher stood inside of the U while guests sat in seats around the outside.
Unfortunately, my mom and I made it down to the lobby just as the lei making was beginning, and by that point, all of the seats were taken. However, we decided to stick around and watch, if only out of curiosity. Thankfully, they ended up with extra flowers, so when a seat became available, my mom and I were able to sit down and make our own lei. Word to the wise, get there early.
Preparing the Flowers and Needle for the Lei
First, we had to prepare the flowers by gently plucking off the stems. It wasn't completely necessary, but for the method we were using to make our lei, it would make our lei look neater. They told us that on average a lei comprises of about 50 flowers.
Once we finished preparing 50 flowers, we were given a lay making needle, which is similar to a croche needle. It's basically a thin, long piece of metal and at the very end, the bottom is curved into a hook. There is a small spot between the hook and the needle where you put your string. The string is folded in half, and when it is folded, I would say that it was a little bit longer than my arm.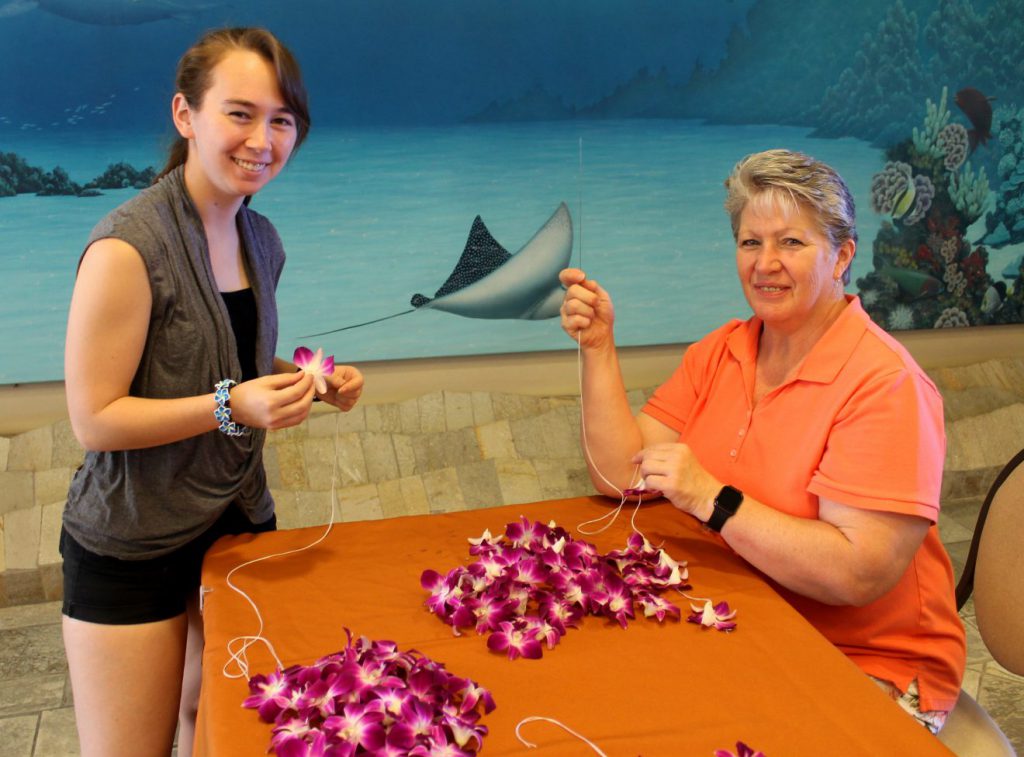 Making the Lei
Then came actually making the lei. Once our string was attached to our needle, we took the needle and put it through the center of the flower. We then pushed the flower to the very end of the string, leaving about 2 inches at the very bottom. The extra string at the bottom would later be used to tie our lei. We then proceeded to string the rest of our flowers. It wasn't overly difficult, but definitely took a little bit of time.
Completing the Lei
Once we finished putting all the flowers on, we simply removed the string from the needle and tied to two ends together and voilà! We had our own handmade Hawaiian lei.
More About Outrigger Reef Waikiki Beach Resort
I'm not normally the kind of person to stay in 4-star hotels. However, my mom works for a great company that awards a free vacation once you've been employed there for 30 years. Since my mom's company was covering our hotel costs, we decided stay in a hotel a little bit fancier than what we normally would.
If it's within your budget, I'd definitely recommend staying there. You don't even have to get a fancy room. We got one of the cheapest rooms offered (because my mom's company had a limit on how much they would spend per night for hotels) and still absolutely loved it. The "city view" room offered a great view of the pool below. In the evenings they would light the tiki torches around the pool and have a soothing band play, which made for a really great evening atmosphere. Plus, as I mentioned earlier, the hotel has boat loads of activities for you to participate in.
Book your stay at Outrigger Reef Waikiki Beach Resort in Honolulu, Oahu, Hawaii!
Disclaimer: The above is an affiliate link. Although my stay was not sponsored by the hotel, I may earn a small commission from sales on linked pages. Your purchase helps keep Footsteps of a Dreamer up and running. Know that I would still recommend this hotel even if I did not receive a commission because my mom and I both thoroughly enjoyed our stay there. You can find more information about affiliate links on our policy page.
Have you ever made lei before? Is it something you'd love to try? What are your thoughts on Outrigger Reef Waikiki Beach Resort? Let me know in the comments below!
Are you ready to start planning your trip to Hawaii?
Get a FREE copy of A Dreamer's Guide to Trip Planning to get started!
Further Reading
---
Liked this article? Pin it to Pinterest!
---
Looking for more Hawaii travel inspiration?
Follow on Pinterest:
https://www.pinterest.com/footstepsofadreamer/united-states-travel-planning/