Nashville, Tennessee is probably most well-known for its live music scene. Of its many music venues, one of the most popular is the Bluebird Cafe . When my mom and I started planning our trip to Nashville, visiting the Bluebird Cafe was one of the main things my mom really wanted to do while we were there. So what's it like to visit? How do you get tickets to the Bluebird Cafe? What are the best seats? Find out everything you need to know about visiting the Bluebird Cafe in Nashville, Tennessee!
Disclaimer: This post contains affiliate links. Find more information about affiliate links on our policy page.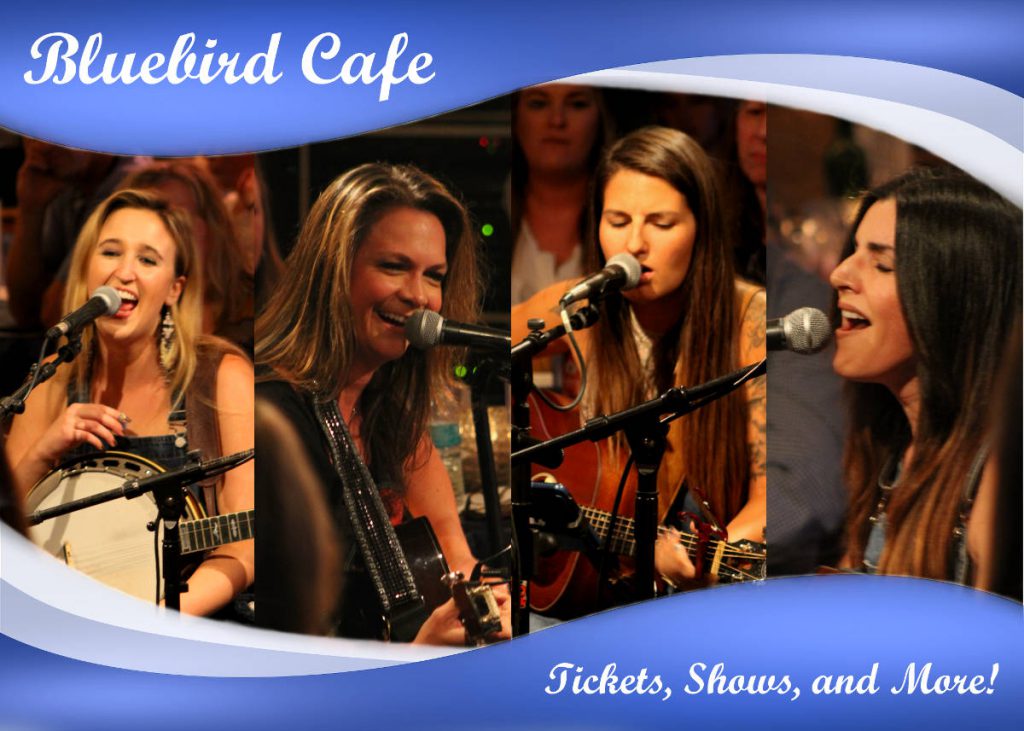 Jump To:
About the Bluebird Cafe: Hours, Address, and History
Since the Bluebird Cafe opened in 1982, several well-known popular artists have been discovered here over the years, including Garth Brooks and Taylor Swift. It's become an iconic place for songwriters, because it gives them a chance to share what they've created with a captivated audience. It was also used as a set for the popular TV drama Nashville and received an Academy of Country Music (ACM) award for "Club of the Year."
You can find a clip from the television show Nashville set at the Bluebird Cafe on YouTube.
Bluebird Cafe Address: 4104 Hillsboro Pike, Nashville, TN 37215
Phone Number: (615) 383 – 1461
Hours of Operation: The Bluebird Cafe is only open when a show is happening, so hours may vary from day to day. Staff members are typically in the office from 11AM – 4PM CST on Monday-Friday to answer phones and emails. You can check out the Bluebird Cafe calendar on their website for specific times on a given day.
The Two Stage Types: In the Round and In the Row
In the Row is your typical "concert-style" stage. There will be a specific area along the wall to the right of the entrance where the stage will be set up. All of the tables and chairs will be set up in front of the stage.
In the Round, the Bluebird Cafe signature style, is a more unique stage style. In this setup, the performers are in the center facing each other, and the tables and chairs are setup all around the performers.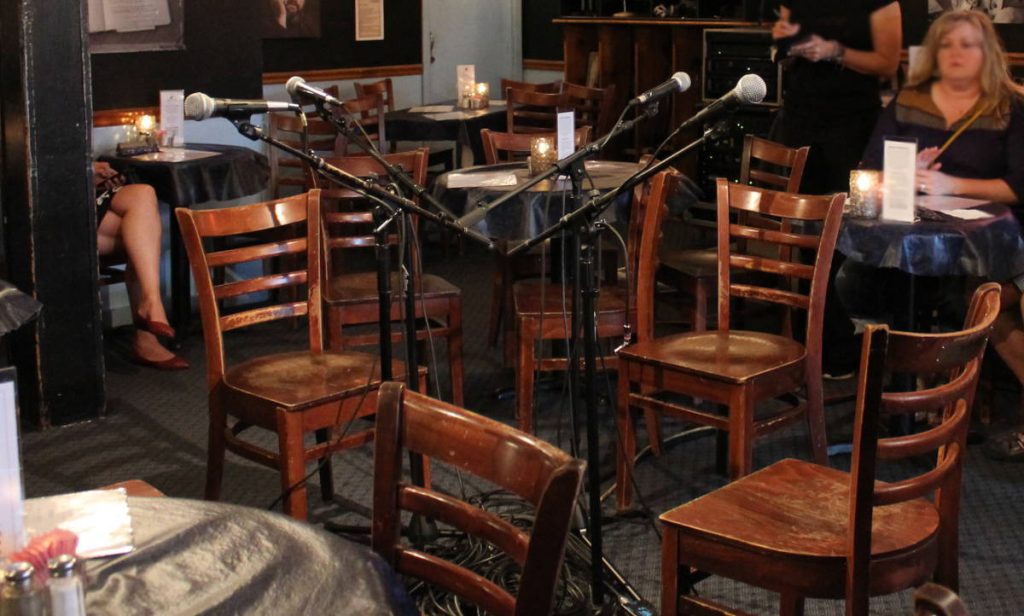 Review: Our Experience at the Bluebird Cafe
My mom and I were lucky enough to be able to get reservations at the Bluebird Cafe for the 6pm show in advance, so we didn't have to worry about first-come first-served seating. We made it to the Bluebird Cafe just a little before 5pm, when doors would open, and found that there were already people in line hoping to get leftover seats. (You can find out more about the reservation and first-come first-served process in the tickets section below).
We used the free time before doors opened to get some pictures in front of the Bluebird Cafe before getting in line to head inside. We lined up on the left hand side of the door along with everybody else who had managed to make reservations in advance, while the hopefuls lined up on the right side. Once the doors opened, a staff person at the door asked for the name the reservation was under. Once he confirmed our name was on the list, we were free to go inside where another staff member showed us to our seats.
Did we really need to be there at 5pm? Probably not, but it was nice having the time to get settled in, order some food, and use the restroom before the show started at 6pm.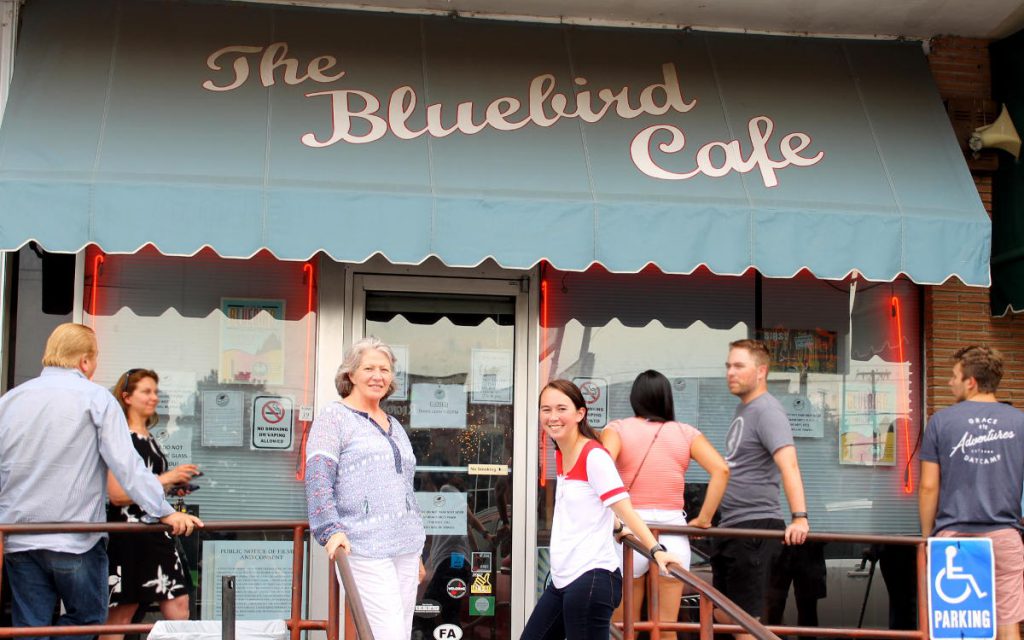 We were "in the round" which basically just meant that the performers would be in a circle in the center of the cafe, and seating would be all around them. At first, I was a little worried that I wouldn't be able to see the performers, due to the fact that almost 100 people cram into that little cafe for the show. However, I was pleasantly surprised that only one of the four performers had their back to us, and our bar height chairs at table #23 allowed me to see over some of the people in front of us.
Our show would be hosted by Lockwood Barr, and she was accompanied by Bridgette Tatum, Sheena Brook and Lala Deaton. I'll admit, I had absolutely no idea who any of these people were when we picked what show we wanted to attend. We didn't really have a preference for which show we saw. We just knew we wanted to visit the Bluebird Cafe. Now, I am definitely a major fan of theirs!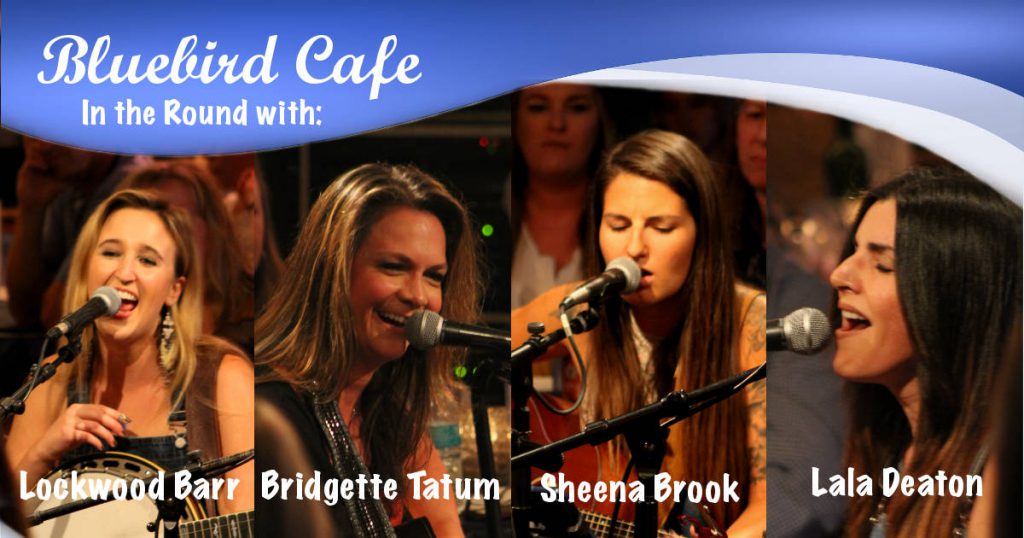 The show itself was absolutely incredible. Like, words cannot describe how much I enjoyed that show. It was so much different from attending a concert.
For one, the setting is much more personal. Because the place is so small, you are a lot closer to the performers than you would be at a big country concert. Plus, the Bluebird Cafe has a strict "Shh" policy, that more or less means no chit-chatting. They highly encourage the audience to clap and interact with the performers, but discourage having long, loud conversations with each other. Think of it like going to the movies, where you see several commercials asking you to silence your cell phones. People come to see the performance, not catch up with friends. Because of this policy, the place is rather quiet, allowing you to really get into the performance without any other distractions.
It's also much more informal than a performance on a traditional stage in front of a large audience. One of the artists actually sang the wrong lyrics during the song, laughed and sang the words "that didn't make sense" and restarted that section of the verse all without missing a beat and continued like nothing ever happened. Some of them also tried out songs they had just recently written, sometimes having to read the lyrics from wherever they had jotted them down.
Plus, they interacted with each other as well as the crowd cracking all sorts of jokes. In particular there was a running joke how three of the girls had worn overalls and the fourth "hadn't gotten the message" so she kept giving them a hard time for not letting her know.
Most of all, they were talented singers, musicians, and performers. You listen to them and think, why are they not famous stars?
Some of my favorite songs from the night included:
It was an absolutely fantastic time, and was definitely my favorite thing to do in Nashville. If I lived in Nashville, I have no doubt that I would be a regular there. If you get the chance, don't hesitate to visit!
If you don't get the chance to see Lockwood Barr, Bridgette Tatum, Sheena Brook, or Lala Deaton perform live, you can check them out on iTunes or social media!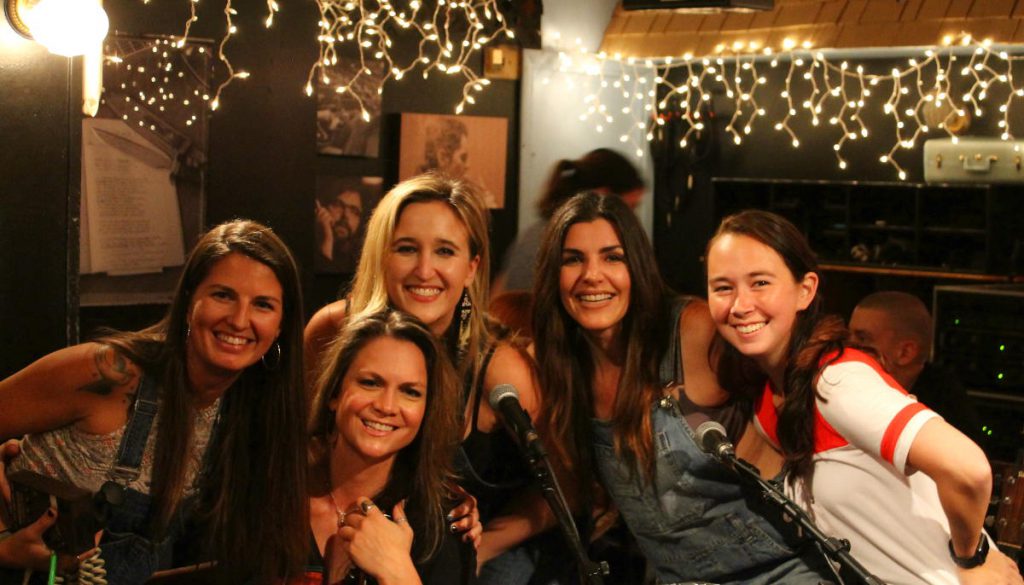 How to Get Tickets to the Bluebird Cafe
There are two different ways to get tickets for the Bluebird Cafe: online and at the door. It sounds pretty simple, but given the Bluebird Cafe's popularity, these tickets won't be easy to come by!
Be aware that the two methods mentioned below are the only way to get tickets. Tickets purchased through Craigslist or any other unauthorized vendor will not be honored (if they suspect tickets are being re-sold, they'll check photo IDs at the door, so make sure to bring yours).
Get Tickets in Advance Online
The Bluebird Cafe reservations page gives detail instructions on their website about ticket reservations, but I've included a summary below.
When tickets become available online depends on when the show is:
Monday shows
Tickets for the early show are available the same day at 12PM CST
Tickets are not available in advance for the late shows
Tuesday – Thursday shows – one week before at 8 AM CST
Friday – Sunday shows – the Monday before the show at 8 AM CST
A maximum of six tickets can be reserved at a time.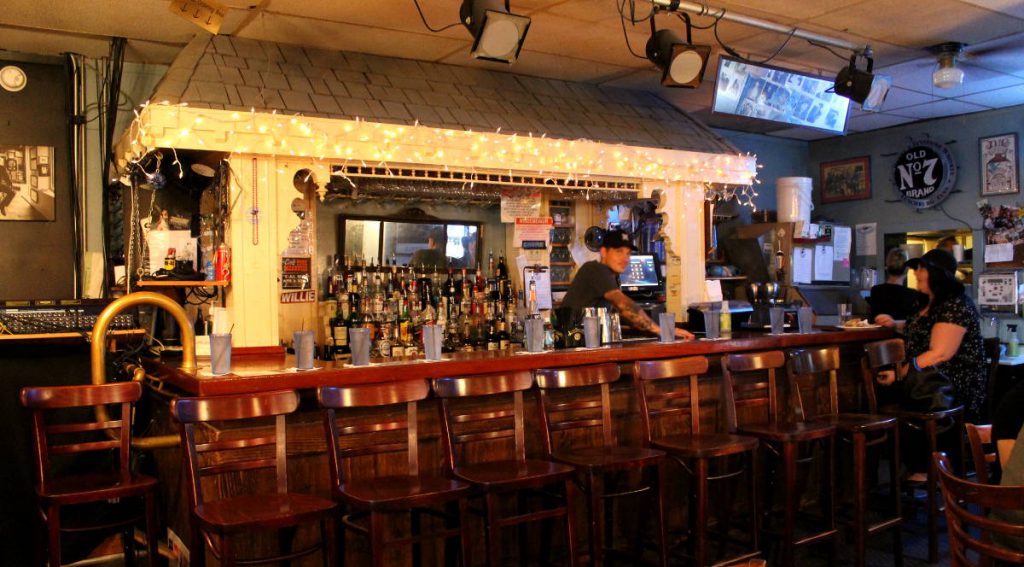 Seating is very limited, and due to the Bluebird Cafe's popularity, available tickets usually sell out almost instantly. For the show I was trying to attend, tickets were gone in under ten minutes from when they became available.
So how did I manage to score tickets?
Make sure to load the page BEFORE 9AM CST – You should see a countdown timer. At the end of the timer, everybody on the page is put into a queue in random order. If you load the page after 9AM CST, you will likely be put at the end of the queue.
If, at the end of the queue wait timer, you are redirected to the ticket sales page, be quick! You only have 60 seconds to complete your order! If you are trying to get the same seats as somebody else and they manage to complete the order form before you, you will lose your order (the page will refresh and it will show that they are no longer available). If you manage to pick seats, enter your credit card info and complete your order. You will receive a confirmation email informing you of your reservation.
If you are in queue and you get redirected stating that the show is SOLD OUT, try again. I re-entered the queue after being told that it was sold out (just out of curiosity) and found that one seat had opened up. According to a Trip Advisor topic, one person was able to get four tickets after continuously checking back.
My Tips for Getting Bluebird Cafe Reservations
Tip #1 – Be familiar with the seating chart
Like I mentioned above, you will have at most 60 seconds to complete your order. Having a plan A, B, C, and D for seats will allow you to go through the reservation process quicker. Be aware that most of the seats closest to the stage will likely be taken by guests of the performers. For example, at the In the Round show we attended, I'm pretty sure that tables #12 and #14 were taken, and there may have been a few others. If you can get those inner tables, that's awesome, but I wouldn't bank on it.
Tip #2 – Watch the informational video
About 24 hours before a show opens up for reservations, there will be a countdown timer as well as a video explaining how the queueing system works. Make sure to watch that so you have a better idea of what to expect when waiting for tickets. You can also find the video on YouTube.
Tip #3 – Have some friends and family help you out
The queuing system is completely random, so the best way to increase your chances of getting tickets is having multiple chances at those tickets. That means using multiple computers/devices to visit the website, and hoping that at least one of them gets placed early enough in the queue system that you get a shot at tickets. When we were trying to get reservations, I sat on the phone with my mom and boyfriend, each one of us trying to get in to get tickets. If one of us was able to get tickets and successfully complete the registration process, the other two would back out.
Tip #4 – Setup form fills with LastPass
If two people are trying to reserve the same seats, the reservation will go to whoever completes the reservation process first. For this reason, you need to be able to complete the reservation as quickly as possible. Having common fields such as your name and credit card information automatically filled out will help you complete the reservation faster. Tools like LastPass will allow you to setup that automatically form fill in advance in a safe and secure manner.
Tip #5 – "Practice" before hand
Go through the reservation process for an earlier show you don't actually plan on attending. You can wait in the queue line, select seats, and enter your credit card information (just don't hit the submit button because you'll be charged the non-refundable $3.00 USD reservation fee). This will help you get familiar with the whole process so you know what to expect before attempting to get tickets for the show you actually want to attend.
First-Come First-Served Seating
If you can, I highly suggest trying to get tickets online first (this way you'll have a guaranteed spot), but if you don't manage to get tickets online (or in the case of the Monday night show they don't offer advance tickets), that's okay! For most shows, you still have a chance to get in, but only if you get there early enough!
For shows Tuesday through Saturday, there is typically some seats that are available on a first-come first-serve basis, separate from the seats that are available for reservations. For the 6pm shows, there are usually 10-12 seats available first-come first-serve. For the 9pm show, there are only a few seats available. If there are people who had reservations but don't show up, their seats will also be given out on a first-come first-served basis.
Bluebird Cafe Ticket Prices and Fees
About half of the Bluebird Cafe tickets are usually FREE. Mind blowing, right? Other shows have a cover charge, usually ranging from $10 to $20 USD, that is due when you show up (you can pay by cash or credit card).
If you get reservations (instead of trying for the first-come first-served seating), there is a $3.00 USD reservation fee per person plus any application taxes (so it's usually $3.28 USD). The total for my mom and I's reservation was $6.56 USD.
There is also a $10 USD food/drink minimum per person (not per table). This means that each person needs to spend at least $10 dollars on food and/or drinks. It's a requirement regardless of which show you attend. If you don't drink (like me) that's okay. The Bluebird Cafe menu also has several appetizer and entrée options as well. You can find the food menu and drink menu on the Bluebird Cafe's website. This is the main way the Bluebird Cafe makes money to stay open, so if you enjoyed the show, make sure to support them!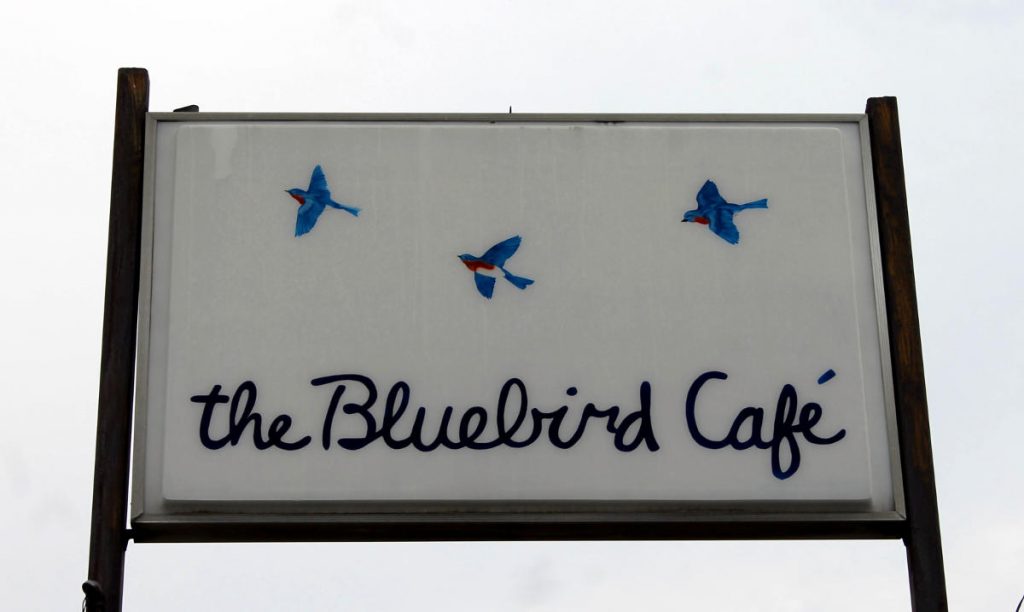 Bluebird Cafe Calendar: When are Show Dates and Times Posted
The Bluebird Cafe has a calendar on their website that shows all the performances and show times for the current month. The show schedule for the following month is usually posted around the 15th of the current month. For example, when my mom and I were planning our trip to Nashville for August, the show schedule for that month was made available on the Bluebird Cafe Calendar on July 15th. This will give you plenty of time to take a look at the shows and see which ones you might want to attend before having to worry about the shows opening up for reservations.
Click on the event name or the "Purchase Tickets" button on the Bluebird Cafe calendar to see more information about that particular show including artists profiles, reservation options, prices, and more.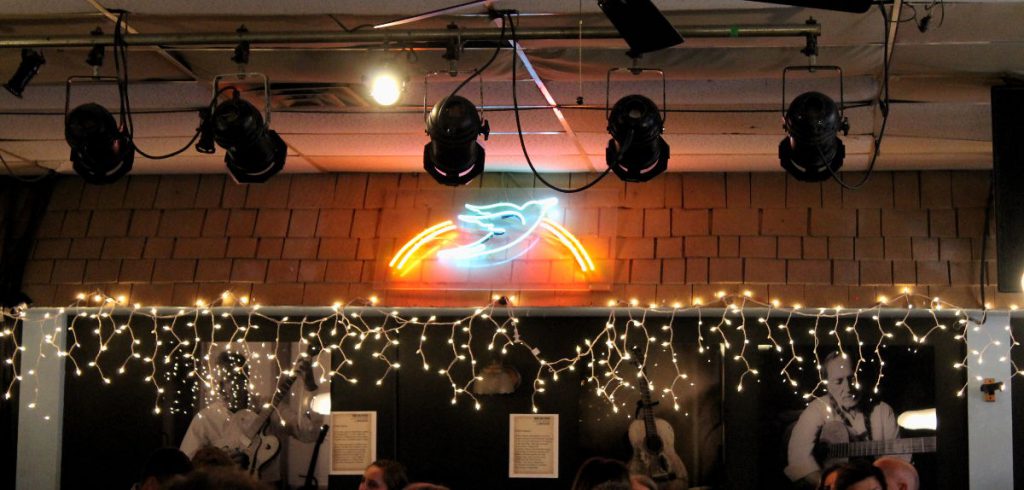 What are the Best Seats
Due to the Bluebird Cafe's size and stage structure, I'd dare to say that there is no such thing as a "bad seat." The "best seats" are typically the ones closest to the performers (although some people may disagree). However, the seats closest to the stage are usually taken by guests of the performers. So if the "best seats" are usually taken already, what would be the next best seats?
My personal opinion, go for the tables that don't have any other tables in front of them OR go for tables that have bar seats (these are indicated with black circles on the seating charts). This way you'll be able to get an unobstructed view of the performers without having to lean in your chair to get around the person in front of you.
The Bluebird Cafe seating chart makes the place look quite spacious. I can assure you, you will not have as much space as the seating chart will lead you to believe. Take a look at the In the Round seating chart. Now take a look at the picture below of the In the Round seating when the place is completely full.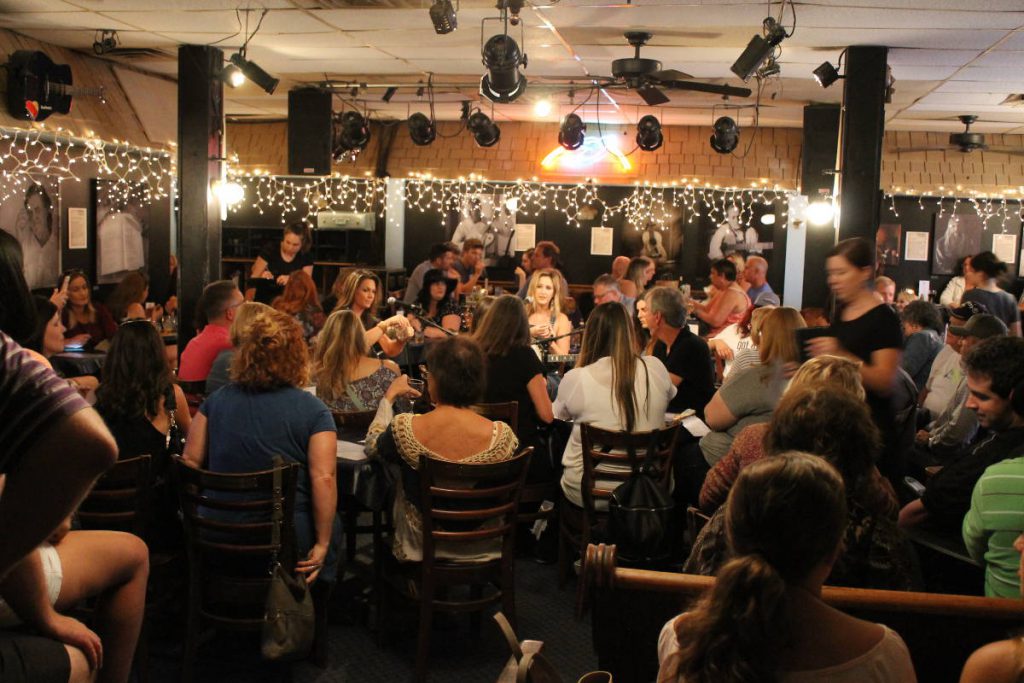 My mom and I got seats at Table #23 and thought that they were great seats. We sat on bar height chairs at a table that was on a slightly raised platform, so we were a bit elevated above the rest of the audience giving us a clear view. Plus, we were sort of in a corner away from the crowd, giving us plenty of space to sit back and relax.
Bluebird Cafe Show Policy and Rules
As I mentioned earlier in this article, the Bluebird Cafe has a strict "Shh" policy that more or less asks you to remain quiet during the performance. Those who break that rule may be asked to leave.
People of all ages are welcome to attend the shows. However you must be 21 or older to sit at the bar.
The Bluebird Cafe does NOT allow the resale of tickets. If you cannot make your reservation, you must cancel at least 24 hours in advance (for Satuday and Sunday shows you must cancel by 4:15PM CST the Friday before) or risk being charged the $10 USD food/drink minimum and the cover charge (if there is one).
Photography is allowed, but audio and video recording is strictly prohibited for copyright purposes.
Helpful Tips and Things to Know
Make sure to bring a copy of the reservation. They should have your name on the list, but they recommend bringing it just in case there is a mix up. Also make sure to bring your photo ID. Every now and then they will check IDs if they suspect ticket scalping!
The Bluebird Cafe is located in a strip mall, so parking will be shared with other stores in the area. Be sure to only park in front of the Bluebird Cafe or stores that are closed (otherwise you risk getting towed). Do NOT park in the AT&T parking lot, regardless of whether they are open or closed.
Are you ready to start planning your trip to Nashville, Tennessee?
Get a FREE copy of A Dreamer's Guide to Trip Planning to get started!
---
Liked this article? Pin it to Pinterest!