Have a weekend to getaway? Looking for a place to stop on a road trip? There are lots of things to do in Louisville before you have to hit the road again! My mom and I chose to visit Louisville, Kentucky on our way to Nashville, Tennessee to give us a break from driving. See what we did with 36 hours in Lousiville, where we stayed the night, and what we thought of the city!
Disclaimer:This post contains affiliate links. Find more information about affiliate links on our policy page.
Jump To:
Related: Trip Research and Creating an Itinerary
What to Do with 36 Hours in Louisville Kentucky
Louisville has a decent amount of things to do, but it's not a place I would recommend spending an entire week. A day or two is plenty of time to see the city's top attractions. Here are the things we chose to do with 36 hours in Louisville…
Kentucky Derby Museum and Churchill Downs Tour
The Kentucky Derby is one of the biggest horse races in the world. It's held at Churchill Downs every year, and is one of three races that makes up the Triple Crown. Every year, upwards of 150,000 people attend the Kentucky Derby.
Even if the Kentucky Derby isn't going on when you come to town, you can still check out the museum and get a 30-minute guided walking tour of Churchill Downs. During the walking tour, they talk about the history of Churchill Downs, historic horses, jockey requirements, what it's like to attend the Kentucky derby race, and more.
They also have ticket upgrades from the standard general admission (which includes the museum and walking tour). However, unless you are a major fan of the Kentucky Derby, I felt like the general admission was enough to be able to experience the area.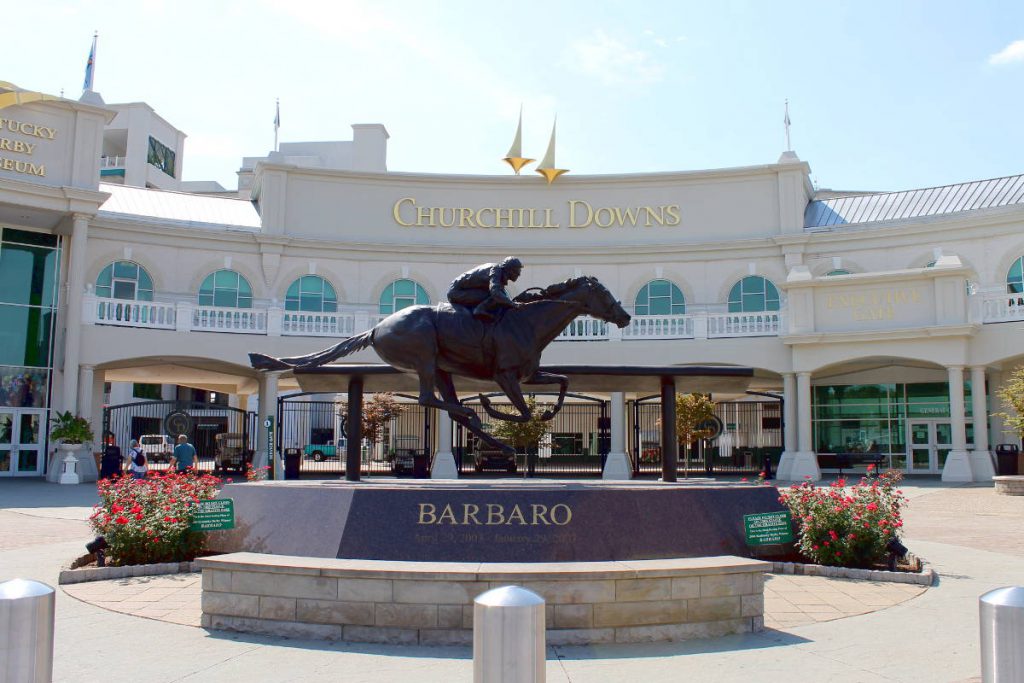 Conrad-Caldwell House Museum
The Conrad-Caldwell House, named so for the two families that lived there, is one of the most historic houses in Louisville and is "one of the finest examples of Richardsonian Romanesque architecture."  Tours of this awesome house are available two or three times a day. The tour begins promptly at the time listed, so I suggest actually arriving at the house a few minutes before the tour time.
The front door is usually locked, and you have to ring the door bell in order for the staff to let you in. They have a sign on the front door that states this. Please don't try and pull on the door! The entire house is a museum, so yanking on the door can damage something many volunteers have worked very hard to maintain.
Overall, I thought the tour was pretty good. I probably found it more interesting than most just because I have a general interest in architecture and interior design. It's a very in-depth tour, being almost 90 minutes in length and covering three floors. I didn't mind the tour length, but I think my mom would have preferred more of a 30-45 minute version.
Fun fact — the house is supposedly haunted. Every now and then caretakers and tour guides will hear footsteps in a particular room when nobody else is in the house. It's assumed to be some of the Presbyterian widows who had previously lived there (after the Presbyterian church bought the house to be a retirement home for widows).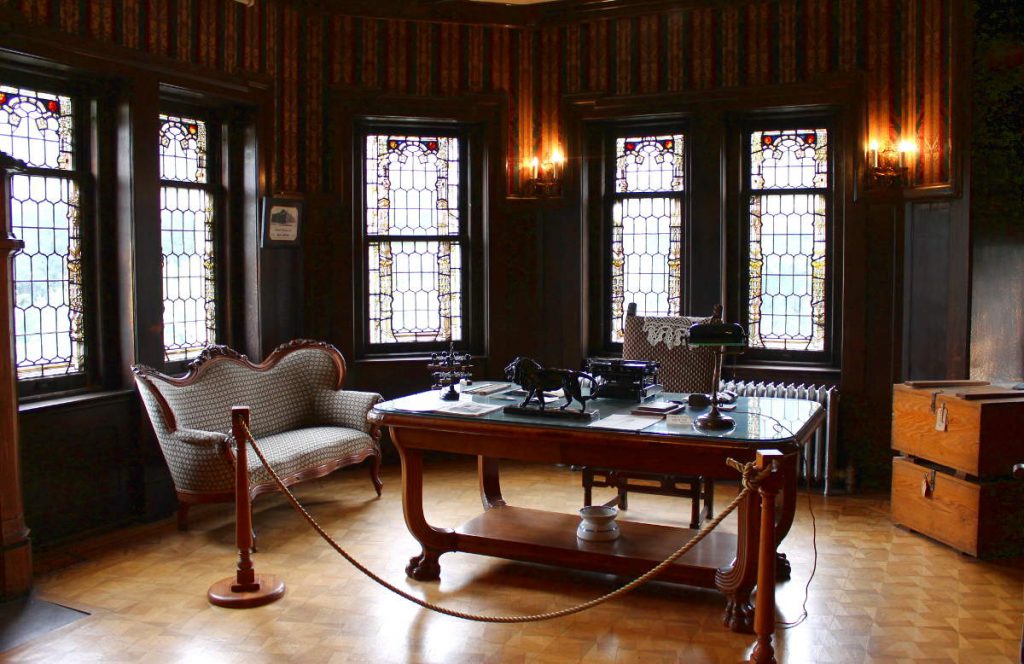 8UP Elevated Drinkery and Kitchen
Before going to Louisville, I had never been to a rooftop bar our lounge, so I was excited when I found the 8UP Elevated Drinkery and Kitchen (which is part of the Hampton Inn hotel). After stopping inside, we were pleased to find that, although they could make reservations for the dining room seating, we wouldn't need one for the rooftop lounge. Up on the lounge, we found that they had a few beers and a decent sized selection of wines. However, I will admit I was a little disappointed with the view. It was almost like the building needed to be just a little bit taller to get a truly nice view of the city. Although it was cool to see 4th street live from that far away.
Alternatively, you can check out these great vegan options in Louisville.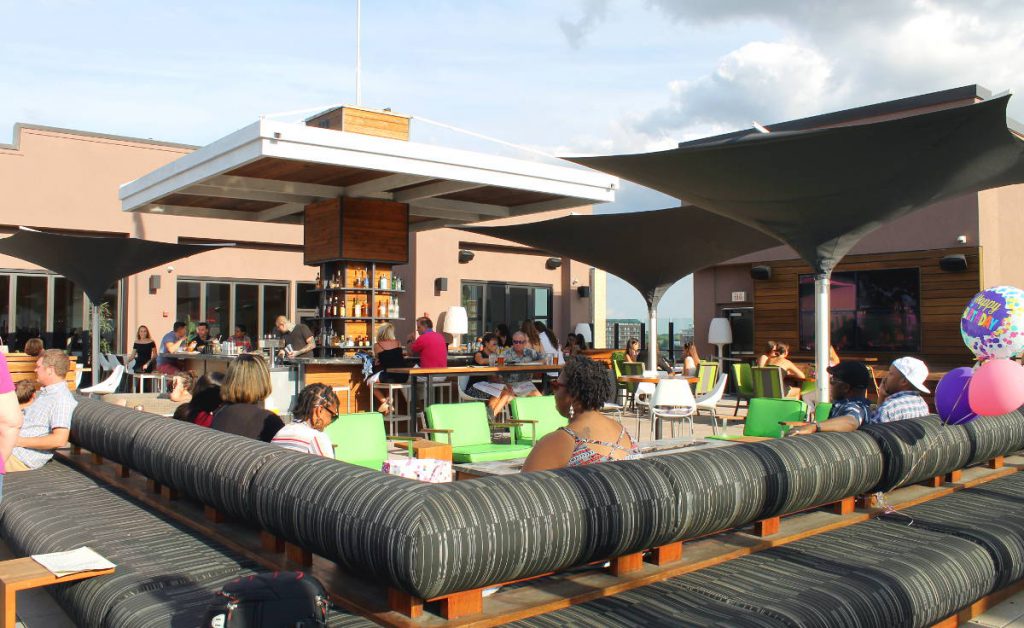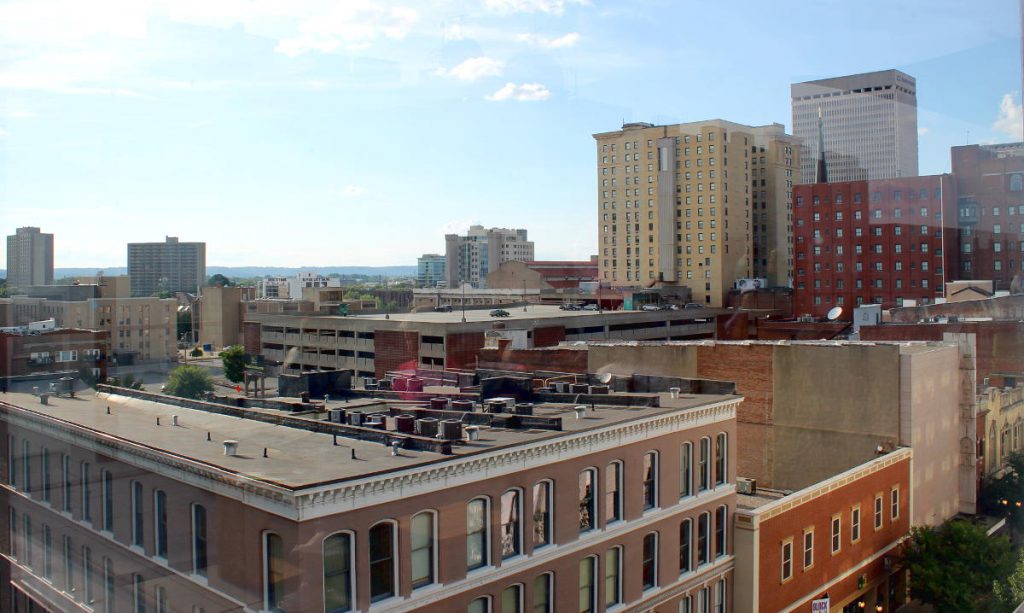 Explore Downtown
One of my favorite things to do in a city I've never been to is to simply walk around the area and see what it has to offer. Although, you do have to be careful that you don't end up in a bad part of town.
We started by 8UP Elevated Drinkery and Kitchen and eventually ended up in the 4th Street Live area. I was also surprised to find that, despite the fact that it was a Saturday afternoon/evening, the place didn't seem overly busy. The streets were practically empty! I guess I expected it to be a little more lively, but I would hazard a guess that the place gets packed around Kentucky Derby time.
Some of the areas we stopped in included the Shop in Brown (part of the Brown hotel), the Fashion Club store, the Benjamin Franklin statue in front of the Louisville public library, and anything else that look remotely interesting!
If you're looking for more things to do in the area, or just want some souvenirs that say "Louisville" on them, I recommend stopping by the Louisville Visitor Center.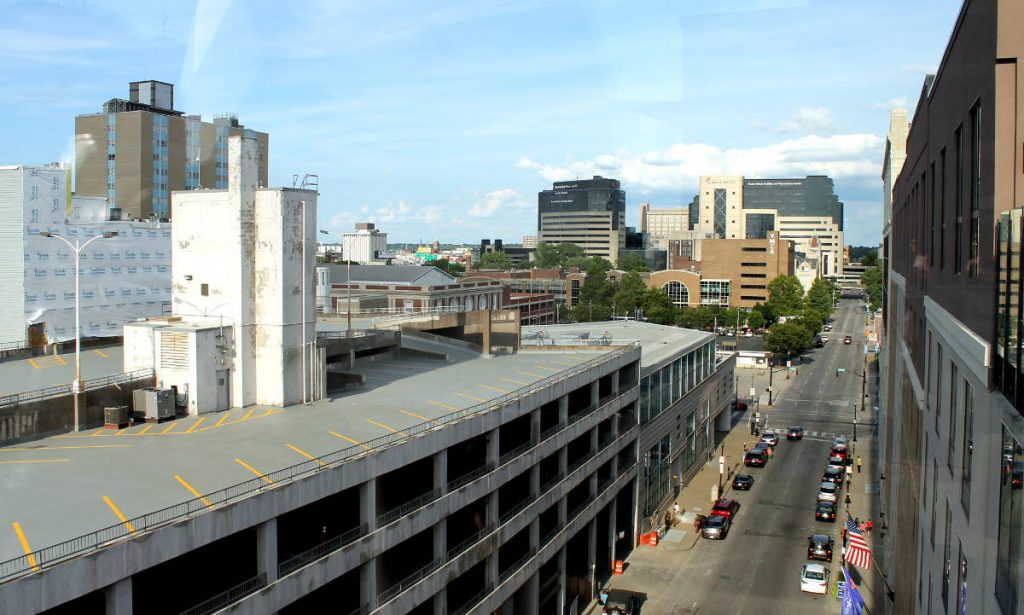 4th Street Live and Vault in the Ville
The one area that was pretty busy and upbeat was 4th Street Live. I had seen it recommended by others online when originally building our itinerary, but I had sort of overlooked it since we had already decided to get dinner somewhere else. However, we made our way through there during our exploration of downtown and was pleasantly surprised to find that we still enjoyed the area, despite not getting dinner there.
4th Street Live is known for its live music and other performances. They close down the entire street and setup the stage right in the street between several popular restaurants with large open windows and balconies. When we were there, an event called the Vault in the Ville was setting up. After a little bit of searching online, we discovered in was a pole vault competition.
My high school never had pole vault as an option for our track and field team, so although I understood how it worked, I had never actually seen it in person. It was surprisingly cool to watch the various men run with a pole in their hand that was easily three times their size. Once they got up to speed, they drove the end of the pole into the ground and launched themselves upward and over the bungee rope strung between two poles. Part of me wonders whether I'll see any of them again at the Tokyo 2020 Olympics.
Even if the Vault in the Ville event isn't going on when you're there, I'd still stop by the area. Chances are, they will have something else fun going on! You can check out their website to see a list of upcoming events.
You can see more pictures from the 2018 Vault in the Ville event on my Facebook page.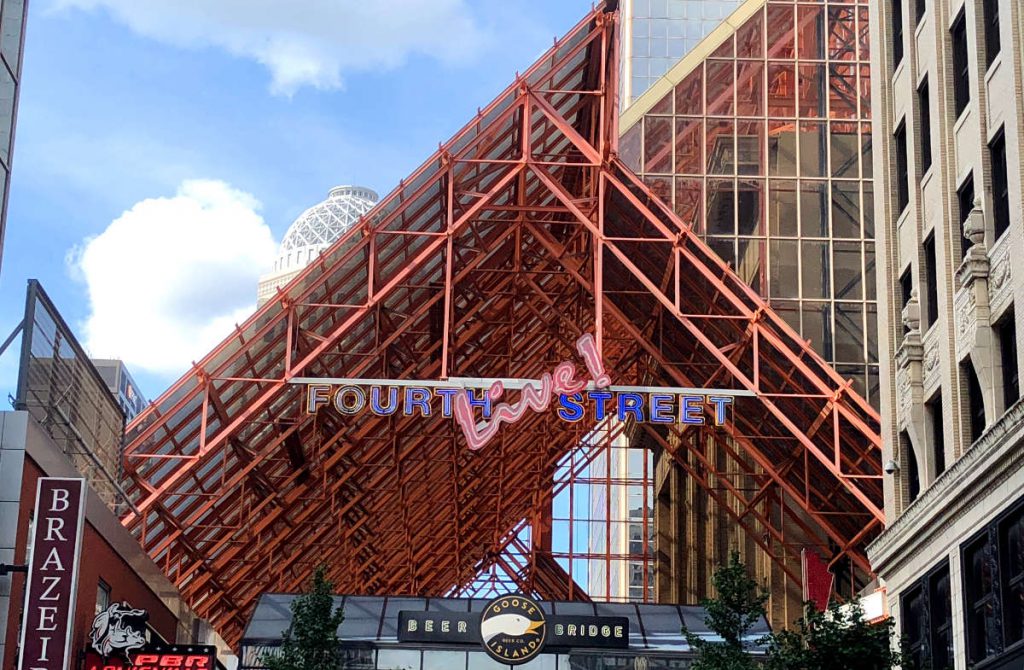 Big Four Bridge and Waterfront
One of the things I was most excited for was the Big Four Bridge, just because the pictures online had looked so cool. It's a large truss bridge that connects Louisville, Kentucky, with Jeffersonville, Indiana, and is completely covered in lights. Unfortunately, the bridge didn't look quite as I expected… It turns out there is an electrical issue that engineers having been chasing for a while, and it's resulting in only part of the bridge lighting up. Unfortunately, I wasn't able to see the bridge at it's full glory, but the parts that did light up were still pretty cool.
Next to the bridge is the waterfront that has large lawns for holding concerts, playgrounds and waterspouts for kids, and lots of places to just sit and relax. It's a fantastic place to spend an evening.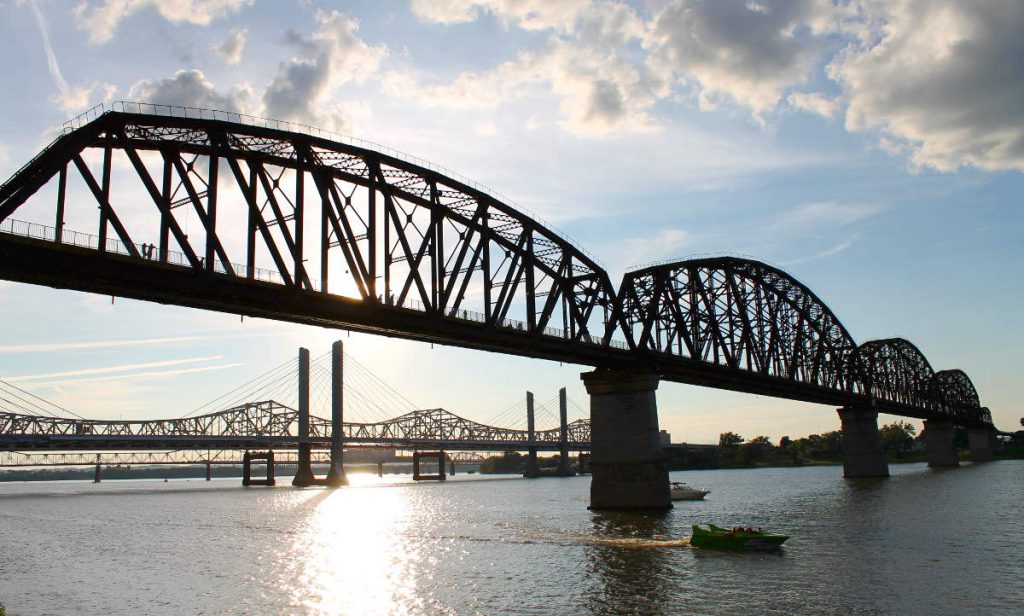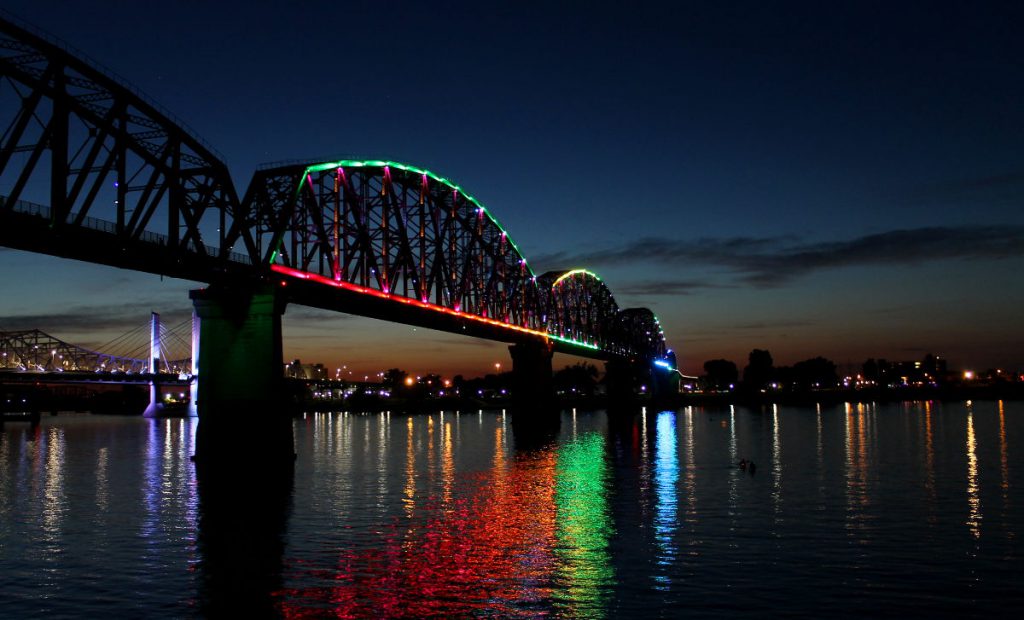 Where to Stay in Louisville
Since we were only spending one night in Louisville, we weren't looking for anything over the top fancy. We just needed a place to sleep. We chose to stay at the Howard Johnson by Wyndham Airport hotel. It was simple, but clean and comfortable, and even a little retro!
Overall Thoughts on Louisville
Personally, I think Louisville is a cool place to stop along the way, but I would never make a trip just to Louisville (unless you're coming for a special event like the Kentucky Derby). On the other hand, my Mom was pleasantly surprised by how much there was to do, because you typically only hear about the Kentucky Derby and the baseball museum. You never really hear about all the other fun things to do.
Our general conclusion, it's a fun place to spend a day or two, because there is a decent amount of fun things to do, but I wouldn't make it your sole destination.
---
Liked this article? Pin it to Pinterest!