Trip Research and Creating an Itinerary: A Dreamer's Guide to Trip Planning
Trip research and creating an itinerary can be an intensive task and even a little overwhelming at times. There always seems to be so much to think about in order to make sure you get to do everything you want, get everything at a good price, and overall have a good time. However, planning your trip doesn't have to be a super stressful process as long as you have a methodology for tackling it. Learn how to plan for your next trip the non-stressful way!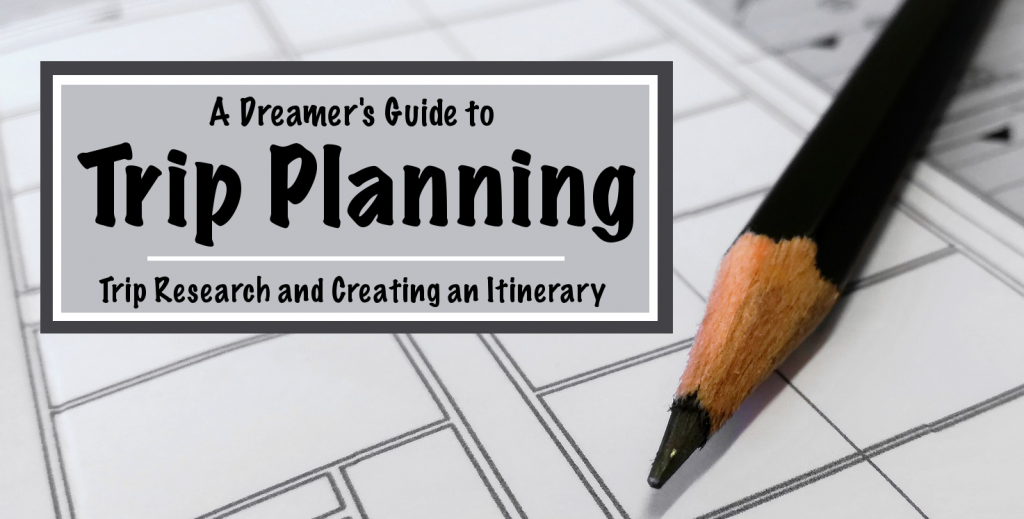 Why I Do Extensive Research: I Fail At "Going With the Wind"
There are a lot of travelers out there who just "go with the wind." They argue that by planning out every little detail of trips, you miss out on opportunities that may show up later down the road. "Get lost," they insist, "you never know what you'll find!"
I tried to "go with the wind" once. I failed, epically.
When visiting California, I knew I wanted to go to Los Angeles and San Francisco, however, I didn't know how long I wanted to stay in each city or exactly what I wanted to do in each. What if I found a bunch of things I wanted to do in the city and wanted to linger in one particular city a little longer? What if one city turned out to not be as interesting as I thought and I wanted to move on?
Maybe I misinterpreted what other travelers meant by "go with the wind." Maybe they do at least some trip planning. I did no such thing. I didn't reserve rooms at a hotel, didn't buy attraction tickets in advance, nothing. I didn't want to be bogged down with set dates and times. I wanted to be free to do whatever looked interesting and overall just explore.
In the end my trip to California ended up being less enjoyable than if I had just created an itinerary in advance. I felt like I spent a decent amount of time just trying to figure out things to do, and to me, that's time wasted. That's time I could have spent actually experiencing the city instead of doing planning and research. Plus, I found that a majority of three-star hotels (where I usually stay when traveling) were sold out, so I was forced to stay at four and five star hotels, completely blowing my budget. Also, tickets for popular attractions such as visiting Alcatraz had sold out weeks in advance. I still enjoyed my trip to California, but I think it could have gone much better.
At the end of the day, it just boils down to what kind of person you are. I am the person who feels less stressed when I have some sort of plan of action. However, I am careful not to let myself get set in stone. I'll create an itinerary just so I'm not wasting time trying to figure out what I want to do, but I'm happy to adjust or completely change my itinerary if I find something else I want to do.
Trip Research and Creating an Itinerary
For every trip, most people do some basic research: best times to visit, places to go/things to see, where to stay, etc. However, that process can be quite time consuming and stressful.
When I first started traveling, I would usually write down my research on a scrap piece of paper or maybe in a word document. There was absolutely no organization or methodology to my research. I would look at places to go, then I would look at hotels, then more research on places to go, then research transportation, and so on. Often times, I would look back at my notes and not be able to understand what I had meant, so I would end up having to google some of the things I had written down to refresh my memory.
To make my trip planning easier and less stressful, I created a planner called A Dreamer's Guide to Trip Planning. It's a convenient way for me to keep all of my research organized and in one location. Now, I use it every time I start thinking about visiting a new place.
The planner contains the necessary pages for me to write down:
When I talk about travel with other people, one of the biggest complaints I often hear is how much of a pain the planning process can be. They're not sure if they're getting a good deal on flights or hotels, and dont know how much to budget. I think it's one of the many reasons people don't travel more, so I decided to make my planner available for everyone to use!
Get your FREE copy of A Dreamer's Guide to Trip Planning!
Then, keep reading to see how I use the planner to streamline my trip planning. For convenience, I've included pictures of how I used to planner to organize a domestic trip (to Chicago), and an international trip (to Ireland).
A Dreamer's Guide to Trip Planning
Pick a Destination
Before you can start doing trip research and creating an itinerary, you have to decide where to go. This is sometimes the hardest part. When there are so many cool and amazing places in the world, how do we possibly pick a destination? You can check out my post "Decide Where to Go Next" if you need a few tips to get you started.
Keep in mind that the destination you pick isn't necessarily where you absolutely have to go next. A lot of times I'll start doing trip planning for multiple destinations just to get an idea of how long I would want to be there and how much it would cost. That is usually my deciding factor for where to go next.
Once you've picked a destination, the real fun begins…
Research Basic Information About Your Destination
Once I have a destination in mind, I start asking myself some basic questions:
What time zone is the destination in? Am I going to have to deal with jetlag?
Am I going to have to exchange currency?
How hard would it be to get to this destination? Do I need a passport? Do I need a visa?
What's the weather like? Are there certain times that are better to visit than others?
Are there any laws, rules, or customs that I should be aware of?
Of course, not all of these questions will apply for every trip. However, when they do apply, it's very useful information to have.
Figure Out How to Get There
Typically, one of the first things I do once I've picked a destination is start looking at how I'm going to get there. If I'm staying within a reasonable distance of home, I'll typically drive to my destination. Long road trips are sometimes half the fun! Otherwise, I start the process of researching flights.
There usually isn't a whole lot of planning involved with road trips unless maybe you are traveling with several people or a few kids. Most of my research usually just involves trying to figure out how long it will take to get there and approximately how much it's going to cost for gas. Estimating the cost of gas for the whole trip of course requires knowing the tank size in your car and how many miles per gallon it gets. However, a quick google search of the year, make, model of your car should be able to get you that information.
However, if you're flying to your destination, that is usually much more involved. Making sure you get a decent flight at a good price can definitely be difficult. It's so easy to get lost between all the different websites and flights that you take into consideration. When I find what I think is a decently priced flight, I'll jot it down, and I'll do this over a couple of days, maybe even weeks, so I can see how prices might fluctuate. Then, when I'm ready to actually book my flight, it's easy to figure out which flight I want because I have it all in my notes!
Find Interesting Things to Do and See
My favorite part of trip planning is finding all of the cool and unique things I can do and experience at my destination. I scour the internet, looking for inspiration, and write down anything and everything that looks even remotely interest, knowing full well that I won't be able to (and probably wont want to) do everything on my list.
As I go along, I take some basic notes about each of the places/activities of interest. My notes include:
The name of the activity/location
The hours they are open – some activities may be seasonal. This is also helpful when it comes to creating the itinerary so you can make sure to visit a place before they close for the day
The price – useful for budgeting (if you have one). Price often places a big role in my decision as to whether or not to go to a particular place
Any additional notes – many times I will write down why I thought this place was interesting or a particular thing I wanted to do at the location. I also sometimes use this section to write down why I chose not to do it in the end
When I go back and actually take a look at the list I've made, these notes help me decide which things I actually want to do. The format of the planner helps me easily compare and contrast my different options, and then I can put a check mark next to the activities and places I eventually decide on.
Research Lodging and Accommodations
Researching where to stay is usually one of the last things I do. There is no point in staying in a hotel on the west side of town if everything I want to do is on the east side of town. Of course, there are exceptions to that (it's a resort I really want to stay at, I can get a cheaper price, etc.) Still, I usually like to have some idea of what I'm going to do before I start looking at where to stay.
For me, hotel research isn't usually too involved because I typically stay in three star hotels. I find the cheapest ones for the dates I'm interested in, and then pick a hotel based on guest reviews. Typically, I only look into maybe three or so hotels. However, this process can become more involved if you have multiple dates you are considering or you are staying in more than one location.
Similar to how I did for Places of Interest, I'll write down notes about the different hotels I'm considering:
Name of the hotel
The cost – usually one of the biggest factors in influencing my final decision
Check-in and Check-out dates – A lot of times I'll look at the same hotel for different dates so I can see which days I can get the best price
Check-in and Check-out times – While they usually don't affect my choice of hotel, its useful information to know when creating an itinerary since many hotels charge extra for being early or late
Additional Notes – I usually note how far it is from some of the major places I plan on going, good points and bad points of the hotel mentioned in reviews from previous guests, and if there are any additional charges (i.e. parking, internet, etc.)
It also has a place for you to check mark which hotel you finally decide on.
Determine How You'll get Around
Depending on where I'm going, there may be several different options for how I get to place to place. I can walk, drive, ride a train/bus, get a taxi/uber, and more. I sometimes only use one of those options, and other times I may use all of them.
Personally, I lean towards walking or taking public transit, as those are often the cheapest modes of travel. In some cases though, public transit might not run frequently enough or get me close enough to my destination. Other times, if I'm traveling with other people, sharing a taxi or uber might actually be cheaper than all of us paying for public transit. For that reason, I tend to research multiple modes of transportation.
Public Transit Research:
Are there any buses or trains that are close to where I'm at and go close to my destination?
How frequently do those run? If I miss the bus/train, how much trouble will I be in?
How much does each ride cost? Do they offer day/week passes?
Taxi/Uber:
What's the pricing model (base fare, price per minute, price per mile)?
What's the bare minimum price?
Would I be splitting the cost with other people?
Like before, you can check mark with transportation options you decide to use.
Creating an Itinerary
Finding places to go might be my favorite part, but to me building the itinerary is probably the most exciting part…and the most stressful. This is the time when I have to try and figure out how to fit all the things I want to do into the limited amount of time that I have. I want to maximize how much I get to do without feeling like I'm rushing through places.
Thankfully, Google has this wonderful thing for MOST attractions called "Plan Your Visit." If you simply type in the place you are interested in going, on the right hand side it show details about your destination. Towards the bottom of that section, it shows popular times and how long people typically spend at the destination. Of course, this number can vary greatly depending on the type of person you are, but it gives you a starting point. Also, reviews and forums such as TripAdvisor can be great places to see what other people are saying about how long they spent at a particular place and why.
I highly recommended writing this section in pencil. I'm constantly making changes to my itinerary based on new things that I learn. While I don't mind a few pen scratch marks, after a while they tend to make my planner hard to read. The idea is to make my life easier. I don't want to be struggling to read what I wrote around all the scratch marks.
Determine the Cost of Your Trip
Remember all those places where I wrote down the costs of all those individual activities, hotel prices, transportation prices, and more? This is where it all comes together.
I tend to use this page hand-in-hand with my itinerary page, since cost usually determines which places I decide to go to and how I intend to get there. If I have a set budget for my trip, I'll use this page to play with numbers in order to maximize how much I do with the money I've got. If there's no set number, I'll just use this page as a place to add all the numbers together.
I also use it as a place to divide costs, since I don't frequently travel by myself. For things like food, entrance tickets, and things of that nature, each person typically pays individually. However, I tend to split hotel costs, taxi rides, and such with whoever I've traveling with. I use it as a place to figure out who is going to cover what costs.
Jot Down Additional Notes
The very last section is my free-for-all to write down anything and everything else that comes to mind. I almost always write down the sunset and sunrise times for various reasons. I love taking pictures of the sunrise or sunset, but I've also found it helpful for other reasons. Very few people are up before the sun, which means if I want to get a picture of a place without too many people, doing it before the sun is fully up is probably a good time.
Other things I might write down are tour packages or attraction passes, as these often consist of multiple activities and places, meaning that they don't really fit into one particular spot in the planner. It's an easy place for me to write down the details of the tour or pass so I can easily remember everything it covers.
Start Your Adventure!
What do you think? Are you ready to start planning your next trip? Are there other things you typically do during trip planning that wasn't mentioned here? Feel free to let me know in the comments below!
Don't forget to get your FREE copy of A Dreamer's Guide to Trip Planning!
Further Reading
---
Liked this article? Pin it to Pinterest!