When I tell people that I love to travel, one of the first questions I usually get is something along the lines of "Where do you want to travel to?" Problem is, I have A LOT of places I want to visit. Deciding where to travel can be quite the challenge. I'm sure many other people face the same struggle. So, how do you choose a travel destination?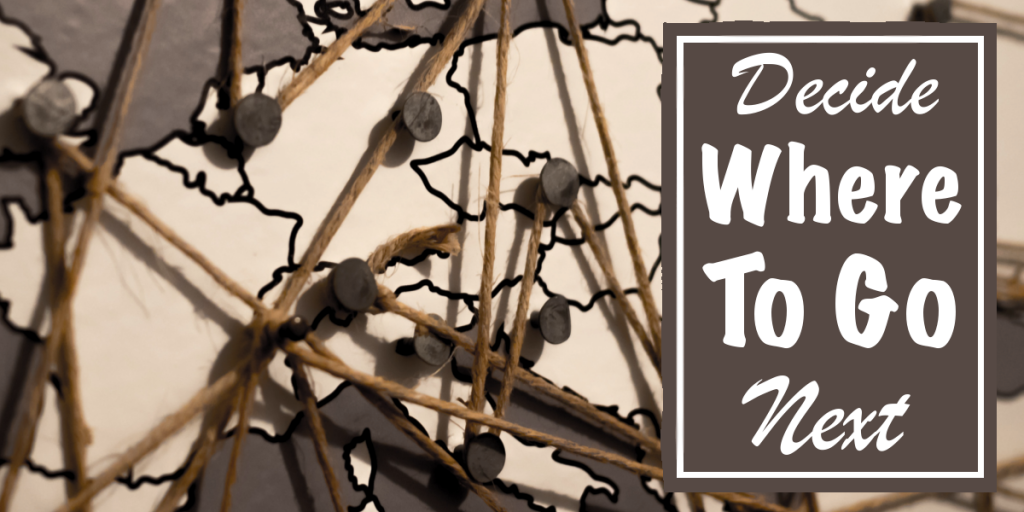 1) Find Places to Go!
Before you can decide where to go next, you need to find places you want to go! There are numerous ways to do this, but the main ways I find travel inspiration is through social media, particularly Instagram and Pinterest.
What better way to get inspired to go somewhere than to see a stunning picture of it? Luckily, there are amazing photographers all around the world who share their wonderful photos. Below are some Instagram accounts and Pinterest boards you can follow to help you get inspired.
Remember! When you save or pin a photo, make sure it includes the location somewhere in the description, that way you don't have to go searching for it later.
Bucketlisters
Bucketlisters features pictures taken by their various followers. The pictures are taken in locations all around the world and feature some truly breathtaking places. The pictures you see here will definitely make you think, "Wow! I want to go there!"
Weekend Wanderlust
Weekend Wanderlust is a group of travels who share their adventures, experiences, and travel hacks. Their official account features many pictures from their various members.
Crazy Travel Adventures
Travel bloggers of all sorts post their top travel stories here. This board contains posts from solo travelers, family travelers, budget travelers, and luxury travelers alike. Surely you will find something that matches your style here.
Footsteps of a Dreamer
Pinterest Account and Instagram Account
Of course, I can't give you a list of Instagram and Pinterest accounts without listing my own. I post pictures from my trips around the world to my Instagram account and I use Pinterest for travel planning and inspiration.
2) Pay Attention to Frequent Occurrences
If you find yourself saving or pinning different images from the same location relatively frequently, that's probably a place that you'll want to start thinking about visiting.
As you start finding places that seem to pop up over and over again, start grouping those photos or pins together and make an overall list of the places you would like to visit.
I have different Pinterest boards for each of the different places that I think look interesting and worth visiting. Not surprisingly, my Japan Pinterest board has the most amount of pins.
3) Rank Your List
Start ranking items on your list by how much you would like to visit a particular place. If you can't decide which locations should rank higher on your list, start by putting the places you have the most saved pictures or pins for at the very top.
Try putting the Pinterest boards of where you want to go most closer to the top of your profile. Once you have actually made the trip, move it to the bottom.
4) Do Your Research
Do some quick research to get an idea of how easy (or difficult) it would be to travel to the locations on your list. For various reasons, some places are easier to go to than others – whether it be because of distance, price, etc. The information you discover may influence how much you want to visit a particular place and ultimately your overall list ranking.
For example, my boyfriend wants to go to Easter Island, an island in the Pacific Ocean. It's famous for its 900 statues called moai. However, this island isn't exactly the easiest place in the world to get to, hence why we haven't gone yet.
However, if there is a place that you REALLY want to go even though it might be a little more difficult to get to, leave it higher on your list. There is nothing wrong with having big dreams.
However, make sure to keep your research brief. Don't take a step back from your research and find that you've planned an entire trip you're not even sure you're ready to go on.
5) Decide Where to Go Next
Now that your list is complete, it's time to take a look at the top places on your list and start planning your next trip!
Further Reading
---
Liked this article? Pin it to Pinterest!