Kyoto, Japan is full of rich culture and history. It was largely untouched during the World Wars, meaning many of the traditional architecture remains. If you are looking to experience the traditional styles and culture Japan is famous for, you'll definitely want to check out the best shrines and temples in Kyoto!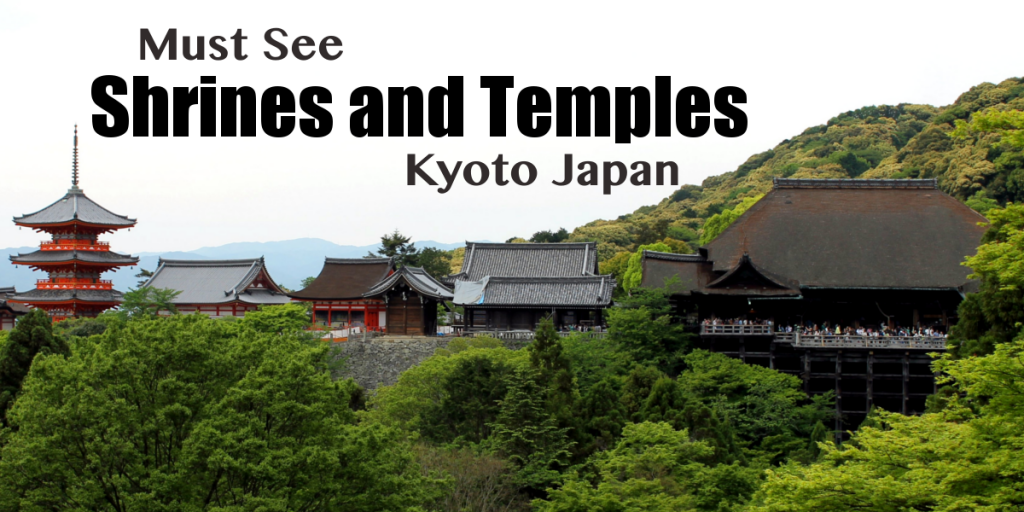 Shrine vs. Temple
Most people use these words interchangeably (I did too for a while), but there are actually some differences between temples and shrines. I won't be offended if you call a temple a shrine, or vice versa, but I think knowing the difference helps you better understand the culture around them and overall have a better experience during your visit.
Shrines
Shrines are often dedicated to deities from Shintoism, a religion native to Japan
You will always find one or more torii (or gate)
They often have some sort of guardian animal such as dogs, lions, or foxes
Temples
Temples are based in Buddhism
Often times there will be a pagoda on the premises
They always house an image of buddha
You will often find incense burning (the smoke is said to have healing properties)
Best Shrines and Temples in Kyoto, Japan
1) Fushimi Inari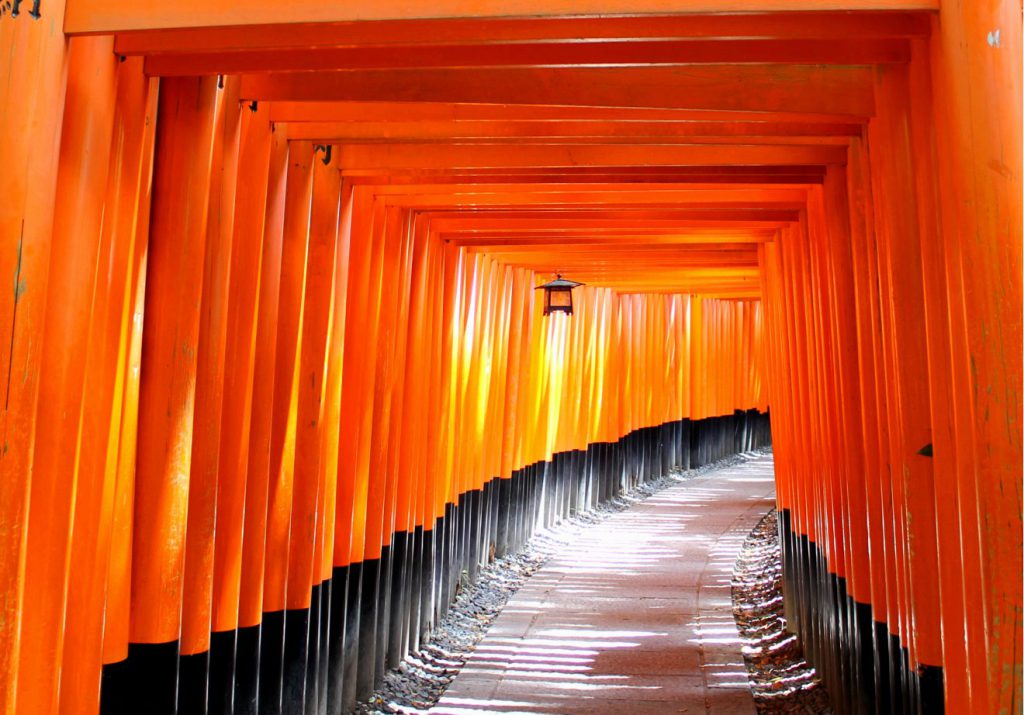 This is hands down my absolute favorite place and arguably one of the best shrines in Kyoto.
Fushimi Inari sits atop a mountain, and is most popular for it's various trails as well as the many torii (gates). In particular, it's famous for its Senbon Torii, literally meaning "Thousand Gates." It consists of two parallel trails that are lined with torii. As if 1,000 torii gates weren't enough, it is said that there are over 10,000 torii gates spread across the shrine grounds (according to the Gaijin Pot blog).
As somebody who has always been incredibly fascinated by torii gates, it's not surprising that Fushimi Inari is by far my favorite temple in all of Japan.
I went during Golden Week (several holidays all fall within the same week so many companies and schools have off), which is one of the most popular travel times in Japan. For that reason, it was incredibly crowded when I went. You have no idea how long I had to wait to get the above picture without people in it. However, I've heard it's not very crowded during other times of the year. You could also consider visiting at night when there are fewer people.
It also should be noted that the climb to the top of the mountain is a long one. I wore a kimono on the day I visited Fushimi Inari, and climbing the mountain in geta (traditional Japanese shoes) was quite difficult. If you intend on climbing to the top, make sure to set aside plenty of time and wear good clothing. Even if you don't go all the way to the top, there are several places to eat and buy souvenirs along the paths.
2) Kinkakuji
Kinkakuji, also known as the Golden Pavilion, is arguably one of the most famous and best temples in Kyoto. It is particularly famous for being covered in gold leaf. It sits on the edge of a pond, which often allows you to see a stunning reflection of the temple on the water. The gardens around the temple are also quite beautiful.
The path takes you around the pond, eventually leading you right up to the temple. Beyond the temple are beautiful gardens, which include statues you can throw money at for good luck and a teahouse.
3) Kiyomizu-dera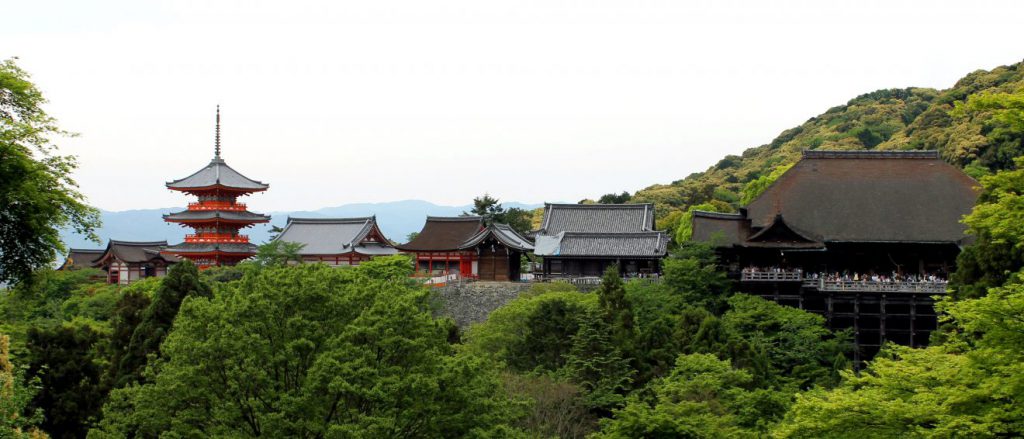 Kiyomizu-dera, which literally means "Pure Water Temple," rivals Kinkakuji for being the most famous temple in Kyoto. It was declared a World Heritage Site by the United Nations Educational, Scientific, and Cultural Organization (UNESCO), which aims to promote the preservation and growth of the world's intellectual and cultural property.
One of the most famous spots in Kiyomizu-dera is the wooden stage (part of the main hall). It stretches out over the hillside, allowing you to get a great view of the grounds below and the city in the distance.
Also on the temple grounds are Jishu Shrine and the Otowa Waterfall. Activities at these locations bring various types of good fortune. At the Jishu Shrine, walking from one stone to the other with your eyes closed will bring you luck in finding love. Using another person to guide you from one stone to the other will still bring you luck, but means you'll need an intermediary to help you find it. The Otowa Waterfall has three different streams of water. Each stream brings a different fortune. From the perspective of the drinker, the right stream is for luck in love. The middle stream is for longevity and the left stream is for wisdom or academic success. Know that drinking from all three is considered greedy and is considered to cancel the effect.
4) Daigoji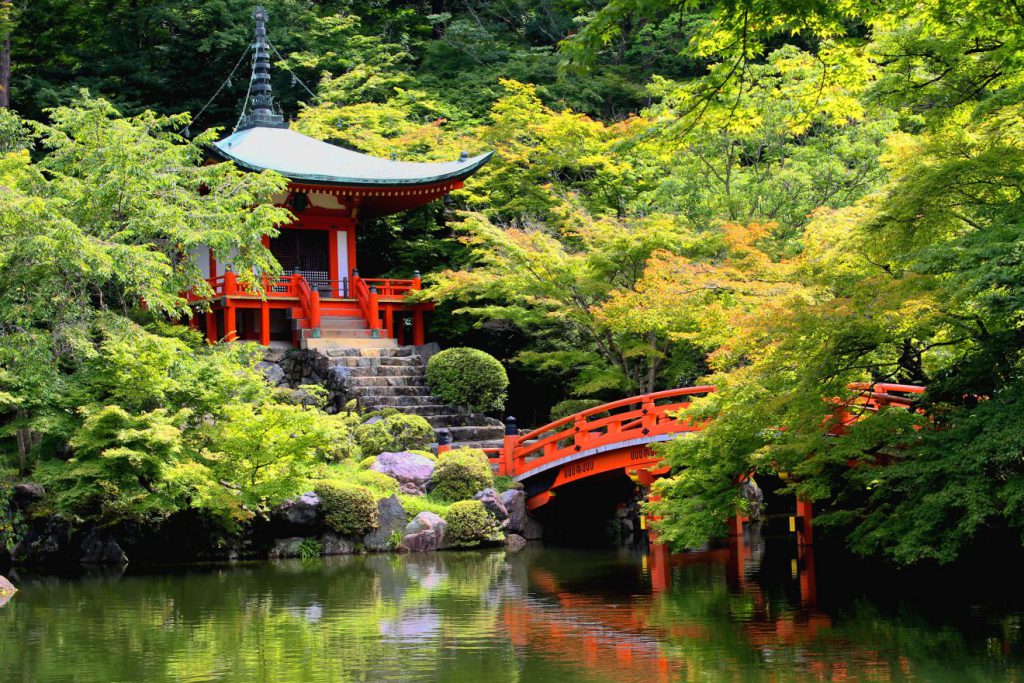 Despite being one of the lesser known and visited of the shrines and temples in Kyoto, Japan, it's been designated a UNESCO World Heritage Site
The grounds for Daigoji are quite large, giving you lots to explore. It is divided into the "lower grounds" and "upper grounds." The lower grounds contain Sanboin (the former residence of the head priest), Shimo Daigo (contains the main hall and other important buildings), and Reihokan Museum (the temple treasure house). The upper grounds contain Kami Daigo (the original temple grounds).
5) Ginkakuji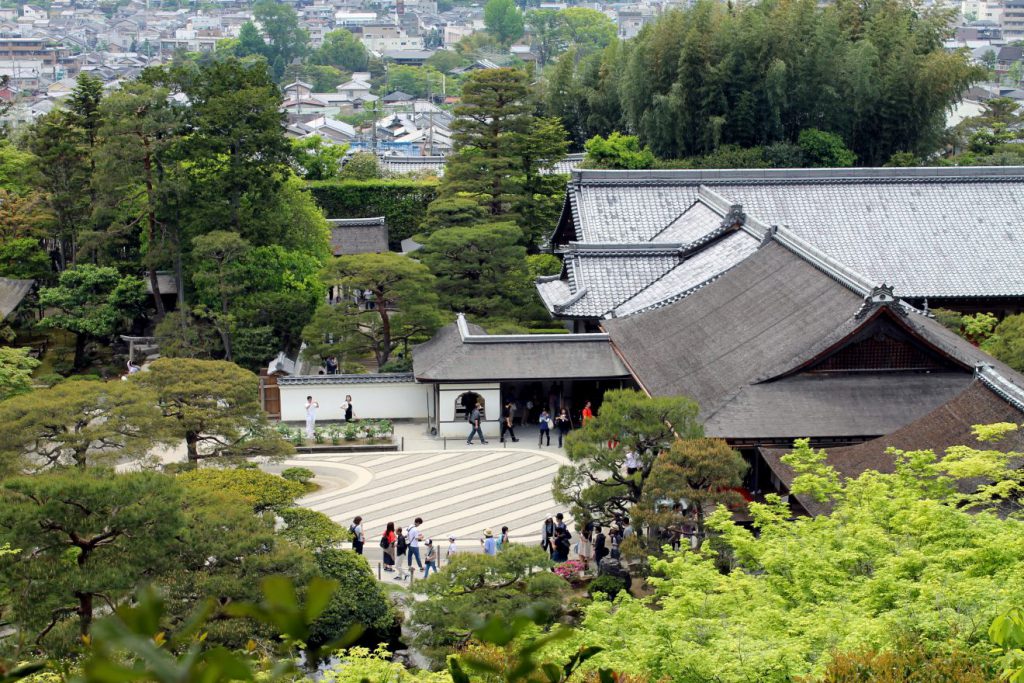 This temple was originally a retirement villa for a previous Shogun, or ruler of Japan, and was modeled after Kinkakuji. However, it is not plated in silver (as the name might suggest).
After he passed away, it was converted into a temple. On the grounds, there is also a sand garden, moss garden, and even a small bamboo forest.
6) Daitokuji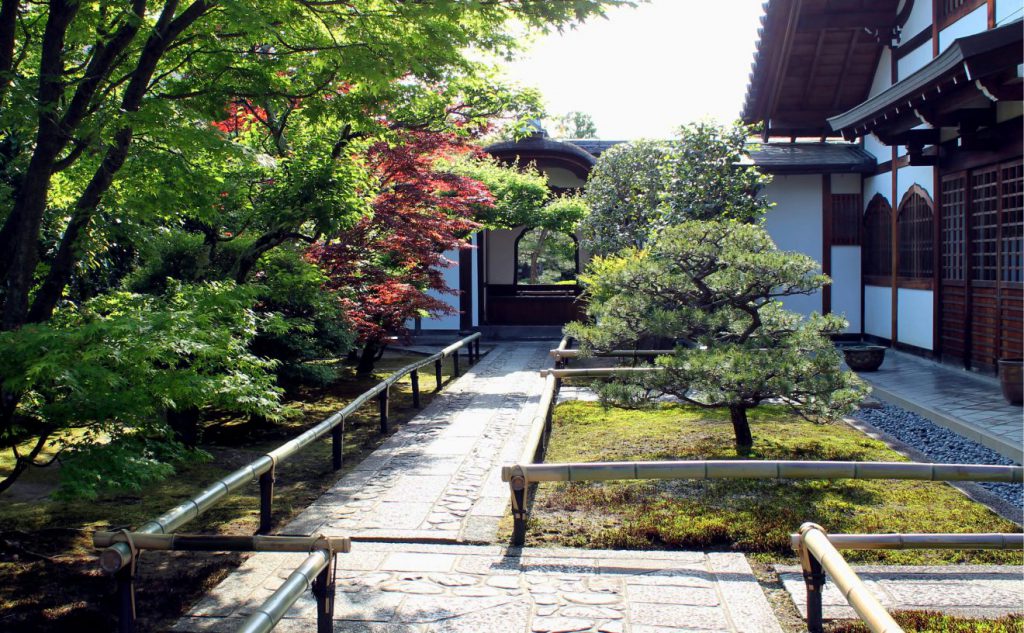 Daitokuji is actually a collection of 22 temples. It is incredibly convenient in that you can experience all sorts of zen temples and gardens in one particular area. Unfortunately, only four of these temples are consistently open to the public. Other temples open at irregular or special times.
Unfortunately, you have to pay separately for each of the temples you want to visit. However, if you are particularly interested in Japanese gardens, especially stone gardens, it is well worth the visit. Plus, they are not nearly as popular as some of the other shrines and temples in Kyoto, so even if you visit Kyoto during crowded times, you likely won't find too many people here.
More information about the individual temples at Daitokuji can be found on the Inside Kyoto website.
7) Shoren-in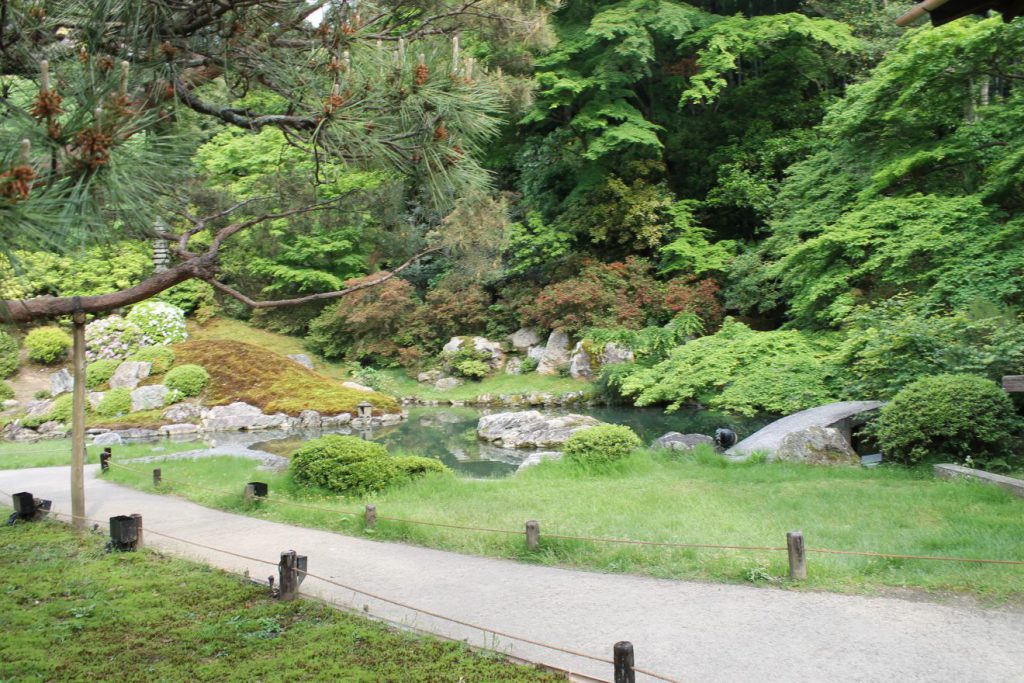 Shorenin was originally built as living quarters for members of the royal family, but over time was turned into a temple.
Unlike other temples in Kyoto, Japan, Shorenin is open to be explored, allowing you to wander through the many rooms, across tatami mats and through shoji, the sliding paper doors. Many of the rooms have paintings and other unique artifacts.
The grounds also have extensive gardens, which you can admire from inside Shorenin drawing room, or while taking a stroll along one of the many paths.
8) Byodoin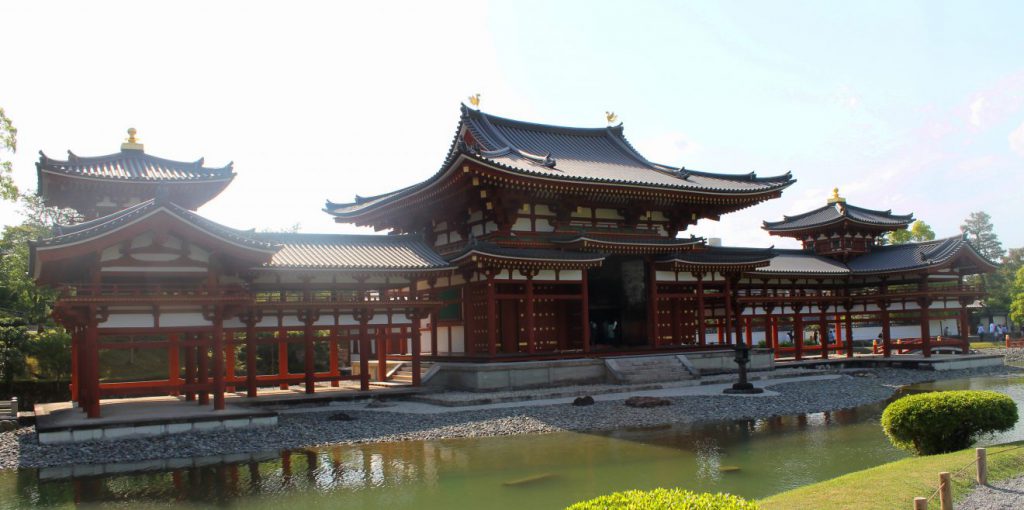 Byodo-in Temple is known for it's unique architecture. The most famous part is Phoenix Hall, named for the shape and the two phoenix statues that sit on the roof. It is even featured on the back of the 10 yen coin.
The temple itself sits on a small pond. There is a dirt path that leads you around the pond, allowing you to fully appreciate the temple. At the beginning of the path, you can get a guided tour (in Japanese) for an extra 300 yen. If you continue along the path, you'll be able to explore the beautiful temple gardens.
9) Chion-in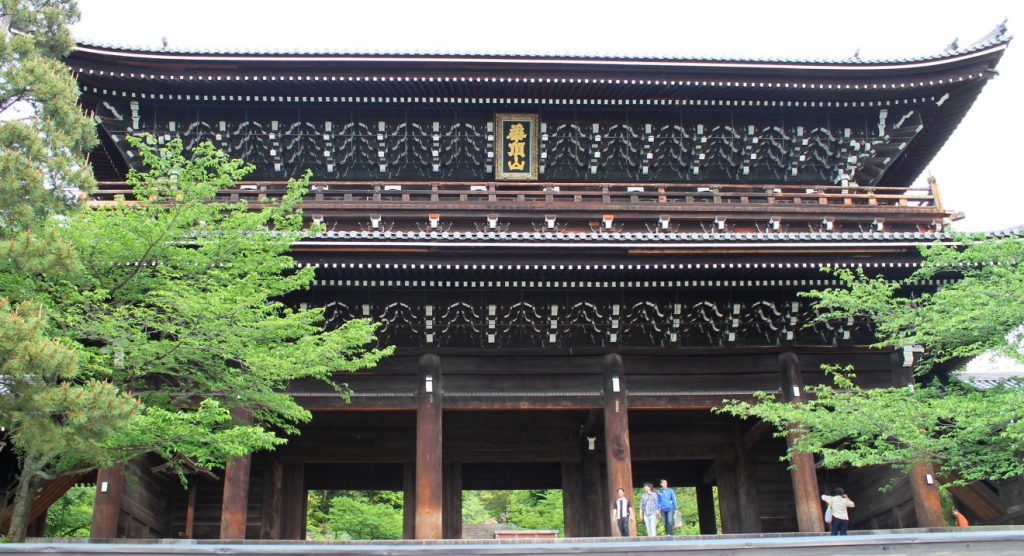 When you enter the temple grounds, you will pass through the Sanmon Gate (pictured above), which is the largest wooden gate in Japan. After walking through the gate, you will come across several halls dedicated to the priest Honen, who founded the Jodo sect of Buddhism. Also on the grounds are the traditional Japanese garden, Hojo Garden, and the more modern garden, Yuzen Garden.
10) Honen-in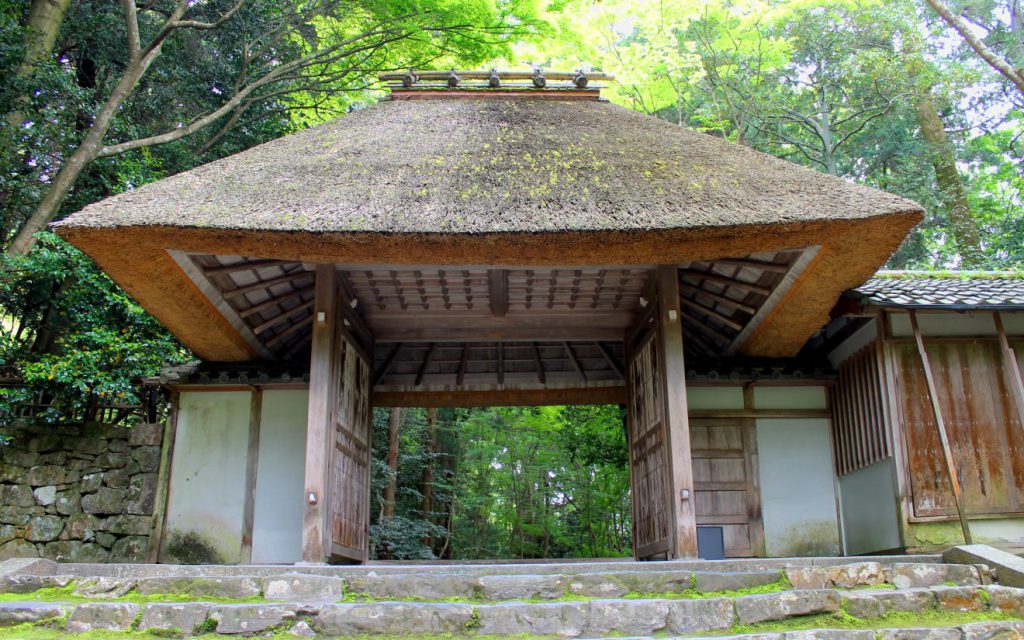 While Honen-in may not be as popular as some other temples and shrines in Kyoto, it made the list because of the nature that fills the grounds. Inside you can find moss gardens, sand sculptures and more. The vast number of trees and overall greenery that fills the temple grounds make you feel as if you have stepped into another world.
Are there any shrines and temples in Kyoto you think I missed? Have you ever been to the shrines and temples listed above? Let me know in the comments below!
Looking for more than just shrines and temples in Kyoto? Check out this Kyoto 4-day itinerary!
Are you ready to start planning your trip to Kyoto, Japan?
Get a FREE copy of A Dreamer's Guide to Trip Planning to get started!
Plus, don't forget to check and see if the Japan Rail Pass (JR Pass) is worth it for your trip!
Further Reading
---
Liked this article? Pin it to Pinterest!