Afford to Travel: Make it a Priority
"I don't have the ____________ to travel."
What's your excuse for not traveling? The common ones I hear all the time are "I don't have the money to travel," and "I don't have the time to travel." This is one of my biggest pet peeves. Chances are, you do. It just seems like you don't have the time or money because you haven't made travel a priority.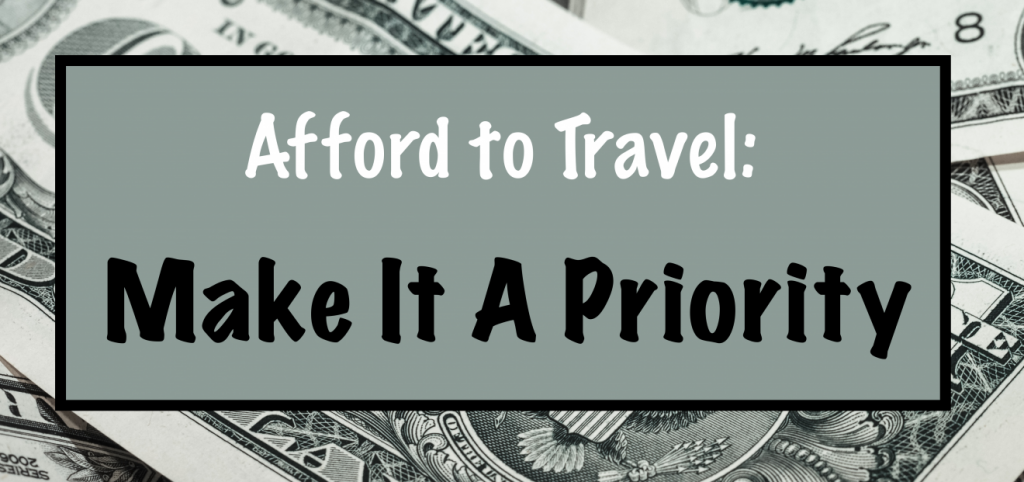 What's Your Excuse for Not Traveling?
Believe me, I get that there are some people who can't travel for very legitimate reasons. There are people who struggle to make ends meet. There are people who work two or three or more jobs just to be able to pay the bills each month. Family, bills, schooling, all that stuff comes first. However, there are also people who insist that they can't travel for various reasons, when the actual reason is that they simply chose to put something else first.
My friend is the perfect example. He often states that he would love to go to Japan, but doesn't have the money. At the same time, he has hundreds of dollars worth of video games sitting on his shelf. In my opinion, there is absolutely nothing wrong with that. I, too, am a big video game lover and can understand why he would want to put so much money into video games. However, it means that his statement of "not having the money to travel" wasn't entirely true. He simply chose to put his interest in video games before his interest in travel.
Afford to Travel
There are lot of tips and tricks to save money on traveling, but at the end of the day I think the best tip to afford travel is to just be aware of what you are spending your money on.
One of my favorite travel bloggers, Sylvia Lawrence from Heart My Backpack, wrote in her post "How I Saved $44,000 to Travel the World":
This might not be totally rational, but because I had such a rough time living and working in Japan, I now only want to spend that money on things worth that pain. Is the pretty dress from H&M worth all those uncomfortable hours spent at my desk at school? No.
While my reasons for not spending money are not quite the same as Sylvia's, I've found that questioning a majority of my purchases has really helped me save money for traveling. Do I want to spend the $100 at the hair salon to dye my hair, or do I want to spend $100 for a night or two in a hotel somewhere cool?
The Choice is Yours
At the end of the day, if there is something that legitimately makes you happy or is something you enjoy doing, then I don't see the problem with spending money on it. The question is, will it really make you happy? Or is there something else that your money would be better spent on?
I found that changing my mentality of "I can't afford that" to "I chose to prioritize something else" has overall made my life feel a little less stressful because I am content with what I have instead of being upset by what I don't.
I challenge you to sit down and figure out the things you want most, whether it be the new video game coming out next month or going to a new exciting place. Then, brainstorm the ways you could start saving money to attain those goals, whether it be from getting deals on every day expenses, or learning to cut back on expenditures that aren't necessary or aren't as important to you. Before you know it, you'll find that attaining the things you had dreamed of really isn't that hard to do.
Further Reading
---
Liked this article? Pin it to Pinterest!