After spending 2 days in Los Angeles, we made the popular California road trip to San Francisco. For the most part when I travel, I like to try unique activities along with the "must do tourist attractions." However, for this trip my mom and I found ourselves getting excited by a lot of the touristy things to do in San Francisco. Since we only had two days, we decided it was totally okay to spend our time indulging in all the "must do things in San Francisco". Check out all the touristy things we did during our San Francisco 2-day itinerary!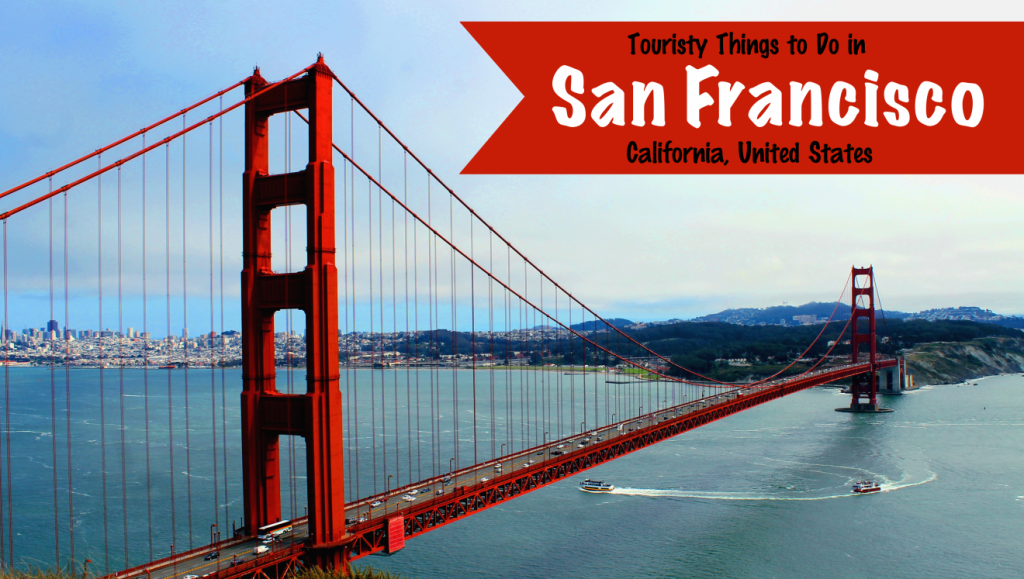 Day 1: Sightseeing in San Francisco
The greatest thing about day 1? Not only is it packed with a majority of the top touristy things to do in San Francisco, it also consists of some of the best free things to do in San Francisco! It's a great way to see the highlights of the city without breaking the bank.
Visit Coit Tower
Coit Tower gives fantastic views of the city and surrounding bay area, which makes it a great way to kick off your San Francisco itinerary. The observatory part of Coit Tower is just a small circular room with several windows. I was super excited to find that a majority of the windows were open, which is rare for an observatory. It meant that I could get a great view of the city without dealing with annoying, obstructive glass. Although, I think I freaked my mom out with just how far I was leaning out the windows in attempt to get the picture I wanted. She preferred to stay in the middle of the observatory since she's not big on heights.
Getting to Coit Tower can be a bit of a trip. We had to climb several stairs to get there, and at times I felt like I was practically in someone's backyard. We also had to wait in line in order to go to the observatory on the top floor, but it wasn't too long of a wait. It's definitely worth the effort to get up to the observatory.
Get a View of Alcatraz Federal Penitentiary
Alcatraz Federal Penitentiary, or just Alcatraz, was originally a maximum security prison, and a quite famous one. Over the years, it held some of America's most notorious criminals, including Al Capone and others. It was also the location of one of the greatest, most intricate prison escapes ever in 1962. Alcatraz has since been decommissioned as a federal penitentiary and now serves as a museum.
When we had originally been planning our trip and looked at top things to do in San Francisco, visiting Alcatraz had been one of the things we had wanted to do. However, we did our planning a little last minute, something I almost never do, so tickets to Alcatraz ended up being sold out.
However, as we made our way to Fisherman's Wharf (the next touristy destination on our two day San Francisco itinerary), we managed to get a good view of Alcatraz Island from one of the piers. Even if you don't manage to get tickets, it's worth at least stopping for a quick look.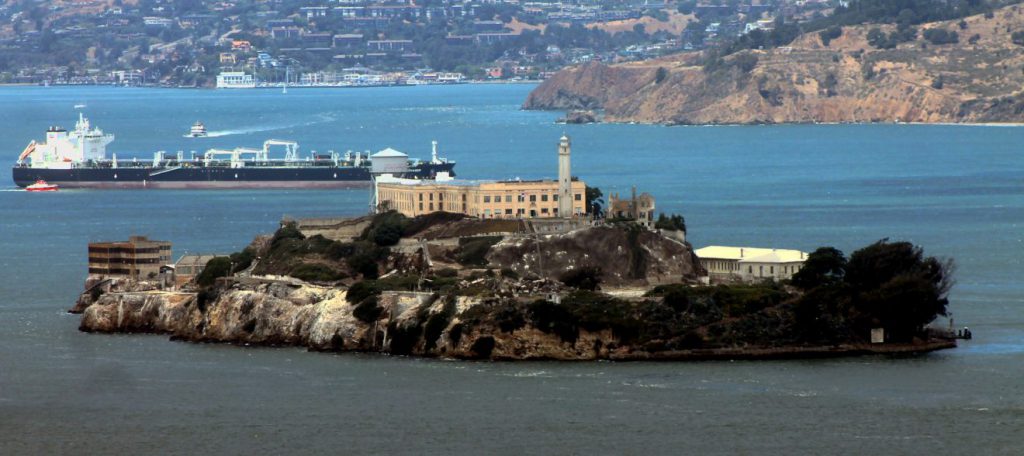 Explore Fisherman's Wharf
Famous for its many attractions and restaurants, visiting Fisherman's Wharf is definitely one of the most touristy things to do in San Francisco. If it's not obvious from the name, this San Francisco neighborhood sits on the waterfront. If you are into seafood, this is the place you want to be. It's also a good place to go shopping, especially if you are looking for souvenirs.
Depending on the time of year and how much planning you do in advance, you can book a cruise tour or even rent a boat (some of these offer great views of the Golden Gate bridge). Even if you don't go out on one of the boats, the bay area is still a great place to walk through. It also happens to be the location of a colony of sea lions, so you can sometimes see the fisherman throwing leftovers out to them.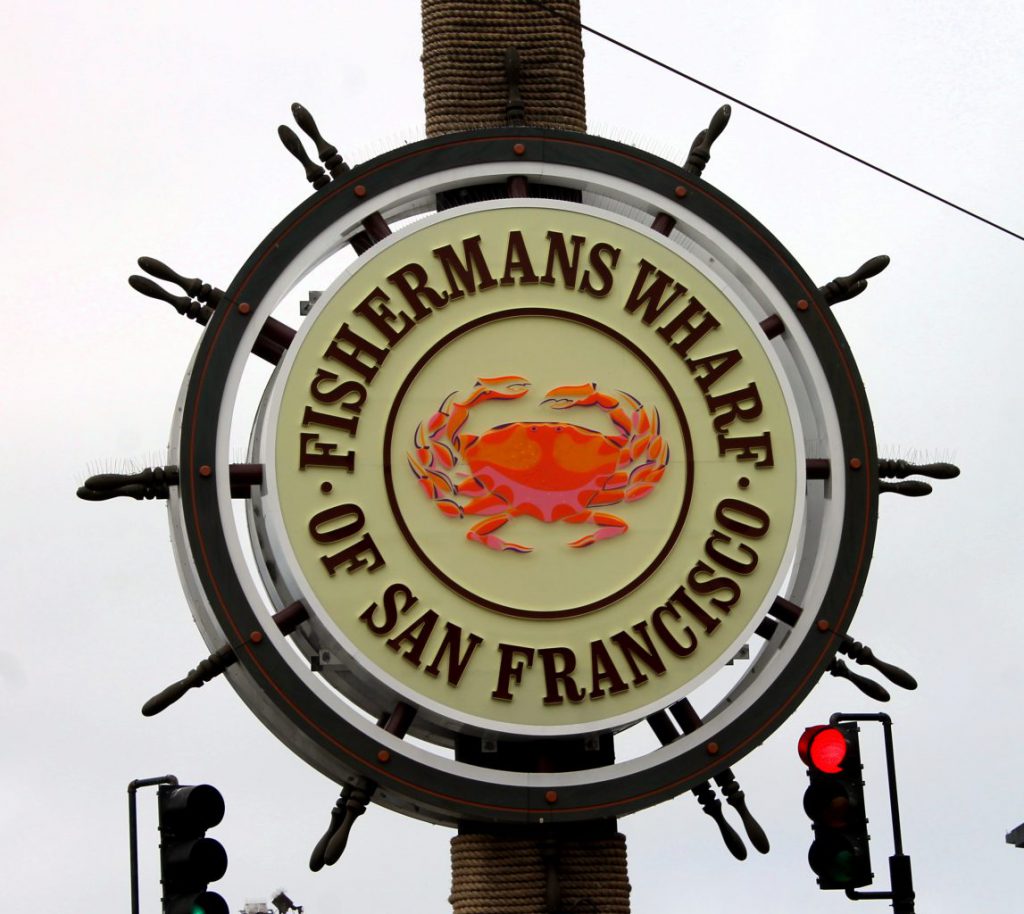 Wander Around Ghirardelli Square
Right next to Fisherman's Wharf (although some people might consider it part of Fisherman's Wharf) is Ghirardelli Square, home to a Ghirardelli Chocolate shop as well as several other shops and restaurants. I don't really eat Ghirardelli chocolate, if only because it can be pretty expensive, but walking around the shop and seeing all of the different flavors and treats was pretty cool. They even had a little cafe area where you could order snacks and drinks. Also in that area were several other shops of all kinds: food, jewelry, toys, etc.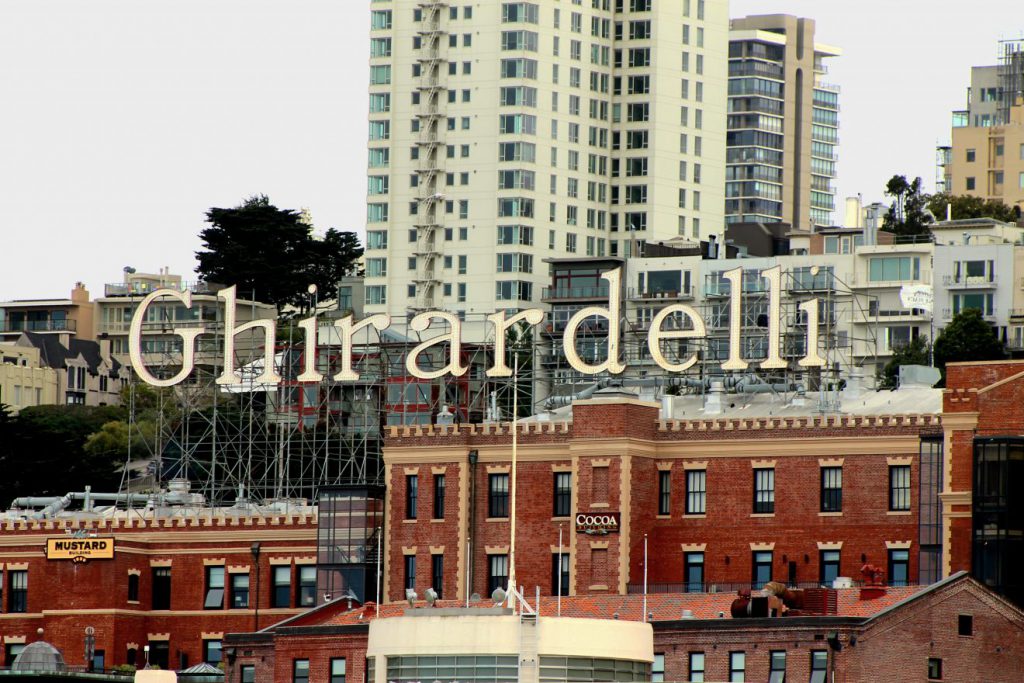 Stroll Down the Pier
Once we had our fill of shopping at Fisherman's Wharf and Ghirardelli Square, we made our way to the Hyde Street Pier and Aquatic Park Pier, both of which extend out into the bay and provide good views of Alcatraz as well as the Golden Gate Bridge.
Unfortunately, it was really foggy when we went out, so we couldn't see the Golden Gate Bridge too much. However, if you end up with bad weather, the piers might still be worth visiting for those with an interest in history since both of them are also part of the San Francisco Maritime National Historic Park.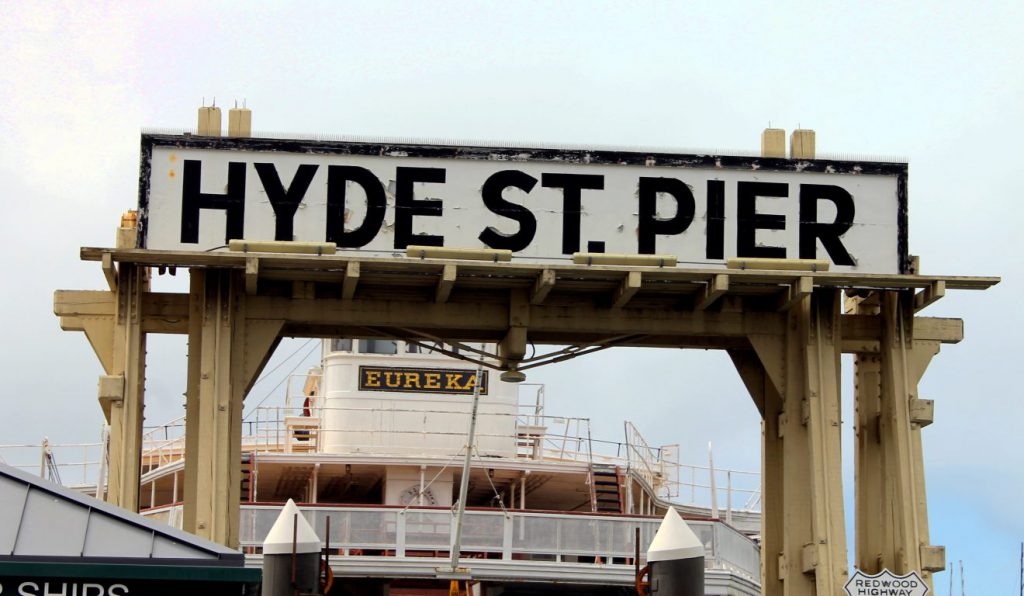 Wind Down Lombard Street
We ended day one of our two day San Francisco itinerary at Lombard Street, which is considered the most crooked street in the world. Let me tell you, with eight sharp turns in just one street block, it has earned its reputation. Some people chose to drive down the street. We however, decided to walk down the sidewalk next to the stret so we could go at our own pace and enjoy our time there without having to worry about people behind us.
We started at the top and walked down to the bottom, stopping along the way to appreciate just how twisty-turvy it really was. At the very bottom, one of the guys directing traffic was also offering to take pictures of tourists in front of Lombard Street when no cars were around.
Day 2: The Search for Great Views of the Golden Gate Bridge
Depending on the weather, you may want to flip the two days of your San Francisco travel itinerary. As briefly mentioned above, our first day in San Francisco had really cloudy and foggy weather. It was almost impossible to even seen the Golden Gate Bridge from normal viewpoints. However, during our second day in San Francisco, we ended up with beautiful weather. If you end up with fantastic weather during your first day in San Francisco, I'd consider visiting the Golden Gate Bridge on day 1 and doing all the touristy things on day 2.
If you're unfortunate enough to have foggy weather both days, you can always check out San Francisco's best Instagram spots instead!
Look Down at the Bridge from Battery Spencer
First thing in the morning, we were off to Battery Spencer. Up until 1942, Battery Spencer was a large battery gun located at Fort Baker and served as an important military protection point. Today, it provides one of the best views of the Golden Gate Bridge.
There are several ways to get to Battery Spencer, but we decided to catch a local bus. Battery Spencer is actually on the other side of the bridge from San Francisco, so I was excited to find that the bus was actually going to drive across the Golden Gate Bridge. Once on the other side, the bus let us off in a small parking lot. From the parking lot, you can get a decent straight-on view of the bridge, but the best views were yet to come.
Unfortunately, we were let off the bus on the side of the bridge opposite to Batter Spencer (we were on the right side of the bridge when I wanted to be on the left). Because of the dividers that run down the center of the bridge, you really can't cross over the bridge, and at first I was totally stumped as to how to get to the other side. Eventually I found out that, instead of crossing over the bridge, you have to go under it. There is an almost cage like walkway that is suspended from the bottom of the bridge. It's enclosed on the sides by a metal fence, but it's easy to see through, so if you're afraid of heights, this would definitely not be for you. Honestly, there may have been a better way to get up to Battery Spencer, but it was the only one I was able to find.
Once on the other side, I began making the climb up the hill to Battery Spencer. The path up provides great views of the water, but take care to pay attention to where you are walking. Parts of the path can get a little narrow and take you close to the edge. At the very top it levels out and gives you a unbeatable view of the Golden Gate Bridge with San Francisco in the background. I couldn't image a more picturesque spot.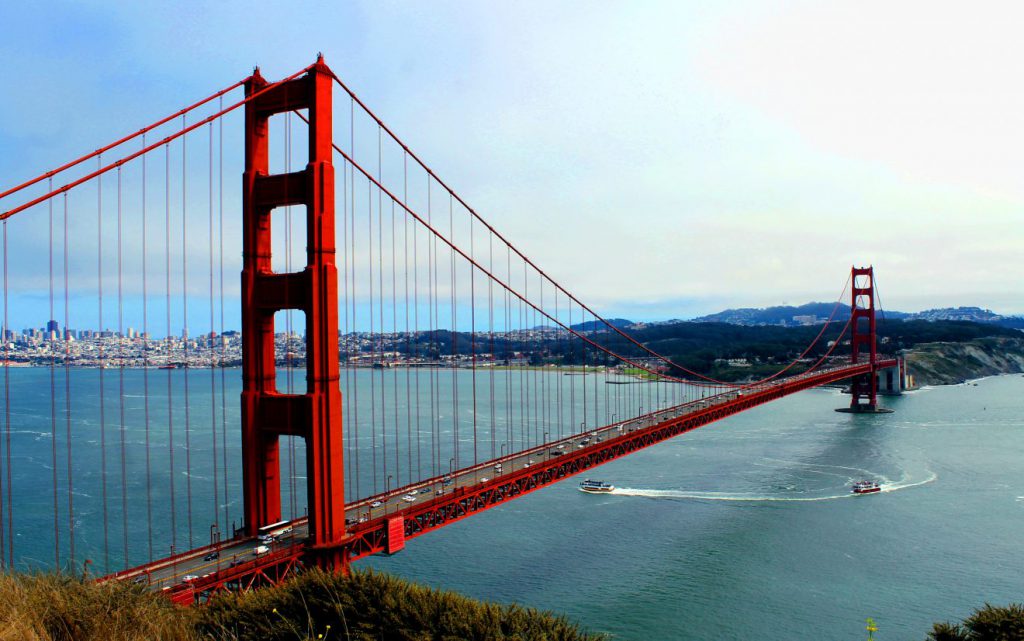 Look Up at the Bridge from Fort Point
Fort Point is also another historic military base. Similar to Battery Spencer at Fort Baker, it stood guard over the bay area, but has since been decommissioned.
At Fort Point, you are almost underneath the bridge which creates a unique angle, and allows you to appreciate the bridge from the side while also getting a view of the underneath architecture. In my opinion, it's a nice contrast to the almost top-down view you get of the bridge at Battery Spencer.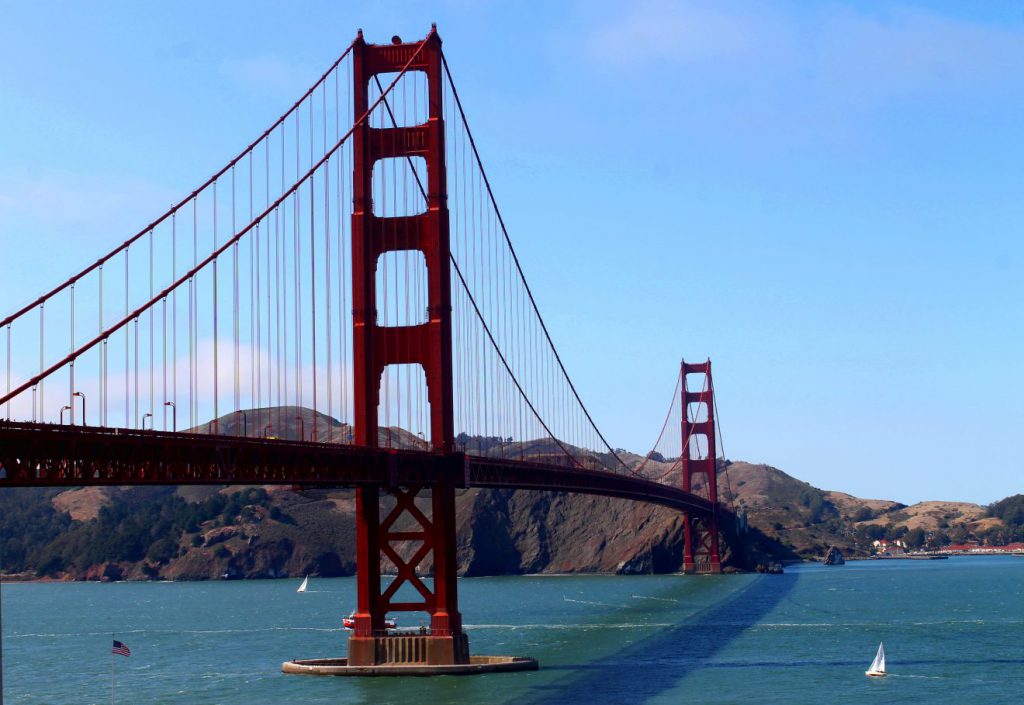 Other Touristy Things to Do in San Francisco
Disclaimer:This section of my post contains affiliate links. Find more information about affiliate links on our policy page.
Interested in taking a boat cruise around the San Francisco Bay area, touring Alcatraz, or riding one of San Francisco's historic cable cars? If so, I suggest looking into the San Francisco CityPASS, a prepaid ticket booklet that gives you access to various activities at a cheaper price than if you paid for the activities individually.
If none of those activities float your boat, you can consider taking day trips to Sacramento, San Jose, or Redding – but make sure to check out these California road trip tips before you do!
What are your thoughts on this list of touristy things to do in San Francisco, California, USA? Have you been to any of these locations? Is there anything you think I missed? Let me know in the comments below!
Are you ready to start planning your trip to San Francisco, California?
Get a FREE copy of A Dreamer's Guide to Trip Planning to get started!
---
Liked this article? Pin it to Pinterest!