Ever soaked in a wine filled hot spring? How about a coffee hot spring? A green tea hot spring? You can do just that at Hakone Kowakien Yunessun Spa and Resort! When I first started researching things to do while studying abroad in Japan, I knew this was something I just had to try. Conveniently, it's located in Hakone, so I found that it made for a great day trip from Tokyo with some friends!
Introduction to Hakone Kowakien Yunessun
There are two main areas of the resort: Yunessun and Mori no Yu.
Yunessun is more of the "waterpark" area. This is the area that contains some of the most unique onsen in Hakone (and probably Japan), such as wine, green tea, and coffee onsen, as well as several other attractions such as water slides, an aroma room, and more. Bathing suits are required in this area.
Mori no Yu has the traditional Japanese onsen, where clothes are not worn. Here, there are still several onsen to choose from, but they have a much more relaxing atmosphere. See the end of this post for more information on traditional Japanese onsen.
Since we had decided for this to be a day trip to Hakone, we chose to stay the whole day and visit both Yunessun and Mori no Yu. After we purchased our tickets, we were given a wristband with a key and a barcode. The key was to our locker where we would put our stuff. The barcode was used if you wanted to buy anything inside the resort. It was like a running tab and you just paid for everything at the end. This way, you didn't have to worry about carrying anything with you.
Visiting Yunessun
Wine Onsen
We decided to go to the wine onsen first since that was the one I had heard about most and was really looking forward to. I was a little disappointed that it wasn't actually an onsen filled entirely with wine, but I guess I really wasn't surprised. It was pretty much just water with a red color to it. Although at certain times during the day, they will put real wine into the onsen.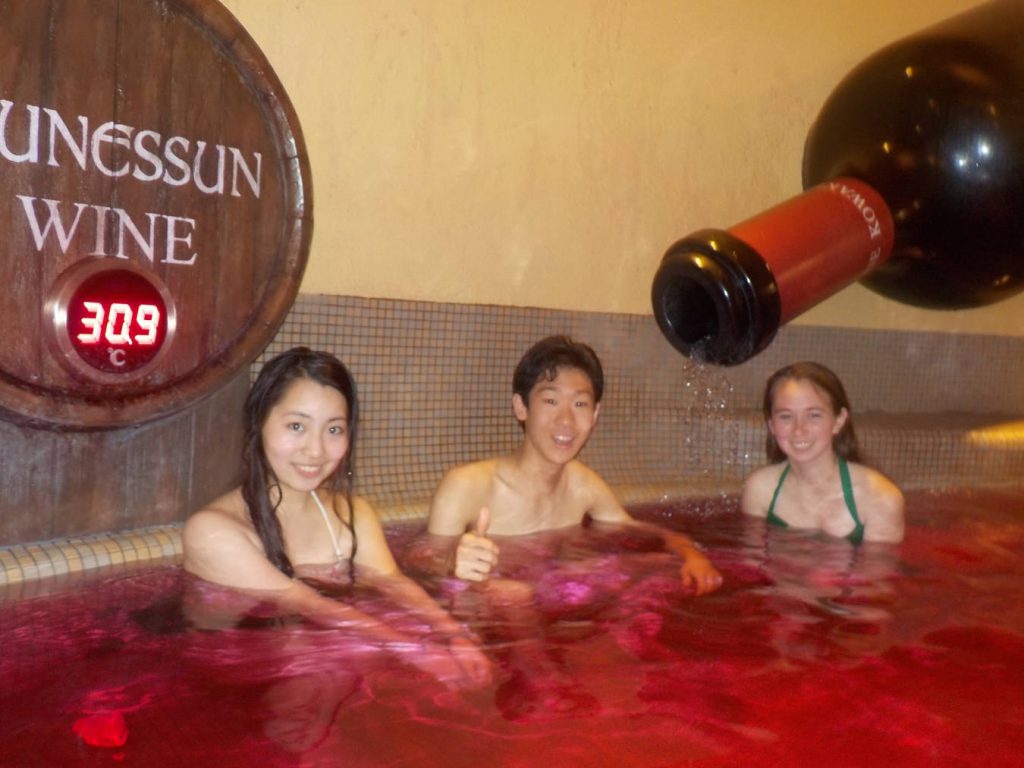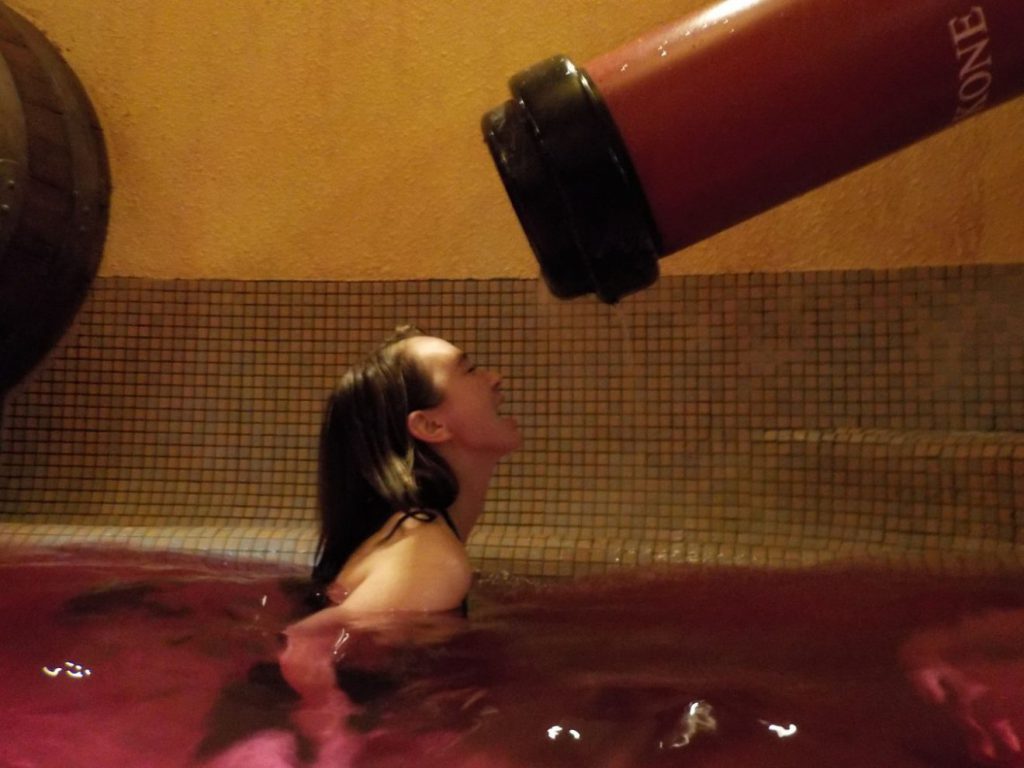 Coffee Onsen
The coffee onsen is similar to the wine onsen, but I happened to be in the onsen when they put the coffee in. However, the coffee seemed to be slightly diluted. They made a big show out of it and actually dumped coffee into our hands and onto our heads. It was definitely interesting to say the least.
Sake and Green Tea Onsen
The sake (rice wine) onsen actually had real sake that slowly dropped from a spout every few seconds. However, the green tea onsen didn't seem much like green tea. The green shade of the water was way too dark to be green tea.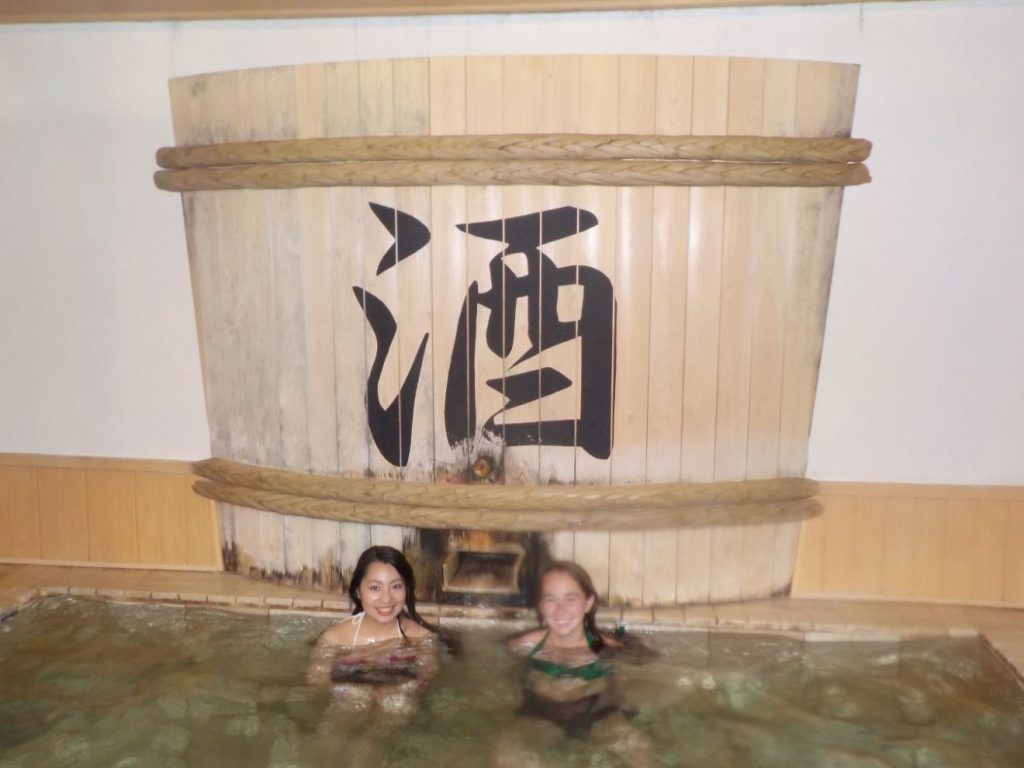 Outdoor Activities and Aroma Room
Outside they had a water jungle gym, a water slide, an onsen with a waterfall, and an onsen inside a cave. Inside the cave onsen was a rock that was supposed to give you good luck if you touched it.
Since it was a little cold outside, especially when you got out of the warm water, we decided to go back inside and go into the aroma room, which was pretty much a sauna that smelled really strongly of flowers. The nearby onsen had also been filled with water that smelled strongly of herbs and flowers.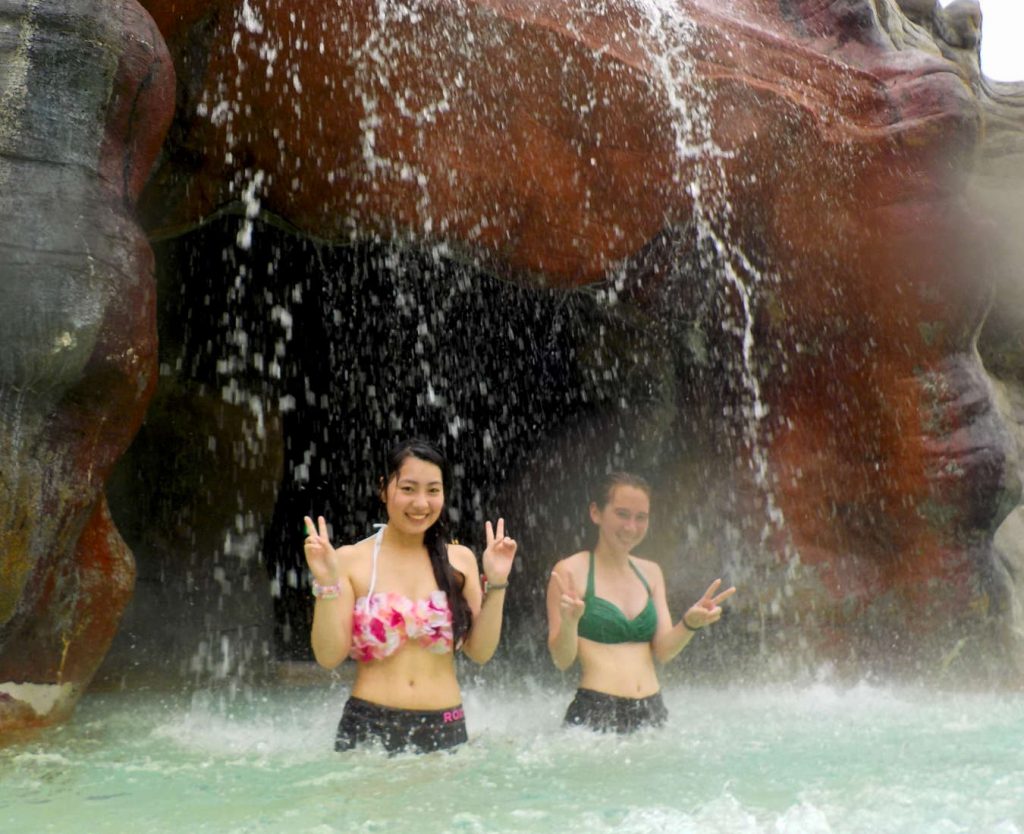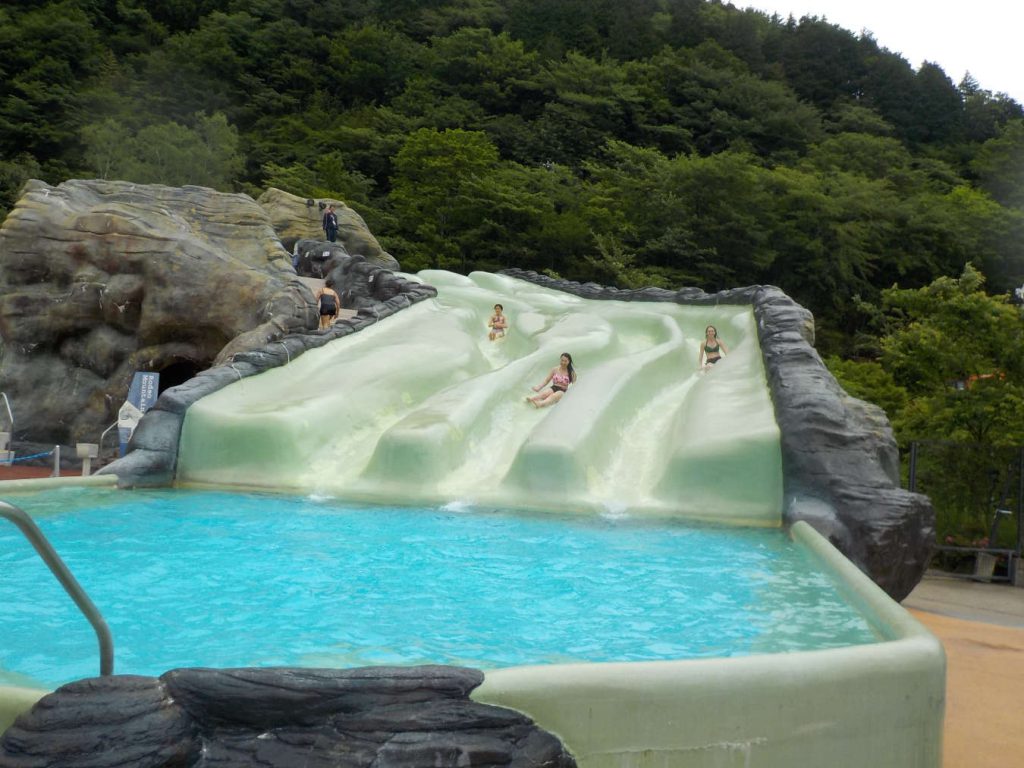 Pool-Themed
The last onsen we went into just had regular water and was big enough to swim in, but unlike a regular pool, the water had been heated to a comfortable temperature. The ceiling had been painted like the sky and sometimes it would simulate a coming storm. The lights would flash and thunder would fill the area. Then fog would emerge and spouts of water would rain down on us.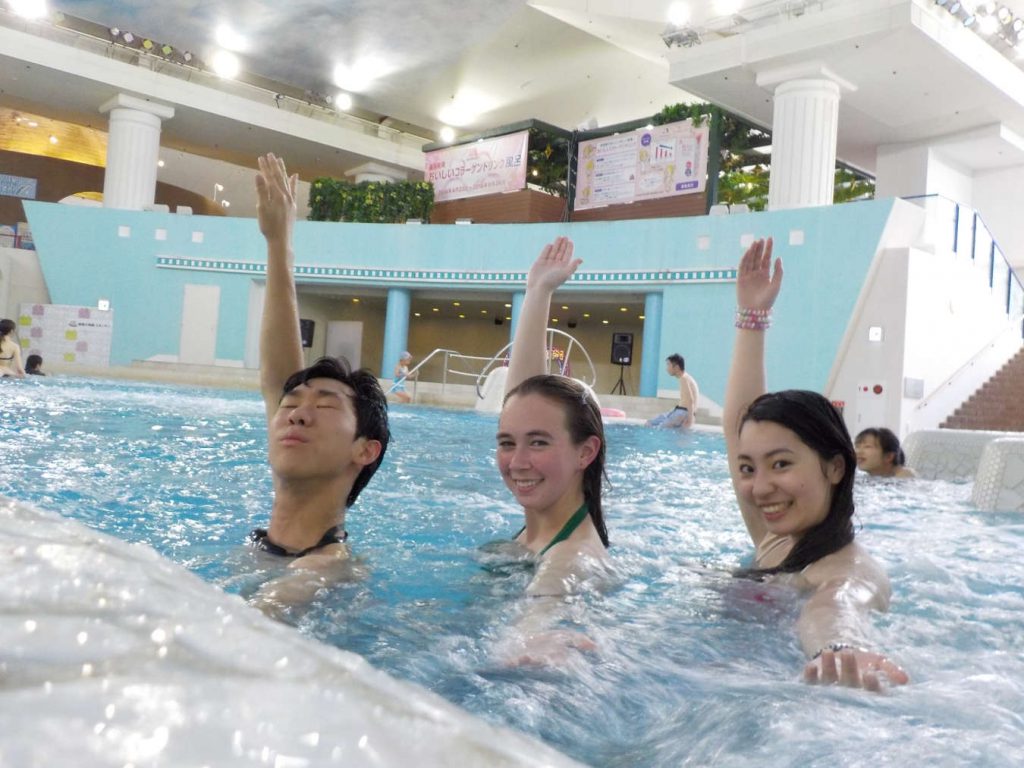 Visiting Mori no Yu
Once we were done in the Yunessun resort area, we went to Mori no Yu. When first entered, each of us sat on a small bucket at an open washing station. As is custom before entering onsen, we took off the towels we had wrapped around us and washed off our bodies. If we planned on letting our hair in the water, we also rinsed out our hair. After that, we were ready to enter the onsen.
The particular onsen my friends and I decided to relax in was surrounded by artificial rocks and bamboo, so it had a much more "nature" feel to it. After all of our swimming and adventures in unique onsen, it was nice to just sit back and relax before heading home.
For obvious reasons, I couldn't bring my camera here. However, Yunessun's website has some pictures of what the Mori no Yu onsen look like.
Know Before You Go
Onsen (Hot Springs) in Japan
Onsen, or "hot springs," are common in Japan due to all the volcanic activity. However, the idea of visiting onsen often causes some foreigners to hesitate. The water is frequently hotter than expected (sometimes 108°F/42°C or hotter) and, because visiting onsen is a tradition deeply rooted in Japanese culture, there is a lot of etiquette involved in visiting onsen.
However, often the most difficult thing for foreigners to get over is that onsen are typically enjoyed nude. Most of these onsen are gender divided, however there are some hot spring that are mix gender. Also, it's not uncommon for foreigners to get stared at in Japan, especially if you are in a more rural part of the country. Visiting an onsen is no exception to that fact.
Hakone Kowakien Yunessun has two sections: one that requires bathing suits and one where bathing suits are not permitted. The one where bathing suits are not permitted is separated by gender (there are separate onsen for men and women).
I highly suggest trying a traditional onsen in Japan at least once. Onsen, and baths in general, are an important part of Japanese culture. There is no better way to "soak" in Japanese culture. However, you can still thoroughly enjoy your time at Hakone Kowakien Yunessun even if you do not wish to enter the traditional onsen.
If You Have a Tattoo…
While things have changed over the years, Japan still has a strong stigma against tattoos. In older days, authorities often tattooed those who had committed crimes. Over time, yakuza, or "gangsters", began getting tattoos as symbols of their loyalty. For this reason, many onsen and public bathing areas have banned people with tattoos, even small ones. Hakone Kowakien Yunessun is one of those places.
Some onsen and public bathing areas are more lenient towards foreigners who have tattoos or, if the tattoo is small, offer ways for the tattoo to be covered up. According to a review I found on TripAdvisor from 2013, one tattooed guest visiting Hakone Kowakien Yunessun was given the option to buy a swimming T-shirt or cover the tattoos with waterproof tape. However, I would confirm this first before planning your visit to Hakone Kowakien Yunessun.
Getting from Tokyo to Hakone Kowakien Yunessun Spa and Resort
Personally, I went with some local friends, one of whom had a driver's license. He was kind enough to pick me up at my dorm and then drive us over to the resort. It took us a little bit to find because it's sort of up in the mountains, but we eventually made it.
If you are backpacking through Japan and don't have access to a car, you can find directions for how to get to Hakone Kowakien Yunessun from Shinjuku Station, Tokyo Station, Narita Airport, and Haneda Airport can be found on Yunessun's website. Most of the suggested routes utilize JR Rail lines, so you may be able to get to Hakone at no additional cost with the JR Rail pass.
If you are coming from somewhere else, navigation apps can easily help you figure out which train to take in order to arrive at Hakone Kowakien Yunessun. Check out my Essential Japan Travel Apps list to find the best navigation apps.
Hakone Kowakien Yunessun Spa and Resort Price and Packages
| Package | Adult | Child |
| --- | --- | --- |
| Yunessun | ¥2900 | ¥1600 |
| Mori no Yu | ¥1900 | ¥1200 |
| Combined Ticket | ¥4100 | ¥2100 |
Prices are as of May 7th, 2018. Please check their website for the most up to date pricing.
Ready to Visit?
What do you think of Hakone Kowakien Yunessun? Have you been there before? Ever been in a wine onsen? Let me know in the comments below?
Are you ready to start planning your trip to Hakone, Japan?
Get a FREE copy of A Dreamer's Guide to Trip Planning to get started!
Plus, don't forget to check and see if the Japan Rail Pass (JR Pass) is worth it for your trip!
Further Reading
---
Liked this article? Pin it to Pinterest!