So you've got one day in Boston, Massachusetts, United States. When there is so much to see and do and so little time, how do you possibly decide? That was the boat I found myself in when I visited Boston. I had originally gone for the Boston Career Forum, which is a big job fair for people who speak both Japanese and English. I ended up not being at the career fair for as long as I thought, so I was left with some extra time to do some sightseeing before heading home. Here is what I chose to do with one day in Boston.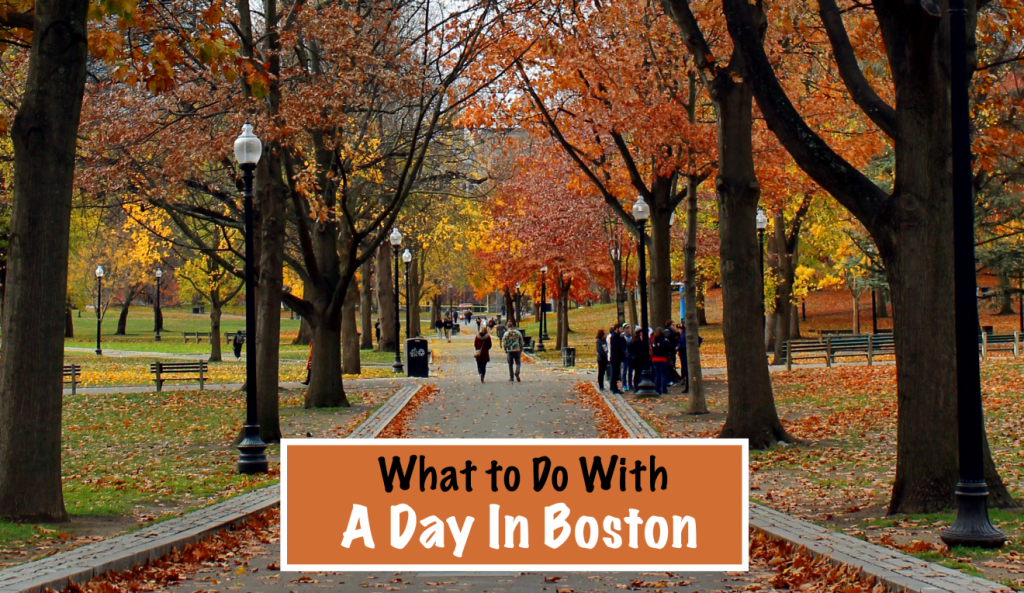 Boston Common and Public Garden
Similar to Central Park in New York City, Boston Common and Public Garden are two parks located in downtown Boston. Personally, I liked Boston Common and Public Garden more than I liked Central Park in New York. However, when I visited Boston, the leaves were changing colors and made the whole area look especially beautiful, so I might be a little biased.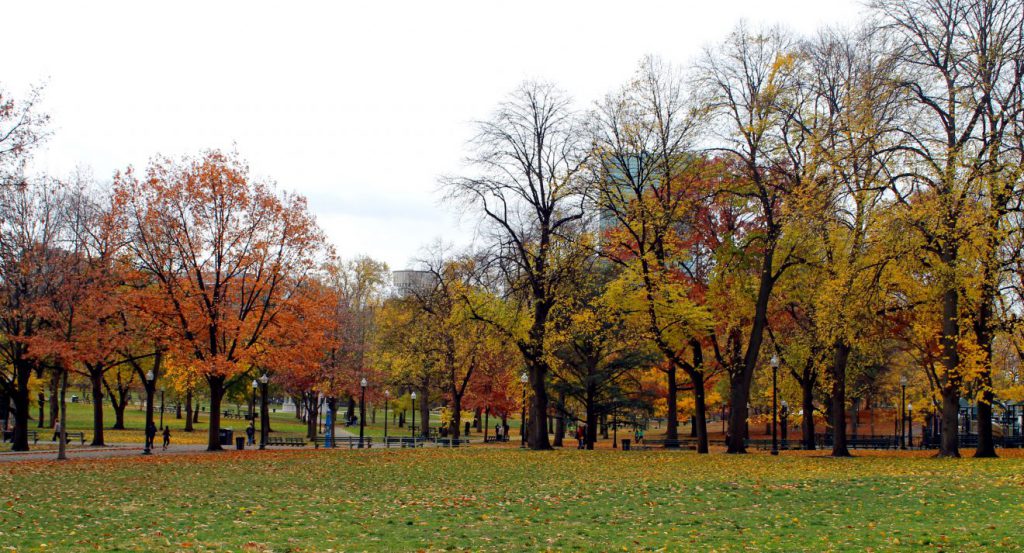 Boston Common was established in 1634, making it America's oldest public park. Public Garden was established later in 1837. The history of the park is represented in the many statues and monuments that have been erected across the two parks. Some of the statues and monuments include:
Soldiers and Sailors Monument – commemorates those who died in the Civil War
Boston Massacre Memorial – commemorates those who died in the Boston Massacre
Oneida Football Monument – memorializes Boston Common as the site of the first organized football game
Ether Monument – the oldest monument in Public Garden, it commemorates the first use of ether as an anesthetic
Equestrian Statue of George Washington – constructed entirely by Massachusetts artists and artisans
Boston Common is also one of the major attractions along the Freedom Trail, a 2.5 mile trail that leads you through various historic sites in Boston.
Faneuil Hall and the Quincy Market
Like many other places in Boston, Faneuil Hall and Quincy Market are rather historic. Faneuil Hall was built in 1742 by Boston's wealthiest merchant, who donated it to the city. Quincy Market was built later, between 1824 and 1826, by the mayor who organized its construction without any tax or debt. Today, both function as large marketplaces full of shopping and entertainment.
Some of the shops were for big name brand companies like Urban Outfitters, GAP, Abercrombie & Fitch, and more, but others were stores I didn't recognize. One of the stores we stopped in was called Christmas in Boston, and as you can imagine, they sold Christmas decorations (mostly tree ornaments). The place was absolutely huge. I've never seen so many ornaments in my life. You could even personalize many of the ornaments for no additional cost.
It's also common to find many street performers just outside Faneuil Hall. If you've got a few minutes, I suggest staying to watch a few. I thoroughly enjoyed the few performances we were able to watch while wandering around the marketplace.
https://youtu.be/cUCqM7jcSv4
https://youtu.be/TzRQTAnFizI
Downtown Crossings
If you didn't get your fill of shopping at Faneuil Hall and Quincy Market, head over to Downtown Crossings! It's a very popular shopping area and is considered one of the most bustling intersections in Boston during weekdays.
Downtown Crossings was actually one of my favorite parts of Boston. I was there during the weekend, and while it was busy, I didn't feel like it was crowded. It's hard to describe, but I liked the "feel" of the area. There's so much to do and enjoy. In contrast to New York's rush, rush mentality, at Downtown Crossings, I could relax and just wander around at my own pace. I felt comfortable.
Walk Along the Boston Harbor
As somebody who lives in a rural area, far from any decent sized body of water, I particularly enjoy walking along the water, whether it be on a sidewalk or beach. That, of course, meant that I had to make a stop at the Boston Harbor. It was nice to take a stroll along the harbor and watch all of the ships. I was surprised to find that there were many ships that offered all sorts of tours and cruises. If I'd had than just one day in Boston, I probably would have considered actually going on one!
Skywalk Observatory
I suggest ending your one day in Boston at Skywalk Observatory in the Prudential Center. The observatory is on the 50th, and there aren't too many other tall buildings around, so you can get some great views of the city. Many of the pictures you see on Boston postcards were taken from the Skywalk Observatory.
I chose to get to the observatory in the late afternoon so I could get pictures of the city when there was still daylight. Then, I hung around until after the sun went down so I could appreciate the city when it was all lit up. If you decide to hang around like I did, you won't have to worry about being bored. Along with breathtaking views of the city, Skywalk Observatory also shows information videos and has other interactive items to help you learn about the city.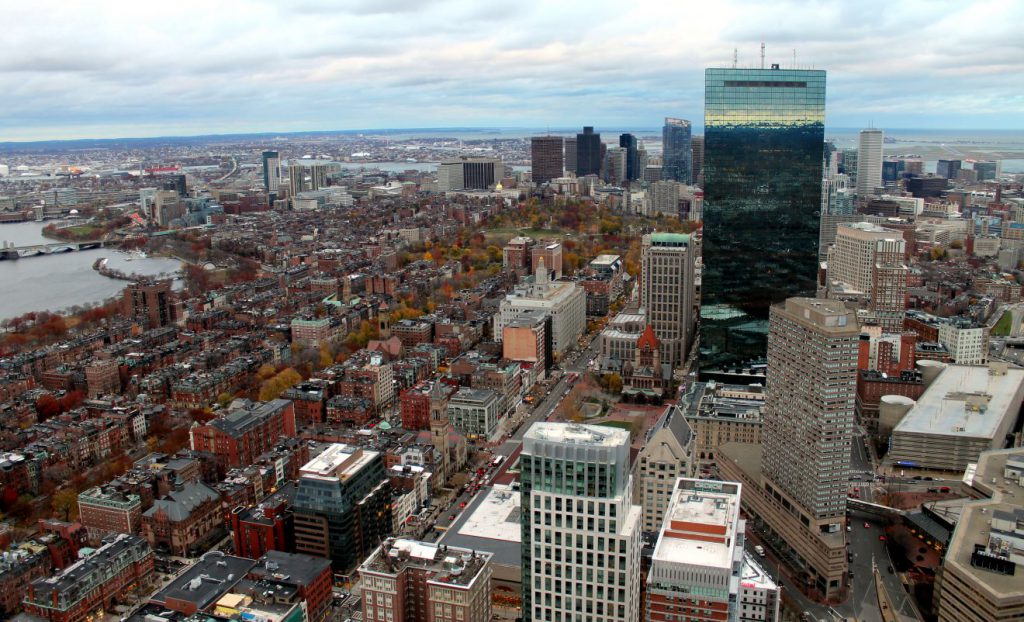 Other Things to Do with One Day in Boston
Disclaimer:This section of my post contains affiliate links. Find more information about affiliate links on our policy page.
Boston has a lot of great things to offer, and I really wish I'd had more time there. If you have more time than I did, you might consider checking out the Museum of Science and some of the harbor cruises. If you do, I would also recommend checking out the Boston CityPASS. It's worth the price if you plan on visiting more of the major attractions in Boston.
Alternatively, you could take a mini road trip to Maine.
Have any other suggestions for things to do with one day in Boston? Let me know in the comments below!
Are you ready to start planning your trip to Boston, Massachusetts?
Get a FREE copy of A Dreamer's Guide to Trip Planningto get started!
---
Liked this article? Pin it to Pinterest!