I have to state that I am absolutely appalled by the recent events at the white supremacy rally in Virginia. For the first time, I have lost my respect for another person's opinion. To me, the concept that one person is better than another simply because of race or religion is absolutely absurd. Then I stop and think, if I have lost respect for my fellow Americans, what must the rest of the world think?
Imagine for a moment you lived in a country other than the United States (and maybe you really do). Then take a minute to read this news article about violence at a white supremacy rally. If that was the only thing you had learned about the United States, what kind of assumptions would you make, not only about the United States, but about Americans as a whole?
The Role of Travel and First Impressions
Travel is fatal to prejudice, bigotry, and narrow-mindedness, and many of our people need it sorely on these accounts. Broad, wholesome, charitable views of men and things cannot be acquired by vegetating in one little corner of the earth all one's lifetime. – Mark Twain
I try to stress to others how travel changed my life, but at the end of the day, I cannot force people to travel. I may never be able to change the minds of the ignorant and close minded-people who hate another race or religion. However, I can stop that hatred from spreading. Many of the negative views we hold about other people and places stem from bad first impressions. I can change that by being a good representative of who I am and where I come from.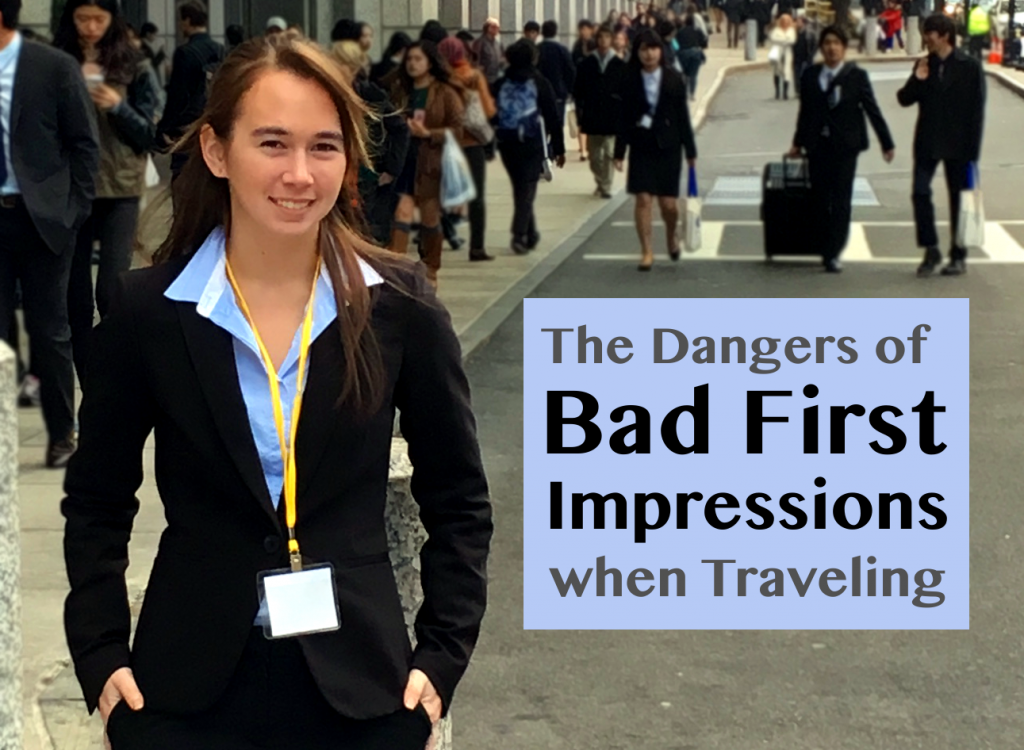 I am convinced that a majority of hatred and stereotypes that exist in the world today at least partially originated from a bad first impression. Being aware of what kind of impressions people might be making of us is always something to be mindful of, but it is even more important for travelers. You could affect a person's opinion of an entire race, ethnicity, religion, place, and more. You are a representative of who you are and everything you stand for.
My Experience With Bad First Impressions
I'm ashamed to admit that my first impression of people from India was not a good one. Since my university had a strong English as a Second Language (ESL) program, we had more exchange students than your average university. One of the semesters, there was a big scandal in one of my classes because several of the Indian exchange students had been caught doing each others' homework, taking each others' tests, and more. Even if I had written off this incident as a one time thing, it was still obvious that many of the Indian exchange students didn't care about their classes because they only showed up for midterms and finals. Let's just say I didn't think very highly of the Indian exchange students.
While spending four months in Japan for an exchange program, I found myself constantly frustrated by the assumptions being made about me simple because I was a foreigner. In the wake of frustration came self-realization.  I had made assumptions about others the same way people in Japan had made assumptions about me. Since returning home, I feel like I have a much more open-minded approach to other people. Since that original incident at my university, I have met some really cool Indian exchange students.
Going Forward…
Just as I am convinced that hatred and stereotypes originated from bad first impressions, I am also convinced that travel (and the eye opening experiences that come with it) would erase that hatred and bring the world one step closer to peace. Travel really is fatal to prejudice, bigotry, and narrow-mindedness.
It can be easy to forget that, while we are constantly making first impressions of other people, other people are also making first impressions of us. You may be the first white person first black person, first American, first European, first Christian, first Muslim, that somebody ever meets.  If you walk around in a foreign country with complete disregard for that country's culture, it will be very easy for people to jump to the conclusion that all Americans, all Christians, all whites, are ignorant, rude, and self-entitled.
So here is my challenge to you…
Look past the hatred. Look past the stereotypes. Look past the negative comments you might hear from family and friends. Look past the bad news you see from the media. Look past the bad first impressions you've made of other people. Dare to learn more than just the one or two things about a particular place or group of people.
Be a good representative. Never forget that when you go some place new, you are not only representing yourself, but also where you came from. Do not give the people you meet a reason to hate not only you, but also the people who come after you.
Further Reading
---
Liked this article? Pin it to Pinterest!